Nestled in the heart of Virginia, Busch Gardens Williamsburg stands out as a premier destination for thrill-seeking RVers and campers looking to stay near this beautiful theme park. With its captivating attractions and stunning landscapes, this iconic theme park offers a unique blend of entertainment and education. From heart-pounding roller coasters to immersive cultural experiences, Busch Gardens Williamsburg promises an unforgettable adventure for visitors of all ages.
At Busch Gardens Williamsburg, adrenaline junkies will find their paradise amidst a stellar collection of world-class roller coasters. Dive into the exhilarating twists and turns of Griffon, a floorless dive coaster that plunges 205 feet at speeds reaching 75 miles per hour. Experience the rush of inversions and high-speed drops aboard the legendary Loch Ness Monster, an iconic coaster that has thrilled guests for decades. For those seeking an adrenaline-fueled journey through the sky, Verbolten delivers a multi-launch, indoor/outdoor coaster experience that will leave you breathless. With a diverse range of thrill rides to choose from, Busch Gardens Williamsburg ensures that every visit will be packed with excitement.
Beyond its thrilling rides, Busch Gardens Williamsburg offers an array of captivating shows and immersive experiences. Immerse yourself in the spirit of different cultures with live performances that showcase the music, dance, and artistry of countries like Ireland, Germany, and Italy. Additionally, Busch Gardens Williamsburg hosts seasonal events like Howl-O-Scream and Christmas Town, which infuse the park with a festive atmosphere and add an extra layer of excitement to the visitor experience.
✅ Click Here for Tips When Visiting Jamestown, Yorktown, and Williamsburg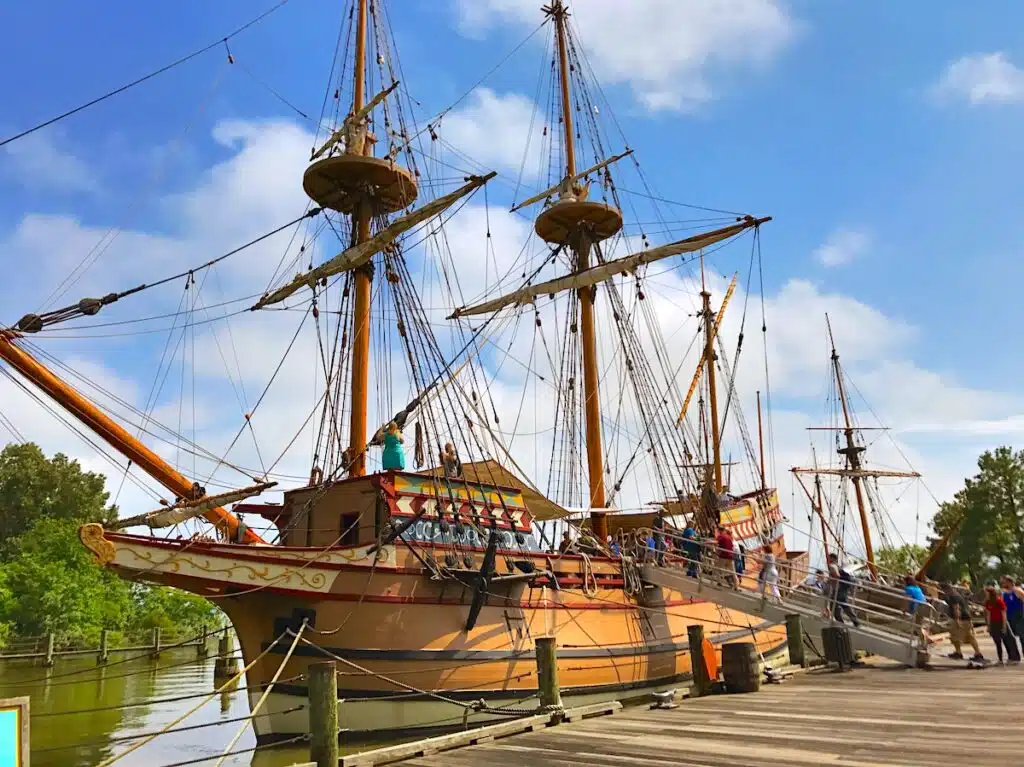 Campgrounds Near Busch Gardens Williamsburg
Here are several campgrounds and RV park options located near or are a short drive from Busch Gardens Williamsburg and Historic Williamsburg:
Anvil Campground
Conveniently located only a 20-minute drive from Busch Gardens Williamsburg, the Anvil Campground offers year-round RV sites. Anvil is the only RV park that offers shuttle service to the theme park and discounted tickets for park visitors. Anvil Campground was awarded the RV Park of the Year by in 2018 and 2022 at the OHCE Convention hosted by the National Association of RV Parks and Campgrounds.
Anvil offers over fifty RV sites, some with additional premium amenities like large sites and pull-through for larger recreational vehicles. The RV park also offers several premium Amish-built cabins for rent – that include bunk beds, a microwave, a small refrigerator, and are climate controlled – a game room, a playground, Beyond all these features, other campground amenities include:
Heated swimming pool
Sand beach park with outdoor activities
Dog park
Bathroom and shower facilities
WiFi and Cable available
24-hour Laundry facility
Golf carts welcome
Fire ring every site
General stor
Friendly staff – family run campground
American Heritage RV Park
Located 16.3 miles north of Busch Garden's front gate, and situated on 70 acres of lush woodlands, the American Heritage RV Park offers RVers a great place to hunker down when visiting the theme park and the surrounding historical sites around Colonial Williamsburg. The RV park is only a short 8-mile drive to Historic Williamsburg, with easy access to Yorktown and Jamestown.
Anvil Heritage is big rig friendly with pull-through and back-in sites available. In addition, new Premium Sites are available with patios and a larger outdoor to accommodate families and larger groups. Campground amenities also include:
30 and 50 Amp service available,
Camp store
Free WiFi High Speed Internet and Cable
Propane station on site
Dog run area (fenced)
Cabins Available
24 Hour Laundry
Laundry
Dump station
Game room
All sites have concrete parking & patios
Williamsburg Campground
Formerly the Williamsburg Busch Gardens Area KOA, the Williamsburg Campground is one of favorite campgrounds we experienced several years ago when visiting the Williamsburg and surrounding area and is only a 12-minute drive from Busch Gardens Williamsburg. The campground, though under new management and a different name, offers the same great amenities and is perfect for families and large groups!
The campground is sited on 180 acres of green woodlands and offers its visitors every amenity you could ever want in a premium RV park and campground. Some of its features include:
Nature trails
Camp store
WiFi
Shower and restroom facilities
Laundry facilities
Stage for bands, etc.
Playgrounds, outdoor activity areas, and splash pad
Heated swimming pool (April through beginning of October)
Gated property
Picnic Area
Tent camping sites
Thousand Trails Williamsburg
For those with a Thousand Trails membership or RVers looking to stay at a high amenitized campground, then we suggest the Thousand Trails Williamsburg. Though you will feel far away in this lushly landscaped campground, you are only a short 15-minute drive from the thrills and attractions at Busch Gardens, Colonial Williamsburg, and the surrounding history of the area.
The Thousand Trails Williamsburg not only offers respite for RVers, but those looking for a place to tent camp or a modern, equipped cabin to rent will feel right at home. The campground is a great destination for families looking to keep the kiddos occupied when not visiting the surrounding area. The campground offers:
Swimming pool
Camp store
Full hookup sites
Dump station
Restroom and show facilities
Indoor pool
Mini Golf
Outdoor sport courts
Hot tub
WiFi and cable TV hookups
Planned/scheduled activities
One and Two bedroom cabins
Carter's Cove Campground and RV Park
At only 4-miles from the entrance to Busch Gardens Williamsburg, the family owned Carter's Cove Campground is open year-round and is a quaint campground option for those looking for an alternative to the larger and potentially louder campgrounds in the area.
The campground offers 40 sites each with full hook ups and available with 30 amp and 50 amp electrical service. Tent sites are available in the rear of the campground directly adjacent to their bathroom and shower facility. The campground is situated in a more residential area, but adjacent to local golf courses, the theme park, and is only minutes away from Colonial Williamsburg.
Kings Creek RV Campground
The Kings Creek RV Campground is located on the Cheatham Annex/Yorktown Naval Weapons Station and is available for active duty and retired military RVers. The campground boasts an impressive 50 sites each with water, sewer, and 50 Amp electrical service. If RVs are not your means of travel, you can also rent on of their 31 cottages all with full hookups.
Kings Creek RV Campground is located less than 5 miles from Water Country USA and is only a 18-minute drive from the thrills of Busch Gardens Williamsburg.
Related Articles