If you are camping on a budget, you may be wondering how you can save money at a campground. After all, campgrounds can be one of the biggest expenses during your travels.
The average price of a campground for one night can be between $30-$100 in 2023. That really adds up to a lot of money!
After several years of RVing across the country, we have found the best tips and tricks for saving money each night.
While RVing can already be an economical way to travel, there are still plenty more ways to stretch your travel dollar.
Never Pay for More Campground Than You Need
When selecting a camping ground for an overnight stay, it is important to consider your budget and the amenities available. Luxury playgrounds with swimming pools, spas, tennis courts, and miniature golf can be costly and may provide more features than necessary.
A simpler, clean mom-and-pop campground can provide a suitable option while keeping costs down.
For instance, if you are going to the theme parks in Orlando, there is no need to pay for all of the amenities at Fort Wilderness Resort and Campground unless you plan on spending a lot of time at your campsite or want the Disney perks.
If you just want to be close to the theme parks, then you can stay at a less expensive option that is still close to Universal Studios and Disney World.
Use Less Hookups
The same rule applies to hookups at campgrounds, too.
Many campgrounds charge extra for full hookups, which include sewer, electric and water.
If you are only going to be at the campground for a couple nights, and you don't plant on using too much water or your are using the campground bathrooms, there is no need to pay for sewer hookup.
Most campgrounds will have a sewer dump on your way out. Save some money by taking a few minutes to dump at the exit, rather than at your campsite.
Avoid Campground Surcharges
Though it is rare, some campgrounds may include additional charges for running air conditioners, connecting to cable TV, 50-amp electricity, or for more than two people traveling together.
We have also heard of a KOA that wouldn't allow anyone to use their own hotspot to connect to the internet, and instead charged campers to use their Wifi.
Additionally, some pet-friendly campgrounds may also impose fees based on the number of animals travelling.
Be sure to read the fine print when booking the site. If you are calling to book a reservation, always ask to make sure there are no additional charges beyond the per-night rate.
Join RV Membership Clubs
Members may benefit from joining membership clubs that offer discounts to certain campgrounds such as KOA (Kampgrounds of America) and Good Sam.
Most of these campgrounds provide a 10% discount. KOA ensures the discount is accessible regardless of payment method, however Good Sam may only provide the discount when paying with cash.
We have had a lot of success in saving money using membership discounts. However, some of these programs are very limited with when you can use the discount. For instance, some don't allow you to get a discount on weekend or holiday camping.
Use Membership Rewards
While staying at a KOA is usually more expensive than some campgrounds, you can earn points through their KOA Rewards program. These points add up to a free night's stay.
The rewards program also gives 10% off of campground rates. So while you need to pay for the membership, it can be for itself pretty quickly.
Related Post: Williamsburg KOA Near Busch Gardens Review
Use Senior Citizen Discounts
Utilize the benefits of being of a certain age. If one of you is over 62, you should consider obtaining a free America the Beautiful Pass, National Parks, and Federal Recreational Lands Pass. This pass has replaced the former Golden Age Passport.
When you present proof of age at a national park visitor center, you will be able to access the park, national monument, recreation area, or wildlife refuge free of charge.
Of special interest to RVers is that the pass also provides a 50 percent discount on overnight camping areas managed by the federal government.
This can be a significant savings on campgrounds. We have seen campers save up to $15 a night off of the campground using this pass.
Negotiate Discounts for Long-term Stays
For stays of more than seven days, discounts may be available ranging from 10 to 20% or more, depending on the season and duration of stay.
When we were full-time RVing, we booked month-long stays at a campground. The average night at this campground was about $45. Yet the month-long rate was $535. That is more than a 90% savings!
It does pay to slow down when traveling if you are able to. This is especially important for full-time RVers.
In some cases, it might make sense to book a week-long stay at a discount, even if you know you won't be staying all 7 nights.
This will vary with every campground, but look into their long-term stays rates before deciding how to book.
Stay During the Off Season
Some campgrounds charge more during peak travel times and on holidays and weekends.
If your schedule is flexible, always choose to stay during off-peak times, which may include mid-week stays or times of the year when it is not so busy.
We have seen some National Park campgrounds go from nightly rates to completely free during the off-season.
Other campgrounds, such as Disney's Fort Wilderness Resort and Campground, have much higher prices during special events, such as Bike Week in Daytona or during Spring Break.
Having the ability to change your travel plans can save you a lot of money and reduce the crowds.
Related Post: How to Stay Warm in an RV During Winter
Use a Campgrounds Guide
For the most up-to-date information on little-known campgrounds, consider purchasing a current guidebook such as Frommer's Best RV and Tent Campgrounds in the U.S.A.
Or you could also request a free campground listing from your state tourism office. Many state tourism boards have literature specifically for campers and RVers.
Publicly owned campgrounds, such as those found in counties, cities, and national forests, may be more cost-effective than privately owned campgrounds. However, they often lack the same amenities, such as electrical hookups.
Free Campgrounds
We can't talk about saving money on camping without mentioning using free campgrounds available through public lands.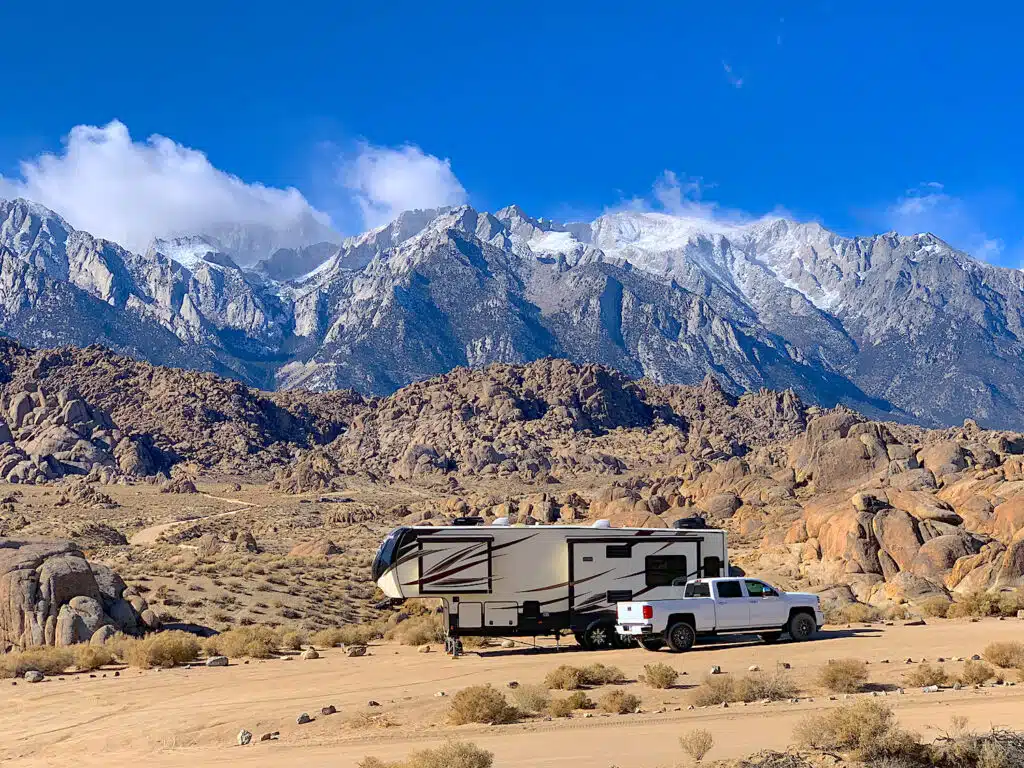 Search for campsites operated by the Bureau of Land Management, which are available at no cost.
You can usually stay up to 14 nights at one of these campgrounds, however rules might be different at each location.
Inquire About Overnight Overflow Parking
Are you getting in to a campground late and leaving early? Then you don't need access to the free pool, laundry room or campstore.
Inquire about the possibility of remaining overnight in an overflow area at a discounted rate if you arrive at the campground late. Some campground owners may be accommodating, while others may not.
Become a Campground Host
The best way to get free camping in a campground is to be a campground host!
If you don't mind staying in one area for an extended period of time, think about volunteering as a campground host.
You will be given a free campsite in exchange for some small duties, which could include working the check-in desk, cleaning bathrooms or campsites, or helping with maintenance tasks.
Some campground hosts are unpaid, but others often make a small amount of income, in addition to free housing.
While campground hosts are common in national and state parks, they are also available for some small family campgrounds, too. You can always ask about the opportunity to be a campground host, especially if you have skills that are in demand.
How To Become a Campground Host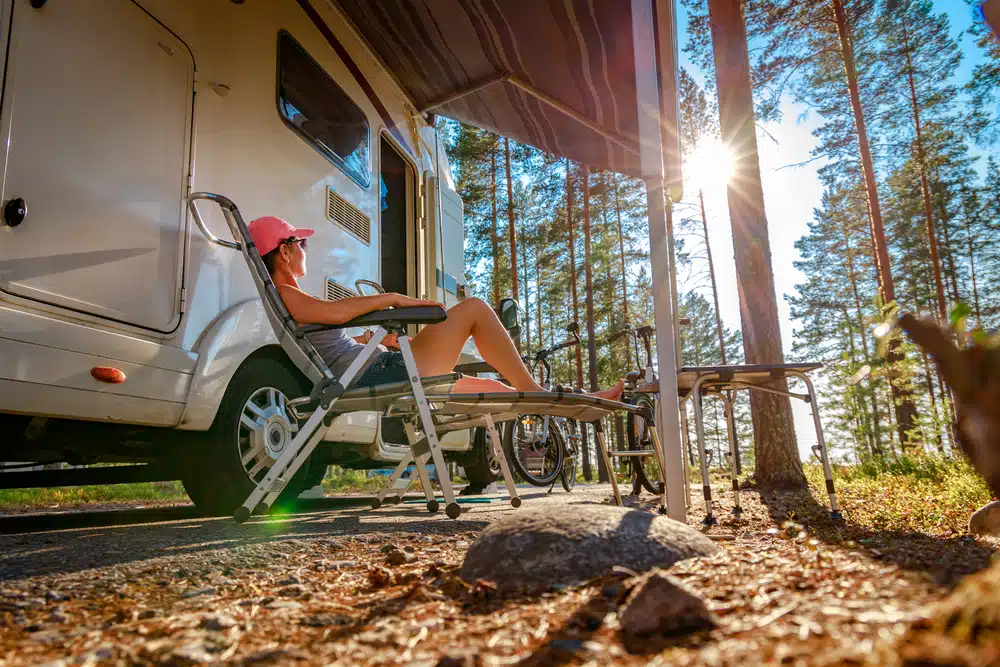 As a host, your campsite is usually near the entrance, clearly indicated by a sign, and you act as a trouble-shooter when the office is closed, or the rangers are off duty.
Experiences of former camp hosts vary from loving it to hating it, so it is best to do your research on the campground and management prior to taking the job.
You will also need to be prepared for the possibility of doing unpleasant and hard chores such as cleaning toilets and showers or asking campers to turn down the noise.
If you have a particular campground in mind that you would like to volunteer with, you should contact them and provide a comprehensive resume. This should include personal and professional references, as well as a recent photo.
Note that many campgrounds prefer couples, and generally require a single person to work a minimum of 30 to 40 hours each week, versus the 15 or 20 hours that a couple would work.
To volunteer in a national park or forest service campground, you should contact the National Forest Service or National Parks Service for more details.
When applying to the Good Sam Club to work as a host in a Good Sam member campground, it is necessary to meet the 60-day minimum stay requirement. Before contacting the organization, be prepared to provide information regarding the size and type of your RV, as well as your first, second, and third choices of states and the months you are available.
Here are some valuable resources for finding camp host positions:
They advertise all kinds of jobs, from seasonal positions like working as a campground host during the summer months or helping out at a
Boondocking and Camping Without Hookups
No mention of saving money on campgrounds is complete without talking about boondocking or moochdocking.
Boondocking, which is camping without electric, water or sewer hookups, can be done in a variety of places. Many national and state park campgrounds actually require boondocking, even though you might pay for the site.
However, you can boondock at casinos, church parking lots, restaurants, and more places. Usually this overnight camping is free.
Moochdocking is staying in a friend or family member's driveway or property for free. While this might be without hookups, you may be able to run an electric cord or water host to your camper for some amenities.
Related Articles