When your feet are wet or cold, hiking can be miserable. If you plan on hiking in or near water, be prepared with a pair of one of these best neoprene socks for hiking.
You might be familiar with Neoprene by wearing wet suits made from the synthetic rubber while surfing, diving or snorkeling in cold waters. Neoprene helps to regulate body temperature, keeping your body's warmth trapped inside a wet suit (or socks), while effectively keeping moisture outside.
Because it is very flexible, Neoprene is a great material to use when swimming, kayaking, fishing, paddle boarding or other outdoor water sports. Those same properties make it a flexible and conforming material to use as socks, too.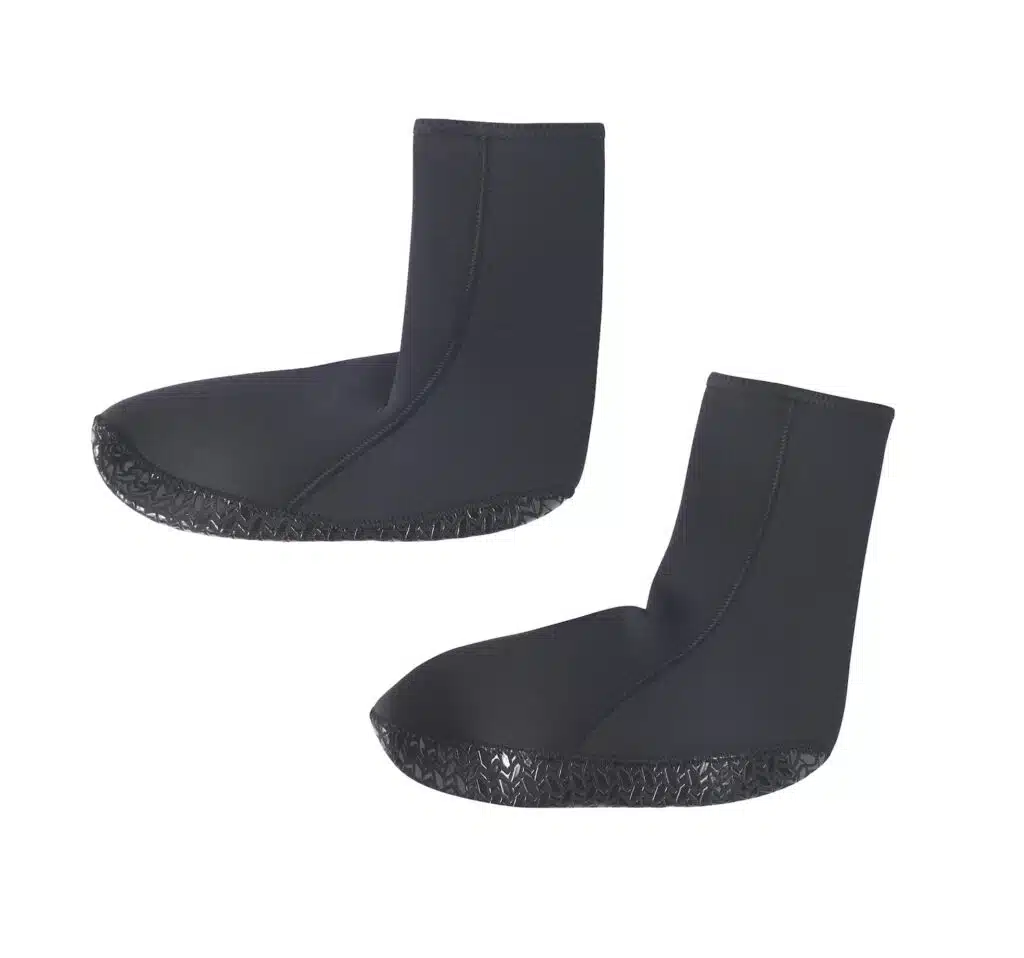 If you are just starting to enjoy outdoor hiking and activities, you might think that you don't need a pair of these socks. However, what is great about socks made from neoprene is that they can be used in a variety of other activities, such as fishing, snorkeling, skiing, etc. So the small investment (about $20 or less) can be used in a variety of other ways, not just hiking.
When to Wear Neoprene Socks
You probably won't want to wear these rubber socks for everyday hiking. The qualities that keep your feet warm in cold water would make wearing them in the summer on a dry and rocky hike pretty miserable.
However, there are times when you definitely want to pack these waterproof and insulating socks, such as:
Hiking the Zion Narrows
Walking through streams
Hiking near lakes
Walking in sand on shorelines (lakes, ocean)
Forging a river
Hiking through snow or sleet
Hiking in the rain
Wearing these socks will not make you feel like your feet are in a pool of water. Don't worry! While your feet can get wet, you won't feel like you have a bag of water surrounding your foot as you are hiking.
Best Neoprene Socks to Bring
With as many positive benefits as these socks have, the price point is still relatively cheap. Which makes it easy to get a pair to have with you for hiking.
Not all Neoprene socks are the same. They range in thickness, from 1-5 mm.
Thicker socks (5 mm) are the best for colder temperatures as they will keep your feet warmer. If you are hiking in hot but wet conditions (such as in Utah's Narrows in August), go for a thinner sock, such as the 1 mm thickness.
Remember, these socks are not breathable. They will not let air flow naturally cool your feet. However, that is the same reason you want to wear them to keep your feet insulated in cold water conditions.
What about blisters? Ill-fitting shoes are more likely to cause blisters rather than wearing neoprene socks. You will want snug fitting socks along with proper-fitting shoes to avoid blisters forming.
All of these socks are stretchable and flexible. A snug fit will ensure that less water can enter the socks, so size down if you are in between sizes. Most of the socks are unisex, so women will probably want to choose a smaller size for a perfect fit if they have narrow feet.
3mm Neoprene Booties
These neoprene booties socks come up higher on the leg than other choices. Which can be great if you know you will be walking in deeper water. Or if you want as much protection as possible from chafing from your hiking boots.
At 3mm, the thickness is right in the middle, which makes these socks neither too warm or too cold.
An anti-slip design is great if you are going to wear them in the water without shoes. The sand-proof water socks will prevent dirt or sand from getting into your socks and causing irritation.
These socks do have a narrow opening, so order a size up if you are between sizes. Very large feet might not be able to squeeze through the opening.
Reviewers are amazed that these socks kept their feet warm for several hours in water temperatures of 55 degrees or less.
Colorful Seavenger Socks
If you want to have fun and wear colorful socks, you can't go wrong with these Seavenger Zephyr neoprene socks. The ankle-hugging socks are great for wearing with low-cut shoes or on their own.
A variety of bright colors and patterns make these great to wear when you don't want to do boring! The 3mm thickness socks have a comfortable 4-way stretch to them. They are easier than others to put on and take off.
Sizing tends to be a little on the larger size. If you are in between sizes, order down.
Available on Amazon and Walmart.
Neoprene Booties with Adjustable Straps
If you are concerned about rocks, sand or small water animals getting inside your socks (yes, it can happen), these socks with adjustable straps are what you want.
These neoprene socks come in two sizes (ankle cut and high cut), as well as two different thicknesses (3mm and 5mm). They also come in a few colors, as well as black with colored accents.
There is a reason why these socks are bestsellers. The toes and heels are reinforced to be tear-resistant. There is also a no-slip grip on the bottom of the socks.
The opening of these booties is a little bigger than most, which is great if you have larger feet. Or if you don't want to struggle to pull on the socks.
Available on Amazon and Walmart.
2mm Neoprene Socks
These budget basic socks are perfect for a no-frills moisture barrier while hiking and they work really well! The thinner socks are ideal for warm weather walking, or for when water temperatures won't be too cold.
Available in both high top and low top styles, most reviewers say that these basic socks are ideal for wearing inside of shoes or flippers, but not on their own. There is not a non-slip grip on the bottom.
One reviewer said he wanted to save money on expensive water shoes from outfitters in Zion National Park before hiking the Narrows. So he just bought these and wore them with old running shoes. Even in 50-60 degree water, his feet stayed warm for two days! Now, that's a great review!
Available on Amazon and Walmart.
Neoprene Socks for Kids
It's rare to find insulating socks for kids. These Fun Toes socks come in kids sizes, as well as adults. In fact, the kids sizes can be worn by women's small foot sizes, too.
The ankle-cut 2.5mm thickness socks are ideal for warmer weather hiking without walking through deep water.
Extra padding is provided through the soles.
You will get two pairs of socks in one order with Fun Toes, which makes these one of the most affordable pairs of socks. (About $12 a pair.)
How to Wash Neoprene Socks
The socks should never be put in a washing machine or washed with hot water. You can use a mild detergent and hand wash the neoprene socks like you would delicate clothing. They should be hung up to drip dry. Never put these socks in the dryer.
Anything made from neoprene, including wet suits, is not made to be laundered by a washing machine. For proper sanitation, you can turn the item inside out and gently scrub it was a brush to remove any debris.
Soak the item in a bucket of water with a mild anti-bacterial soap (such as Dawn) or a wetsuit shampoo. Squeeze out the dirty water and soak in clean water to remove any residue.
Squeeze out any remaining water. Hang your neoprene to dry with clothespins or lay flat on a towel. You could stuff a washcloth inside the socks to help them to dry faster. Always keep the items out of the sun's direct rays or high heat.
Here's a helpful video showing you how to wash neoprene socks:
Check out our shopping guides for essential RV gear (perfect for beginners) and the best camping flasks.