After a month on the road, we were looking for a peaceful, quiet and beautiful campground in Tennessee as we were driving back home.
Daniel found Long Branch Campground on the Caney Fork River in Lancaster, Tennessee. It was the perfect spot for relaxation and nice, big campsites.
After previously staying at Springfield Campground, a Corps of Engineers site in South Carolina, we were wanting to try another COE camping destination. While also enjoying beautiful river views and plenty of outdoor recreation possibilities, such as excellent trout fishing.
Long Branch Campground
Location: Lancaster, Tennessee
Type: U.S. Army Corps of Engineers
Hook Ups: Water and Electric
Number of Sites: 60
When We Stayed: May 23-24, 2021
Our Site: #10
Rate: $30/night
What We Liked About Long Branch Campground
There is so much that we liked about this Corps of Engineers (COE) campground. It was super quiet and conveniently located off of I-40. Being able to camp right on the Caney Fork River close to Center Hill Dam is amazing! Especially when the cost is so low.
It would be very easy to fish from the Long Branch Recreation area. And there is easy access for boats, kayaks, and canoes.
Two bath houses, and a laundry area, were unexpected in a campground of this size.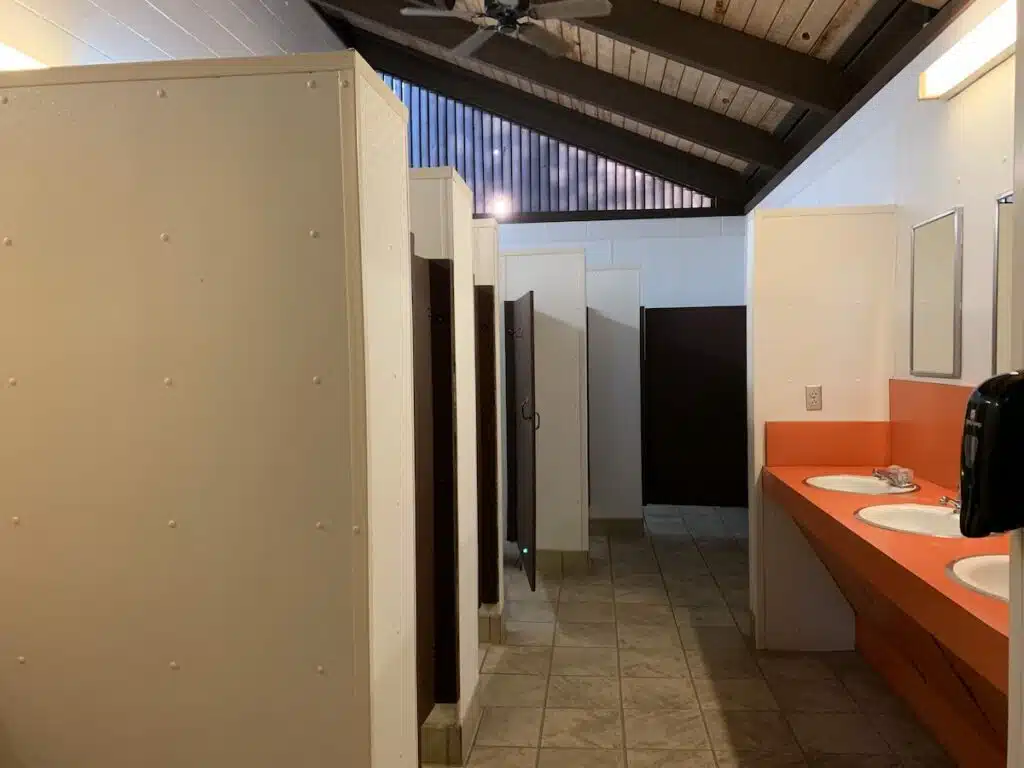 Our Camp Site
We stayed in Campsite #10. The site was on the Caney Fork River and the view was relaxing! We loved sitting in our chairs and watching fishing boats and kayaks float by.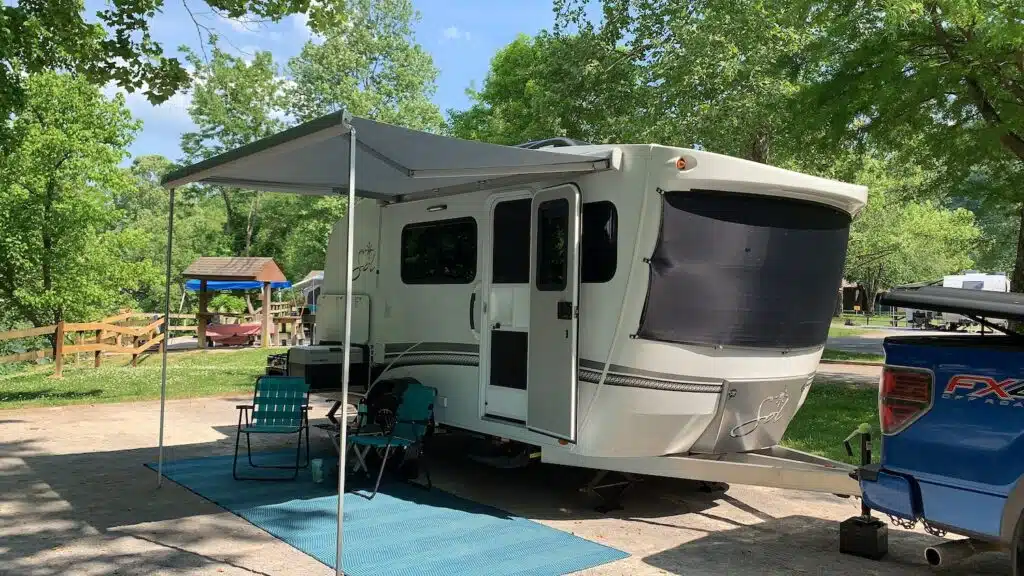 The site was back-in. It was plenty wide enough and long enough to accommodate large RVs.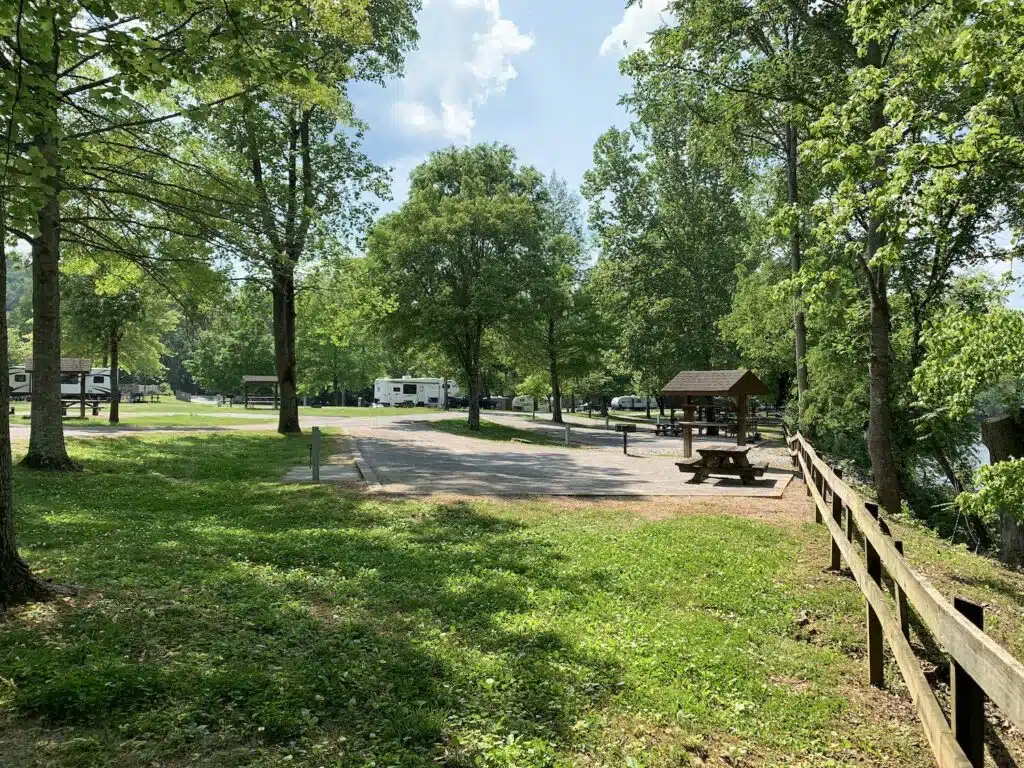 We found the campsite to be very level. We didn't need any leveling blocks.
The campground is definitely big-rig friendly. Most RVs there were large fifth wheels and travel trailers.
Our site had a fire pit located with a great view towards the river. There was also a small prep table, along with a larger fish cleaning station with a wooden shelf and prep table to use for storing food, preparing fish, grilling, etc.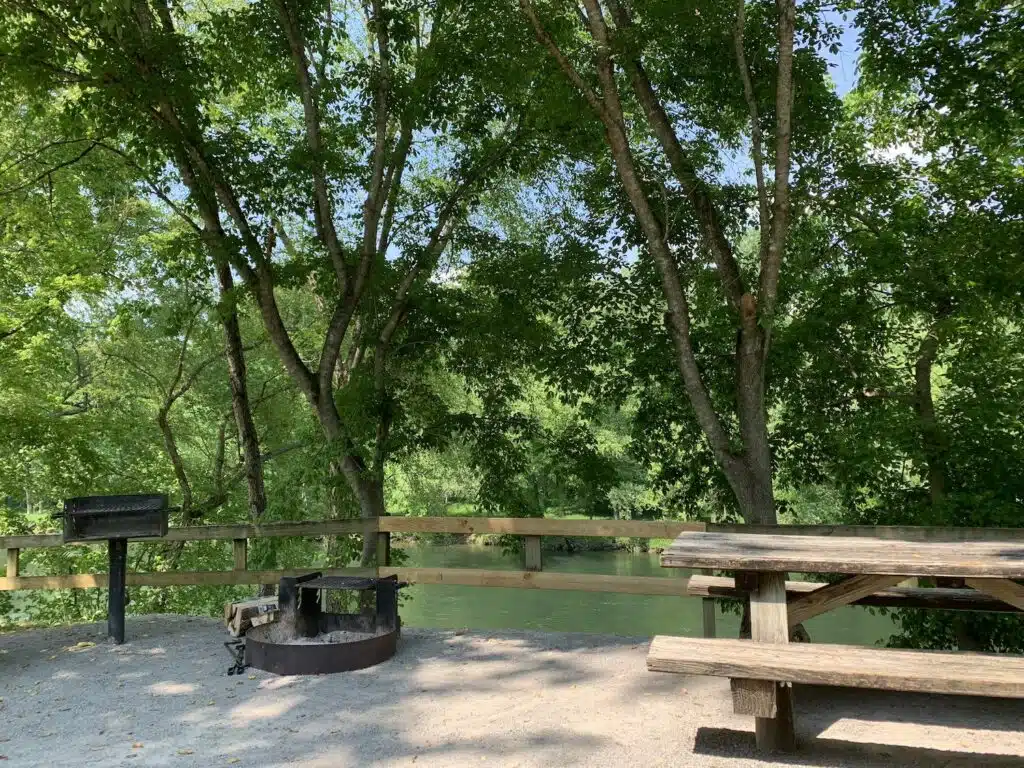 The heavy picnic table was large and in good condition. It was nice to be able to use it.
If we didn't stay along the river, other campsites that we would suggest would be:
#30 is along a rushing creek, the sound of water would be nice with the windows open
#50 is also along the creek
#25 is located adjacent to the steps leading down towards the river. It is one of the biggest sites with lots of room between the site and the bathhouse.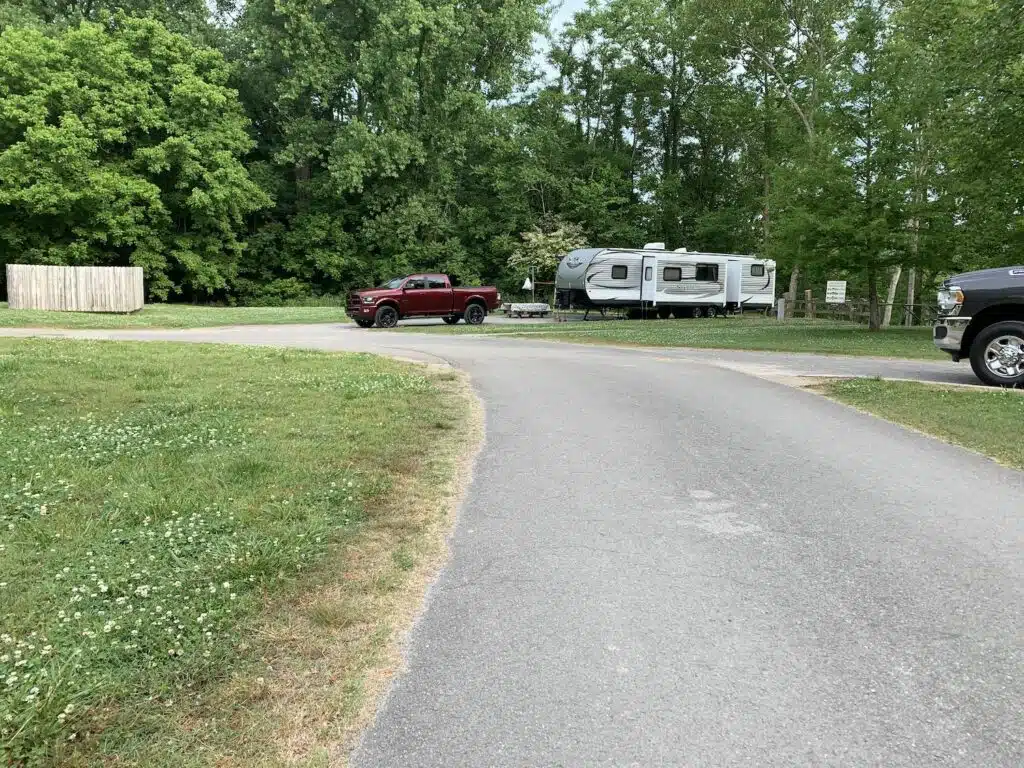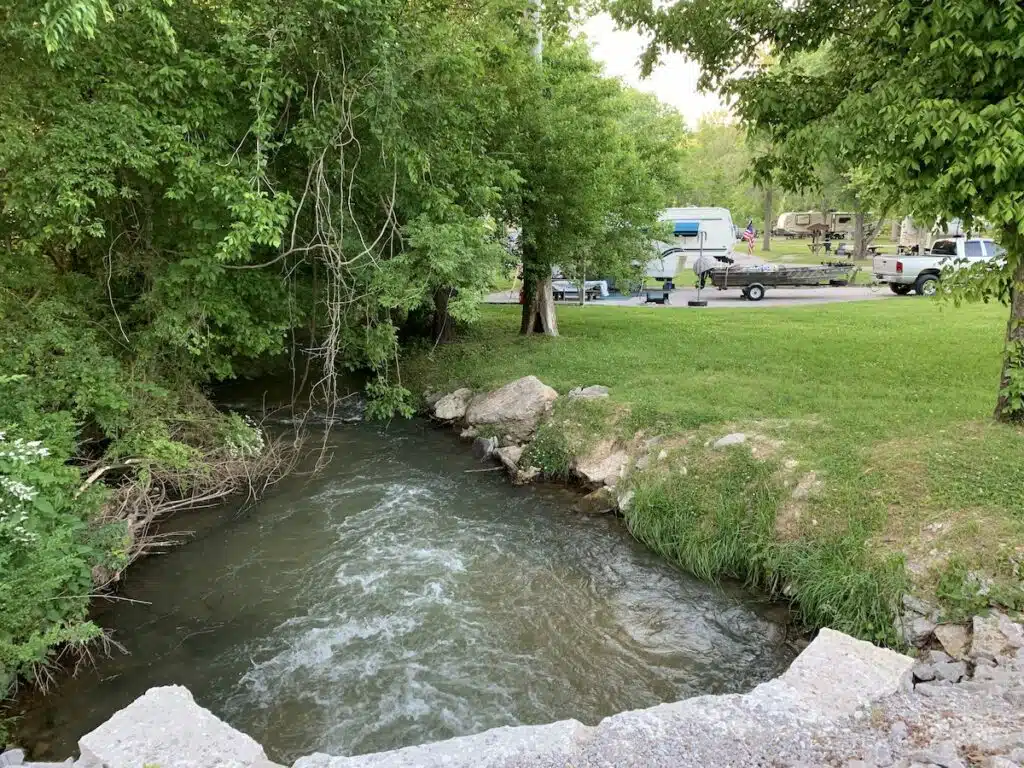 You can see our site – and the entire campground – in more detail in our video below. And, if you're not already a subscriber, we'd love if you subscribed to our channel for free on YouTube!
Boating, Kayaking and Canoeing
With a location right on the river, it is easy to bring your own boat, kayak or canoe when you go camping at Long Branch Recreation area.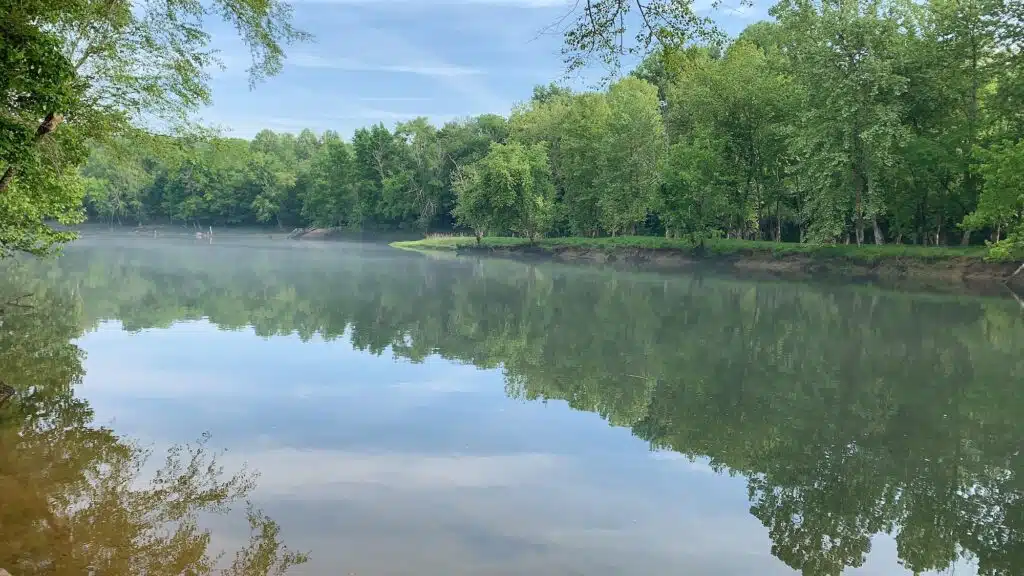 You can park your boat at your campsite. We saw a couple people that had done that. In fact, you are prohibited from leaving your boat parked in the day-use area.
The campground is located adjacent to the public Long Brach Recreation area. As part of the area, there is a public boat ramp which is free of charge. The parking lot is located adjacent to the boat put-in area. There are steps leading into the campground from the boat ramp area, too, so you could easily park your vehicle, put in your boat or water sport equipment, and still be able to access your campsite all relatively within the same area.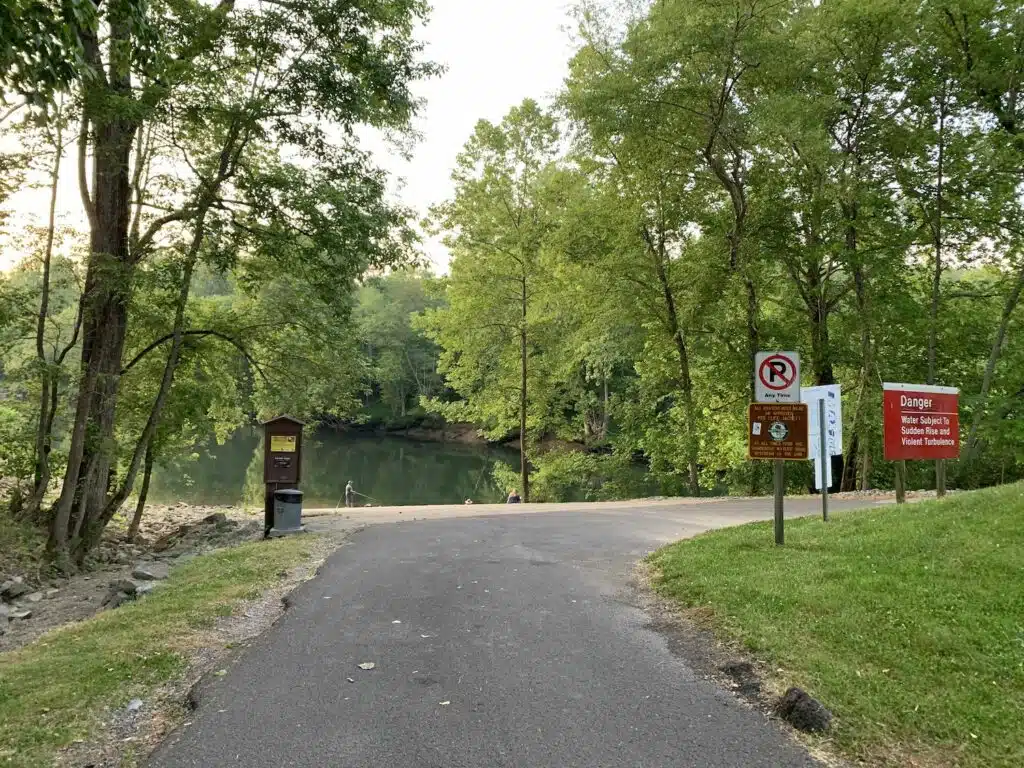 There were steps leading down to the river from within the campground. If you had a blow-up kayak or SUP, you could technically launch from this area. However, keep in mind it's a lot of steps leading down towards the river.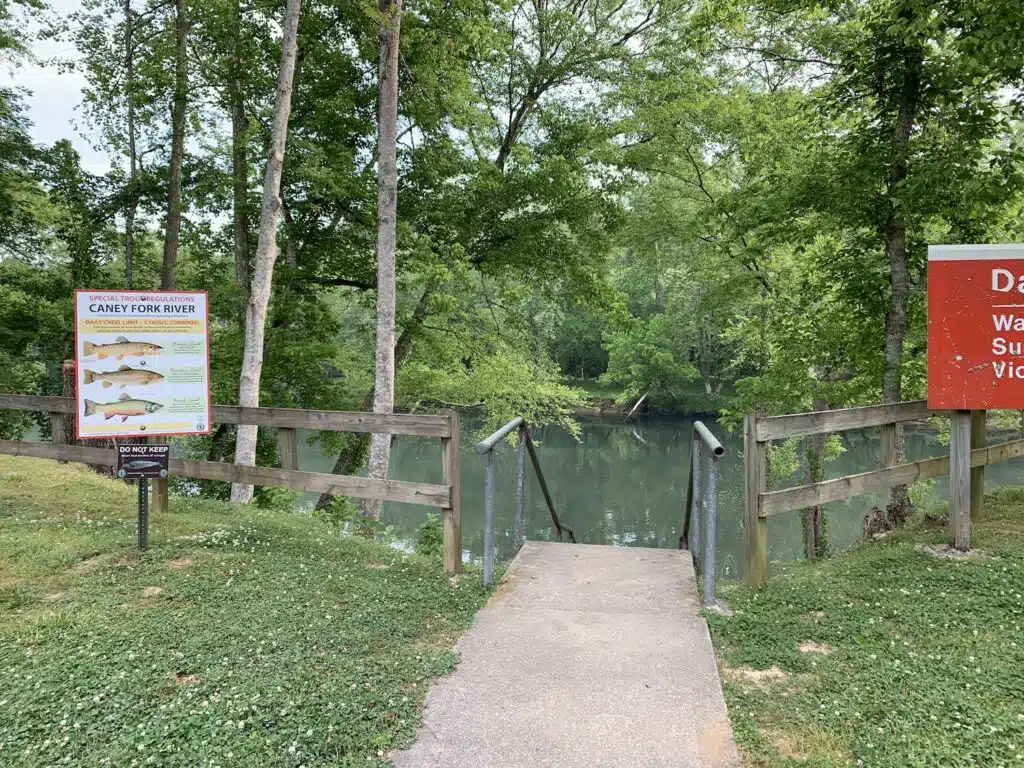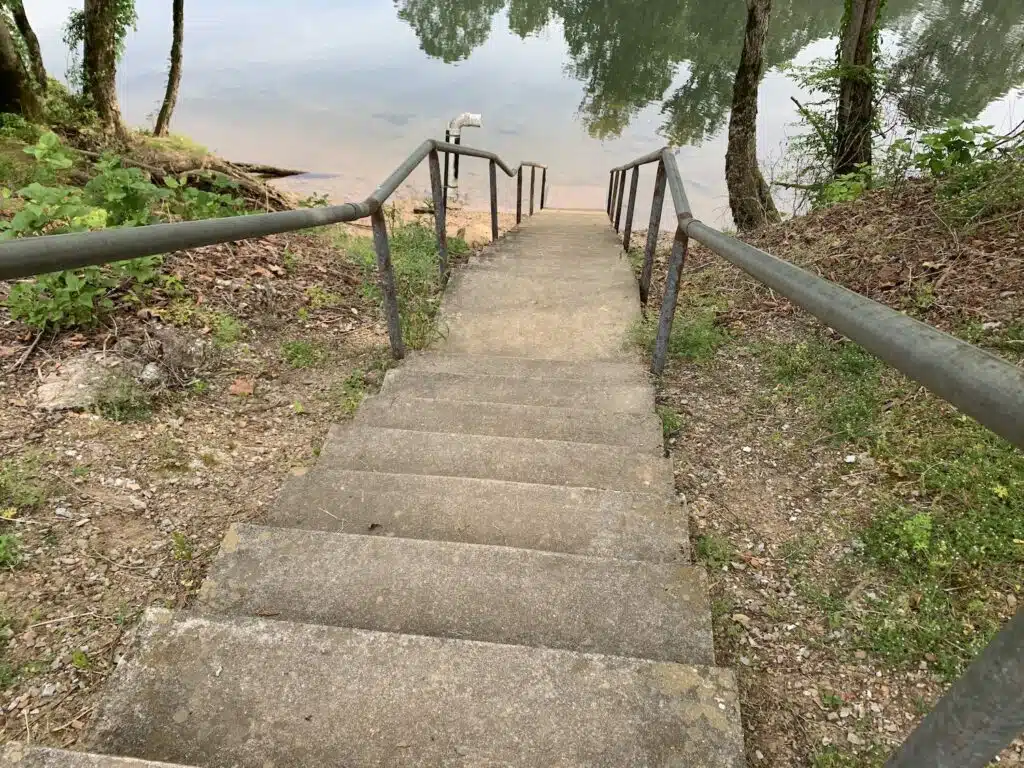 Want to enjoy the river without using a rental company? Be sure to get one of these easy 2-person inflatable kayaks to bring with you!
Recreation
Located next to a public recreation area, there are plenty of opportunities to enjoy the scenic surroundings when staying at Long Branch.
Fishing is definitely popular here. The river is stocked with rainbow and brown trout.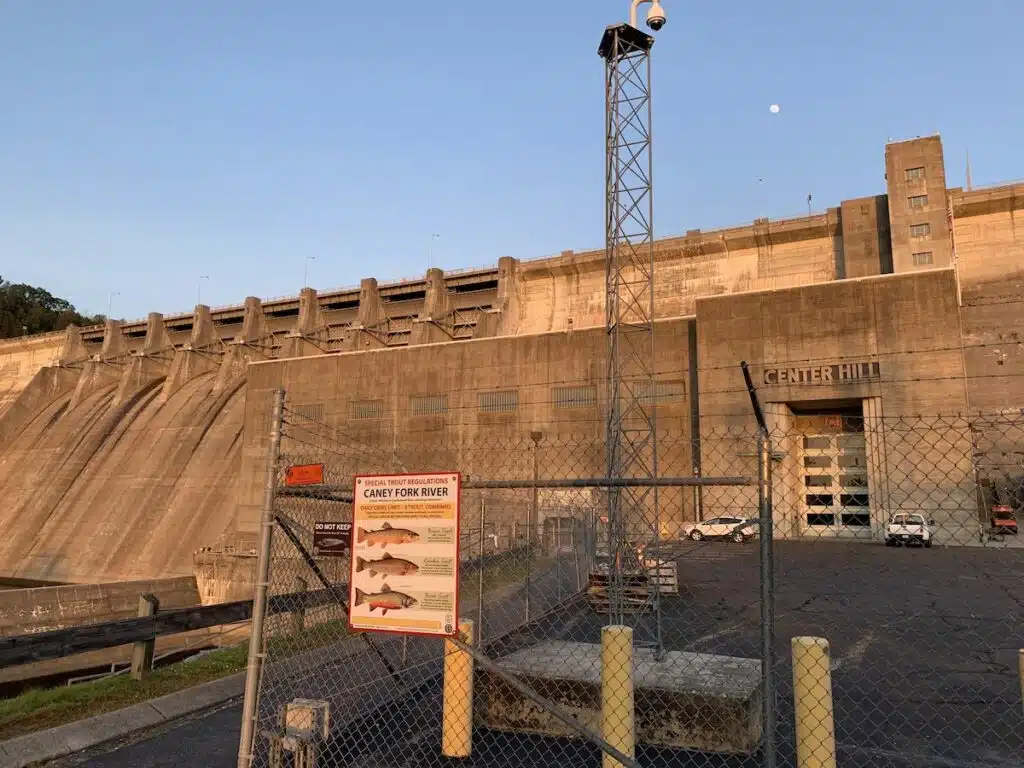 If you walk outside of the campground entrance to your left, you'll walk past the public boat ramp. In this area there is plenty of parking, along with picnic tables close to the river. There is also a large, covered pavilion with lots of picnic tables. And there is a playground.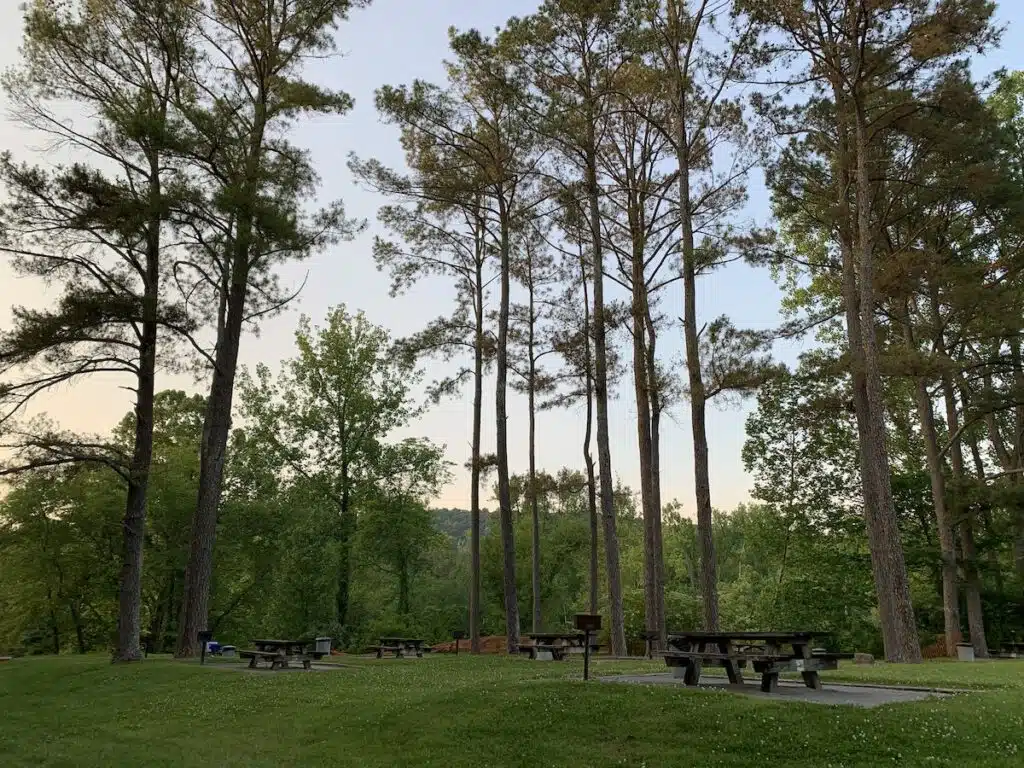 Continue walking down the road (it wasn't crowded at all when we were there), and you'll walk towards the Center Hill Dam. There is plenty of parking right next to the dam, and the public is allowed to enjoy this area.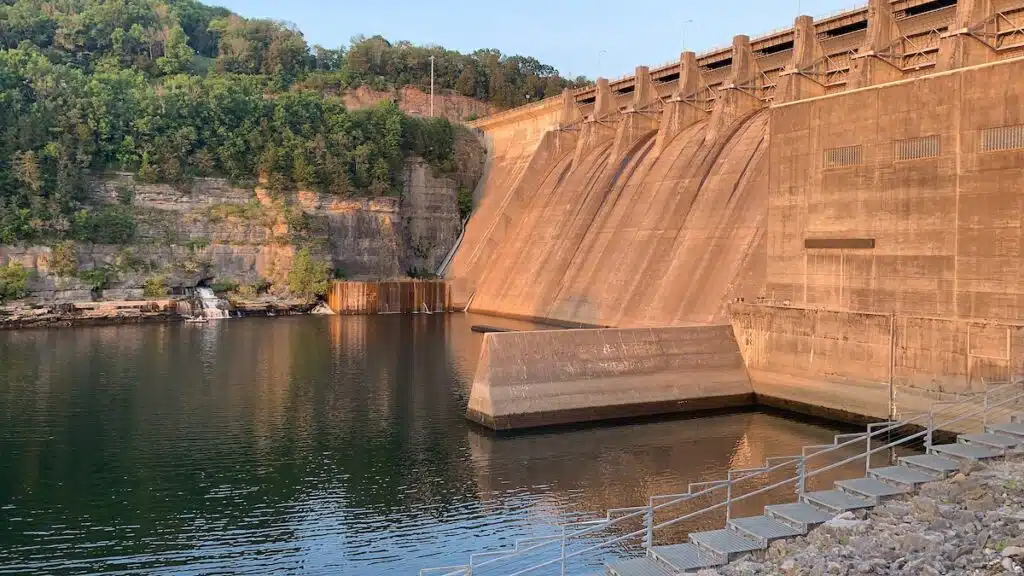 There are a LOT of steps leading down towards the river from which you can fish. A cascading waterfall along the edge of the dam is pretty to watch. There were plenty of locals who came just for the night and were walking around and just enjoying the scenery.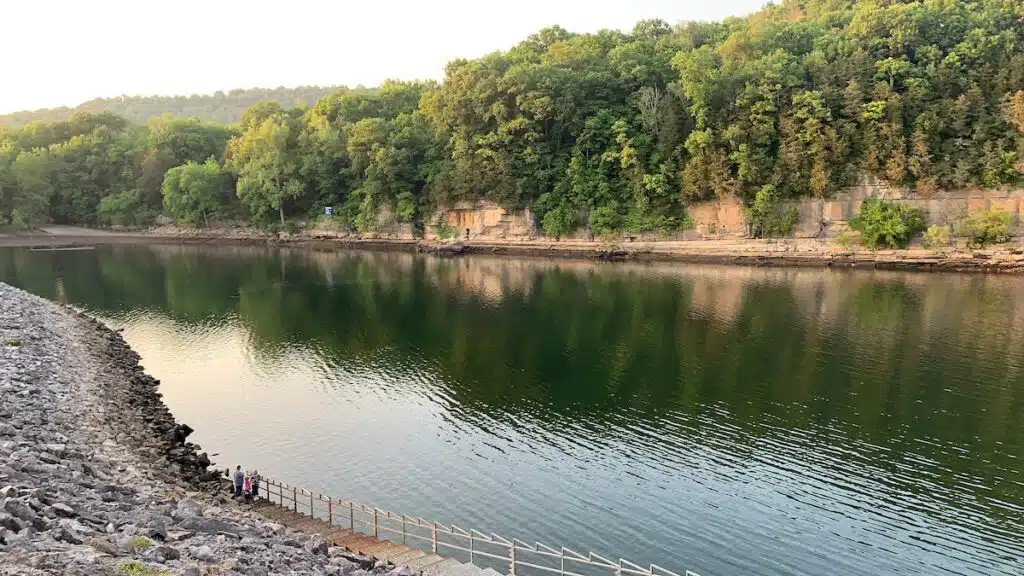 A playground is also located within the campground. It is across from the laundry area, which makes it easy to do laundry and keep an eye on the kids.
If you want to be super close to the playground, choose Site 46.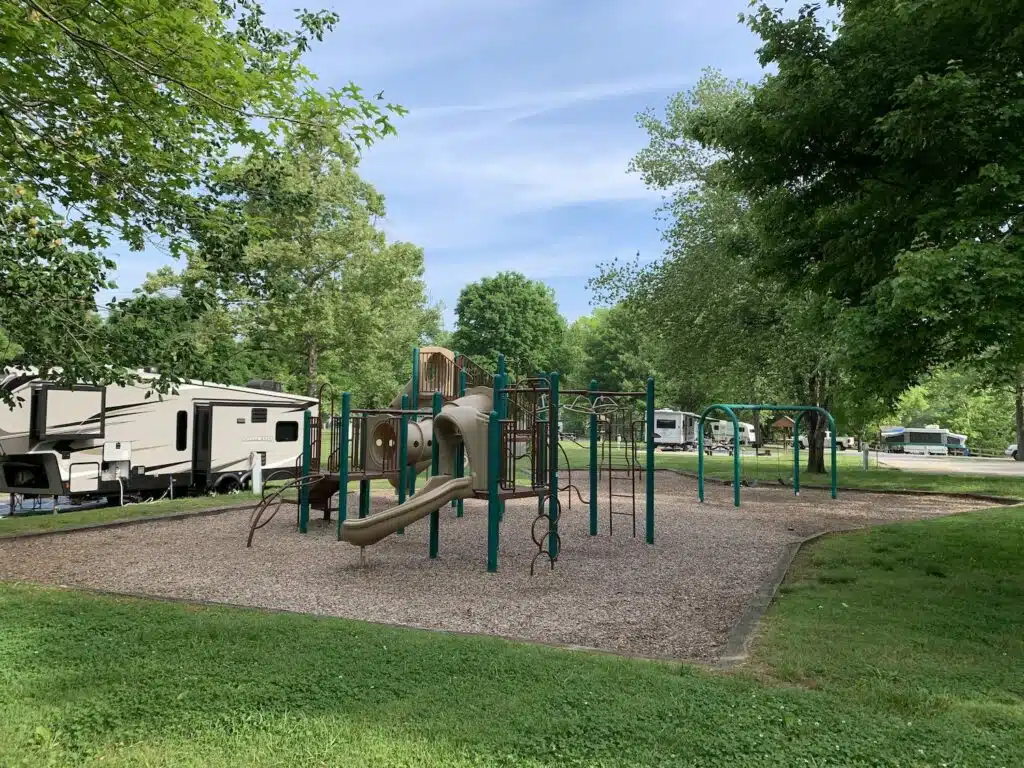 A visit to the top of the dam provides a view point that is different, along with some educational plaques and the opportunity to stand next to an old turbine used for hydroelectricity.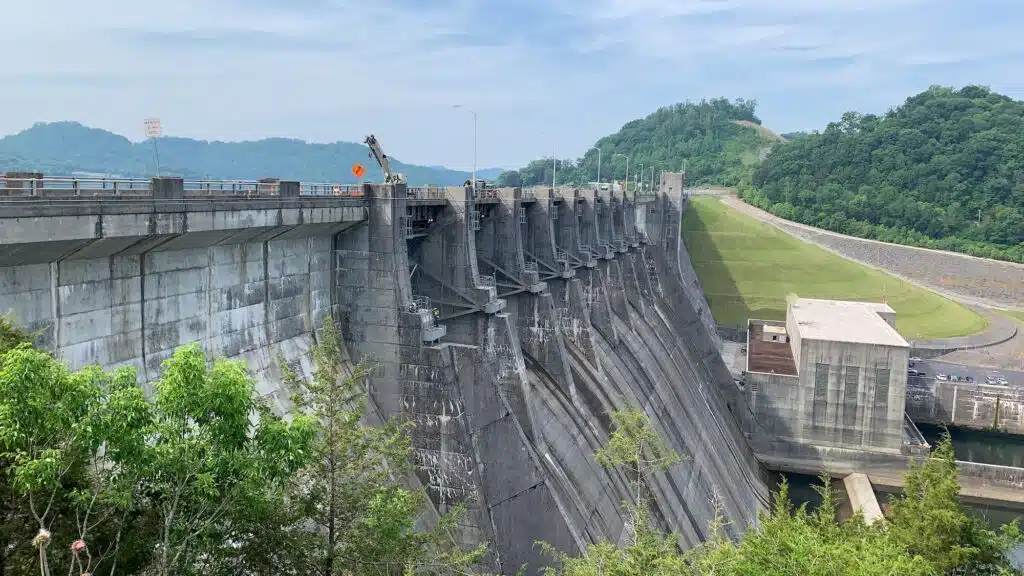 WiFi Coverage
We have Verizon, and the coverage was not great! We only had one bar of LTE and were unable to send a photo via text, or check email.
At the top of the dam (you'll need to drive there), there were three bars of LTE coverage.
What We Didn't Like
Thankfully, there wasn't much that we didn't like!
Lack of cell phone data or Wifi would probably be the biggest complaint.
I did get freaked out a little bit reading reviews of this campground from a couple years ago. Every single person complained about the camp hosts. However, in 2021 we found the couple that were camp hosts to be very nice and no issues.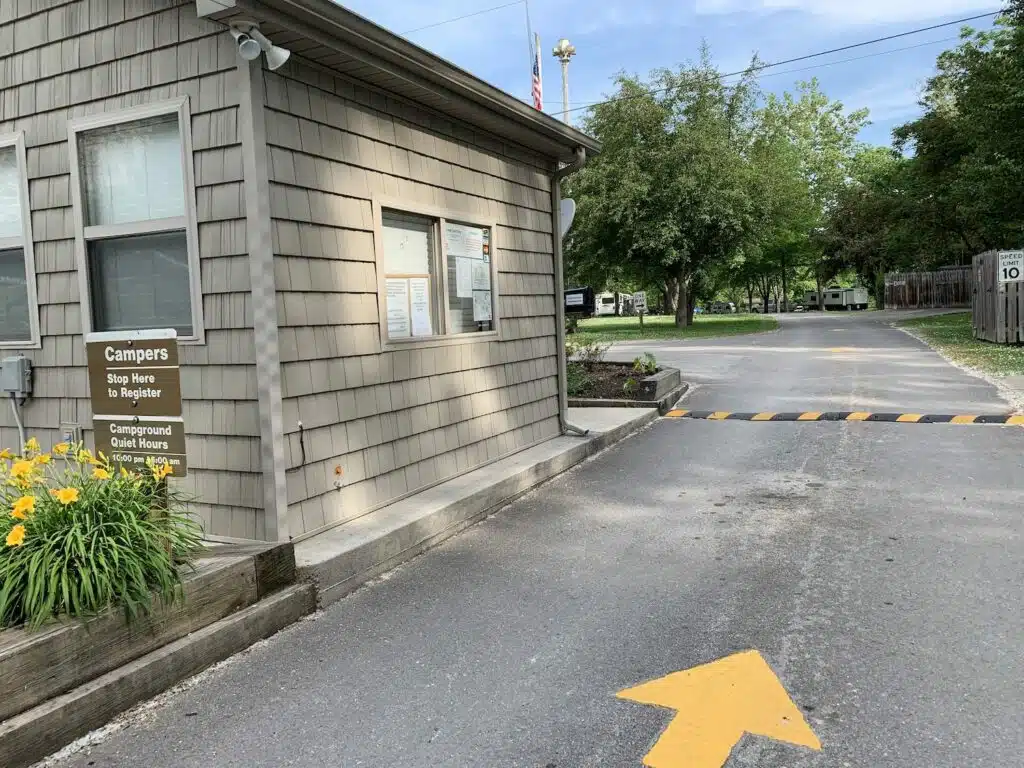 Many of the campsites aren't on the river. So be sure to choose a river-front campsite.
There are some sites that we definitely would not want to have, because they are right next to the dump station. So every time an RV is at the dump station, you won't be able to get out of your site. Plus, you'll just get to watch them dump! Also, these sites are located on the road, too, which could have noise. Those sites are: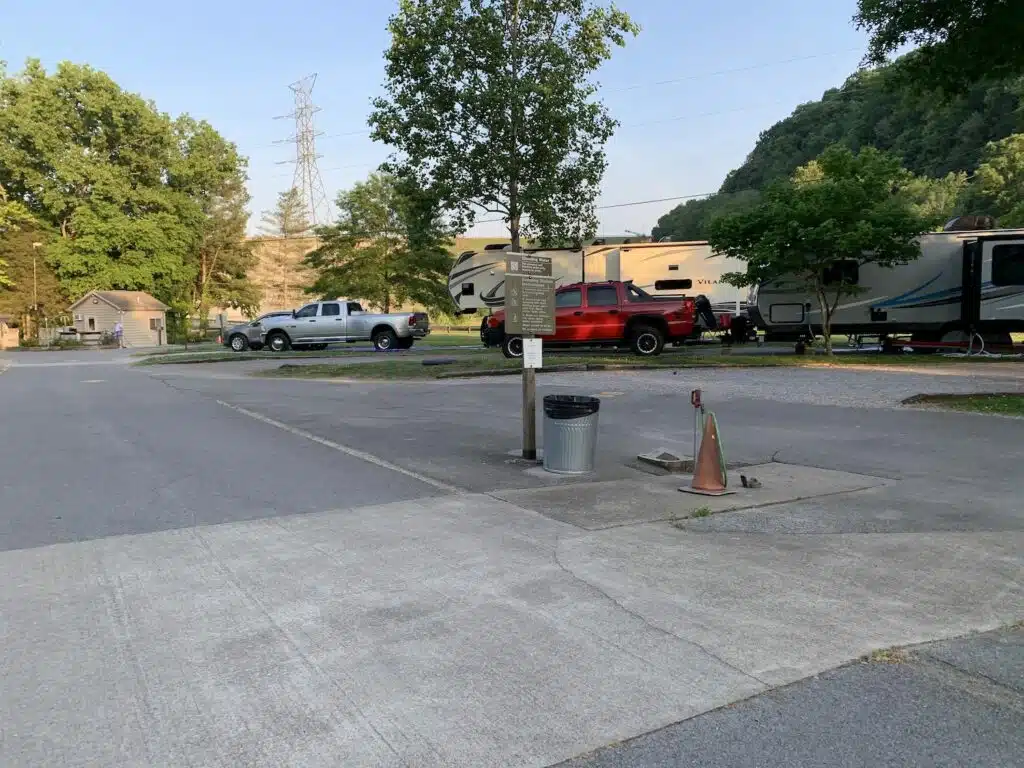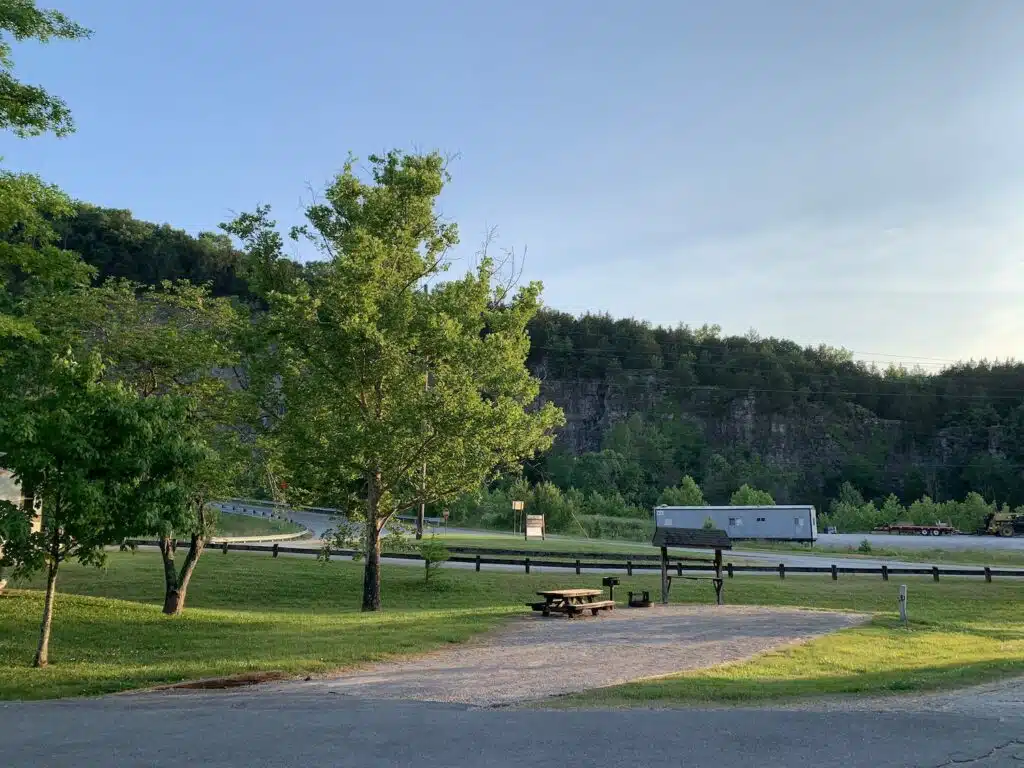 And we wouldn't want the following sites because there was a large electrical box located in between.
What's Nearby
Driving to Long Branch Campground, you'll realize you are in a very popular recreation area. There are lots of billboards for kayaking companies, and you'll see plenty of people using the river.
Caney Fork Outdoors is located close to the campground and recreation area. They have a gas station, along with a general store and outdoor rentals.
---
Check out average campground costs across America in our planning guide.
*Be sure to see all of our Campground Guides as you're planning your travels.