When we laid down on the factory mattress in our Intech Sol Horizon for the first time, I knew that we'd be buying a new mattress as soon as possible! The 3-inch thick piece of polyurethane foam instantly made my back hurt. And I knew I wanted a great night's sleep while camping every night.
However, a custom mattress (for either an RV or a bed at home) can be pretty expensive! Whether you need to customize the thickness, size or curved edges.And it might take weeks for the manufacturer to make it and get it to you.
The solution we found is inexpensive, quick, easy and gives you flexibility when storing or selling your RV, if you ever do.
So why not start getting a great night's sleep as soon as possible, without spending a fortune?
We do use affiliate links in our articles, which means we might make a commission with a purchase.
Benefits of Making an RV Mattress from Mattress Toppers
Less expensive than ordering a custom size mattress and some normal mattresses.
Customize firmness and change firmness if needed.
Customize thickness of mattress.
Easily cut corners to fit curved edges.
Lightweight boxes to lift to bring up stairs into the RV.
Smaller boxes that will fit through an RV door.
Quickly receive mattress toppers in the mail, compared to mattresses.
No need to schedule a freight delivery for the mattress (mail order mattresses, especially king-size, are often too large and heavy to be shipped via FedEx or UPS).
Use the toppers in your home if you want to remove bedding while your RV is in storage or if you sell your RV.
Removable covers allows you to clean, sanitize and disinfect mattress after spills, pet urine accidents, etc.
Can easily remove mattress if needed to work underneath the bed (such as water system, etc.)
Natural latex is antimicrobial, antibacterial, mold resistant and dust mites can't thrive in it.
Creating a Custom Mattress from Mattress Toppers
While we were able to use a normal queen size mattress in our RV, we need a mattress no more than 6 inches thick. Otherwise, our bed will block the window in the bedroom area. (See more Intech Sol Horizon dimensions with our cheat-sheet.)
*If you're an Intech Sol Horizon owner, too, you might love these downloadable SVG files to use!
There are very few decent mattresses that are 6 inches thick. And affordable at the same time.
After hours of searching in vain, I decided to create a custom mattress out of high-quality, yet inexpensive, mattress toppers.
And it worked!
I ordered three 2-inch mattress toppers in different firmnesses. (You could order 3-inch mattress toppers, too.) I didn't know what firmness I wanted. Since I needed three toppers anyway, I took the opportunity to get one of each firmness (soft, medium and firm) so that I could customize the bed firmness.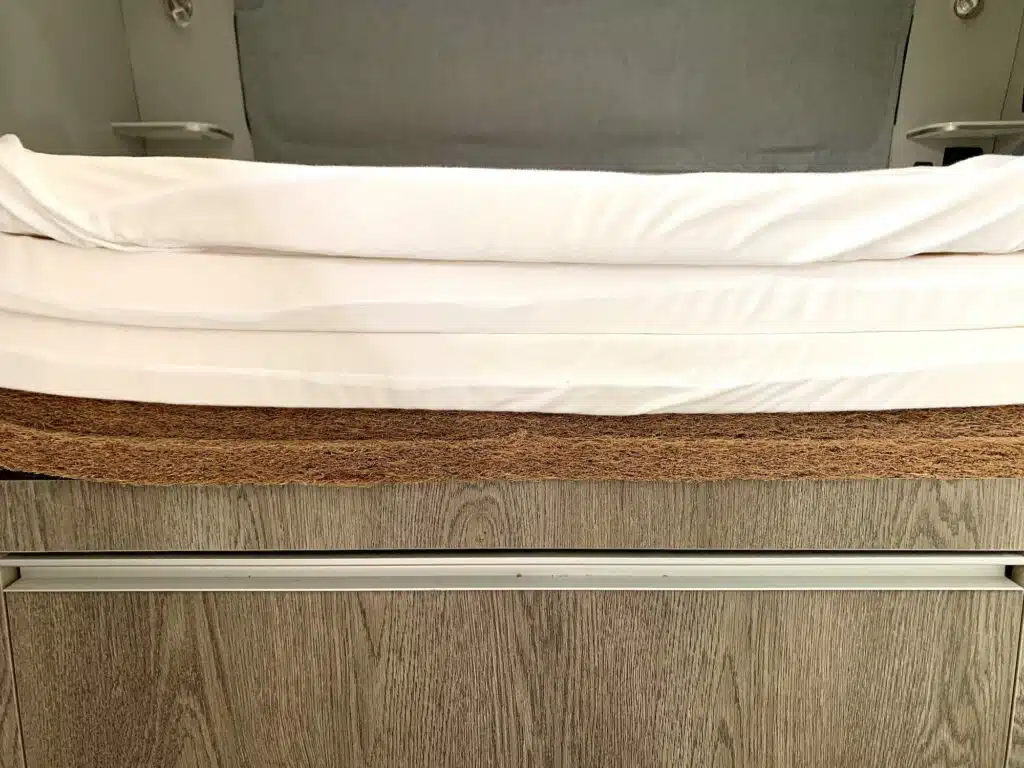 Then, we just easily rolled out the toppers on top of the very important moisture protection barrier we have on our bed platform.
I originally had the soft mattress topper on top of the medium firmness topper which was on top of the firm topper on the bottom. However, I found that I didn't like that support. So, thankfully we were able to easily switch!
After putting the medium firm topper as the top of the mattress, with the soft topper underneath and the firm one on the bottom, it created a custom bed that offered the support that I need.
The bed being surrounded by 3 walls is one of the things I like the least about our travel trailer. Check out all of our pros and cons of an Intech Sol Horizon.
Naturally Nestled Latex Mattress Toppers
Mattress toppers aren't always going to be cheap. Especially the good ones made of natural or organic latex. Which would make this DIY mattress bed too expensive if you used some brands.
But after much research, I found that Naturally Nestled mattress toppers were among the best natural latex toppers and also the least expensive!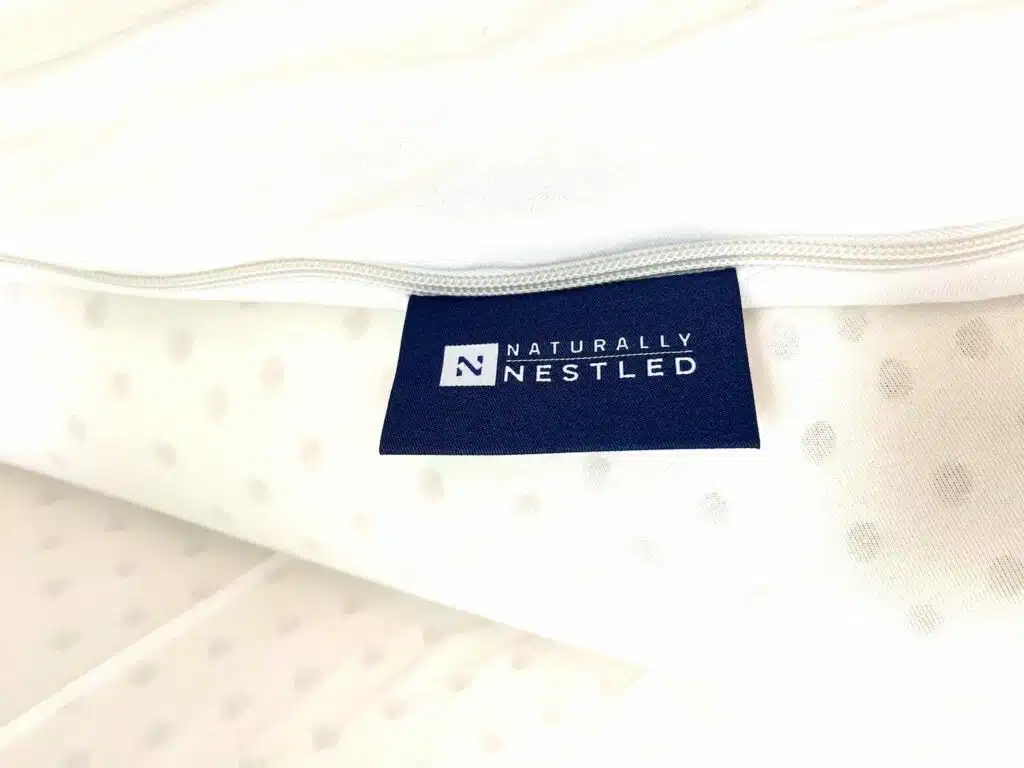 After talking with the company about what my idea was to make a custom RV mattress, they agreed that it would be a great idea and would work so well. Naturally Nestled sent me three mattress toppers to review and test out.
They offer both natural latex and organic latex mattress toppers. Which is great because it gives you the flexibility with the price that you want to spend.
I love that the 100% cotton cover for the topper is included in the price. When price comparing, you always need to see if there is a cover included or if it is an extra charge.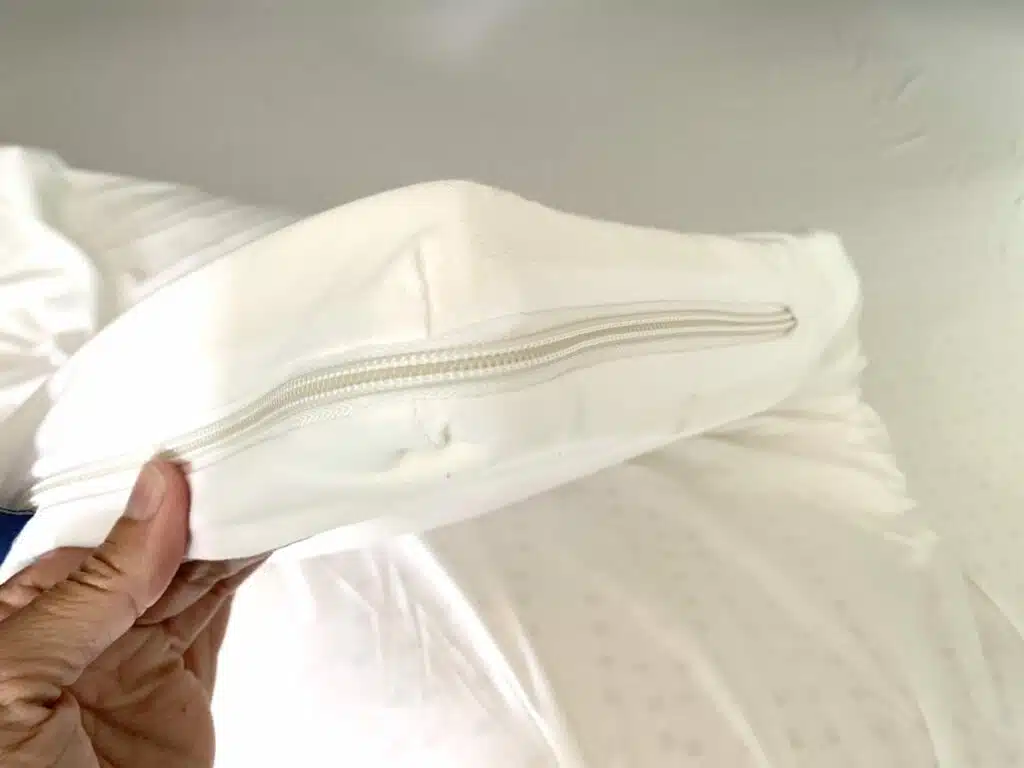 You do really need a cover for a latex topper or mattress. Trust me, I found out the hard way. Latex if very grippy, and trying to make a bed without easily being able to smooth the sheets over the mattress is frustrating. (Here's a list of some of our favorite RV sheets, including affordable custom sheets for bunk beds and custom mattresses.)
How to Customize a RV Mattress with a Curved Edge
Some RVs and trailers have curved edges that make using a traditional mattress impossible. But ordering a custom mattress with a curved edge can be expensive!
That's why this mattress topper bed solution is brilliant! You can curve the edges of the topper easily with an electric carving knife for a custom fit!
I previously used this RV hack in our other RV. We needed a short queen size RV mattress but I didn't have the money to buy one.
I bought a latex mattress topper to add comfort to the factory installed RV mattress. (At that time I hadn't found Naturally Nestled, which is less expensive than Sleep on Latex.) Then used an electric carving knife to cut off the excess length. And it worked.
Whether you need a short queen RV mattress, a short king mattress or curved edges, it is easy to customize latex toppers. Because they are thinner in thickness, you will be able to cut them more easily than trying to cut through a thick latex mattress.
And if you get an innerspring mattress, you absolutely cannot cut through them to customize the size or dimensions.
What Do We Think About Our Custom RV Mattress Solution?
It's been two months since we've received our Naturally Nestled mattress toppers. Plenty of time to try them out and sleep on them for a while.
I did need to switch the firmness layers once, in order to have a more comfortable night's sleep.
Overall, we are very happy with the custom latex mattress we made in our Intech Sol Horizon. The six-inch bed works well over our two-inch mold prevention system. I didn't think we'd be able to use both a moisture protection system and a comfortable bed in less than the 8 inches of space we have to work with. But this system works perfectly!
In our video we explain a little more why we like it so much:
Having lightweight, removable bedding is important when you need to access underneath your bed, too.
The electrical system powering our Dometic exterior refrigerator and freezer quit working after some very rough roads leading to the Grand Canyon. To fix it, we needed to access underneath the bed.
Being able to remove the layers of the bed one at a time is so much easier than trying to remove an entire mattress! And, we can just remove a layer or two to reduce the amount of weight that is propped up on the open bed platform. Rather than the alternative of either keeping the mattress on or not, which would be a problem with a conventional mattress.
Our water system is also under the bed. So when we need to winterize or de-winterize, the panels under the mattress need to be accessed. Which means at a minimum, twice a year we need to remove the mattress. It's easier to do when they are layers of mattress toppers.
I'm also not sure whether or not I'll be storing our RV in the winter time with the mattress inside. We don't have covered storage, and even with a moisture barrier I'm not positive I want to leave the bed inside with potential dampness buildup.
It's nice to know that I could just remove the mattress toppers and add them to beds in our home to make the beds even more comfortable. Then, I can just move the toppers back into the RV when we need them.
Related Posts: