On our shakedown trip with our InTech Sol Horizon, we wanted to stay within two hours of western North Carolina and have a campsite nice enough to stay for a couple days and figure things out. We also wanted to try our first U.S. Army Corps of Engineers campground.
Daniel found Springfield Campground in Anderson, South Carolina and we couldn't be happier with it. We stayed for two nights on Lake Hartwell and are already considering returning.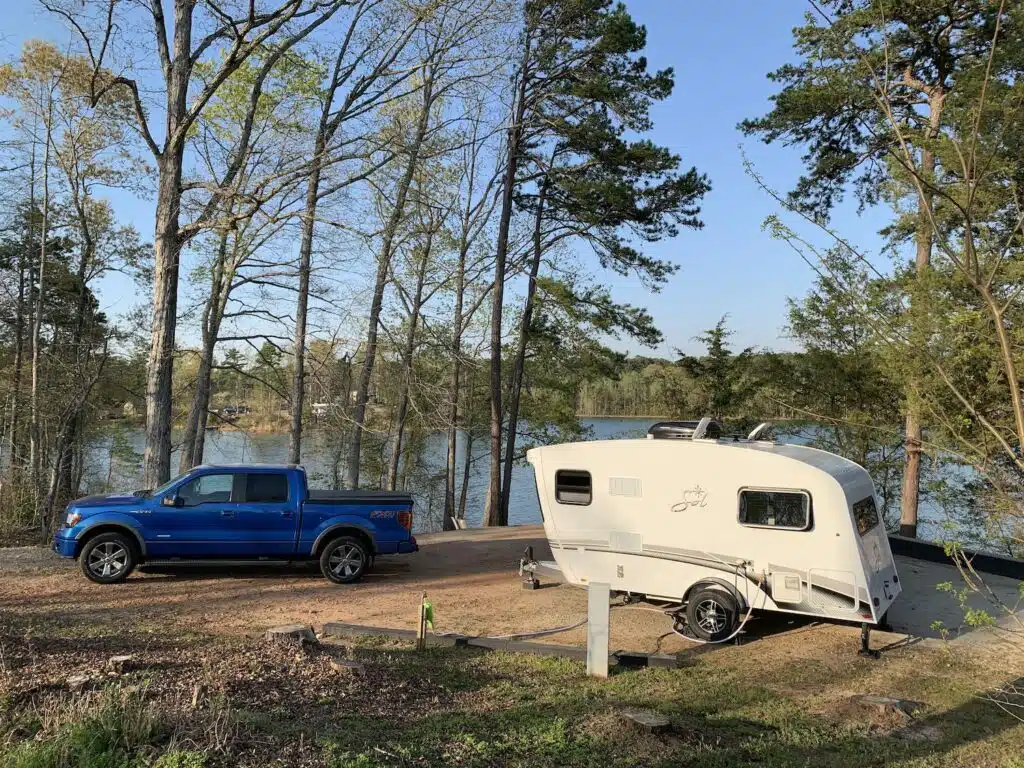 Springfield Campground
Location: Anderson, South Carolina
Type: U.S. Army Corps of Engineers
Hook Ups: Water and Electric
Number of Sites: 79
When We Stayed: April 6-8, 2021 (Spring Break)
Our Site: #59
Rate: $28/night
What We Liked About Springfield Campground
There is so much that we liked about this 60-acre Corps of Engineers (COE) campground. It was our first time staying in a Corps of Engineers campground, and now we can see why other people rave about them. Being able to camp right on the water front of Lake Hartwell is amazing! Especially when the cost is so low.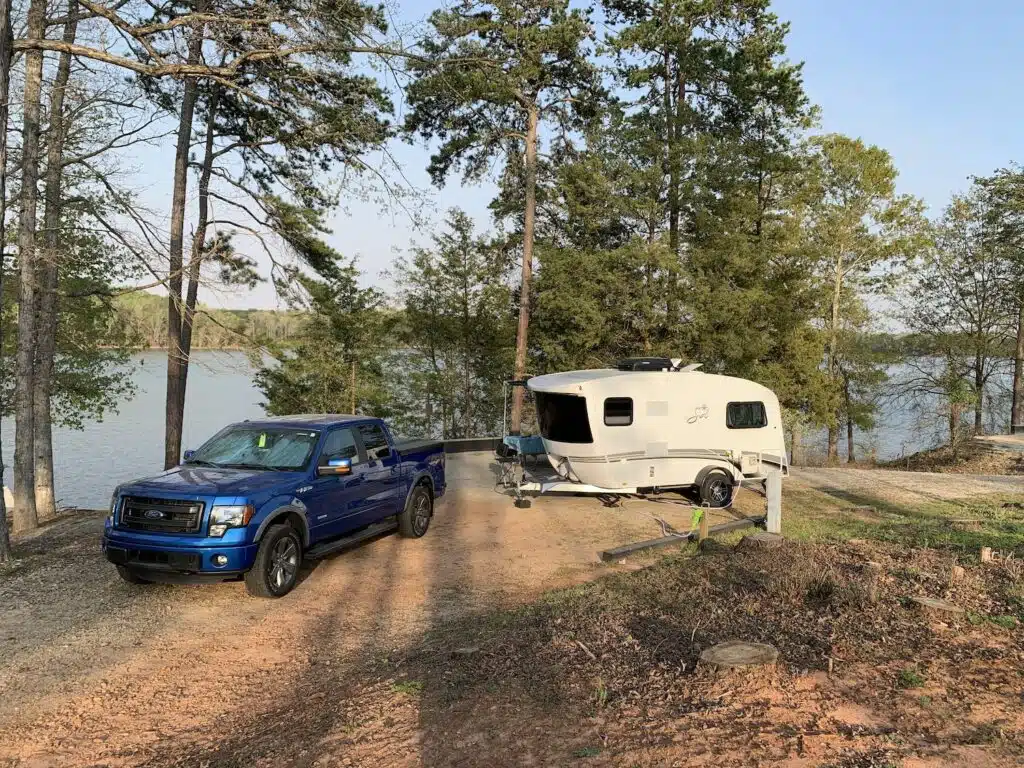 Whether you choose to tent camp or bring your own trailer, the views are amazing.
Plenty of bath houses (6 in total, only 4 with showers) throughout the campground were available. Double sites were available, too, to camp with another RV.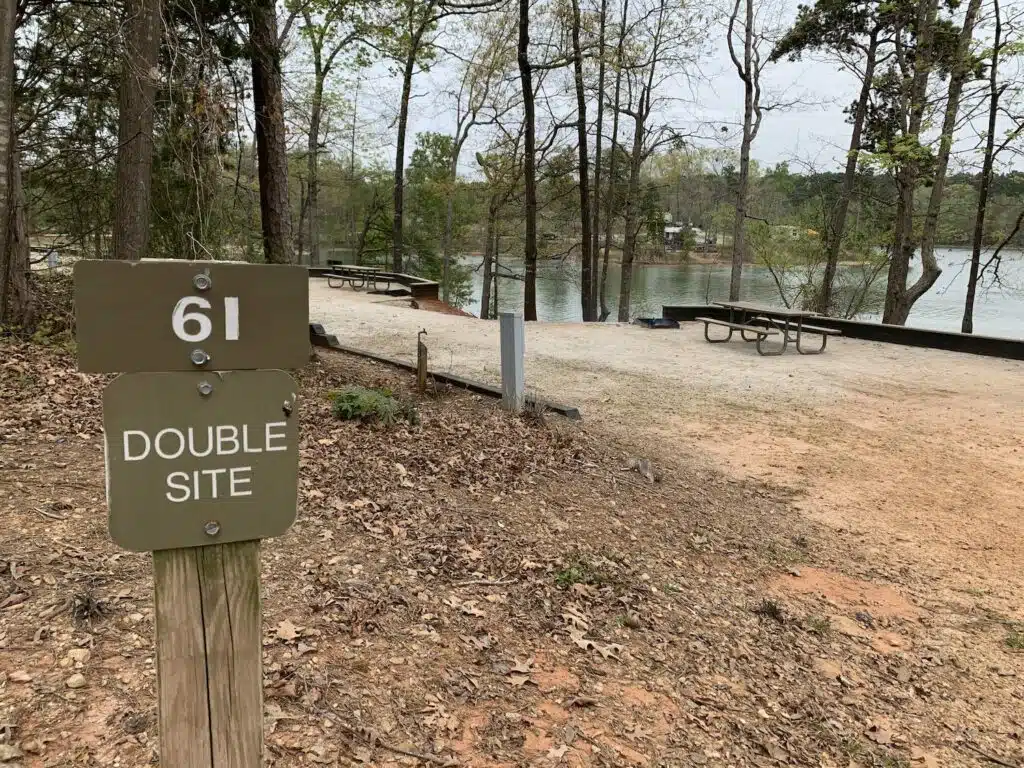 Keep in mind, only one wheeled camping unit is allowed per site (other than double sites). However, an extra tent can be added to your site.
Check out average campground costs across America in our planning guide.
Our Camp Site
Pull-through campsites are always a bonus when booking a place to stay. It's just a lot easier. And Springfield Campground didn't disappoint with its wide availability of pull-through sites. A majority of the sites did have the half-circle pull-throughs. There are some sites, though, that are back-in.
We found the campsite to be very level. Daniel did very little leveling to the trailer.
The campground is definitely big-rig friendly. Most RVs there were large fifth wheels and travel trailers.
Our site was secluded. Yes, we could see the campers on either side, but it never felt like we were right up near them. The road was behind us, but there was very little traffic.
In front of us was the expansive lake view! I can't tell you how nice it is to open your RV windows and have an uninterrupted view of the lake with no one in front of you!
Most sites have steps leading down towards the water. A variety of sites have a second "living" area down the steps which is flat enough for beach chairs, a tent, a picnic shelter, etc.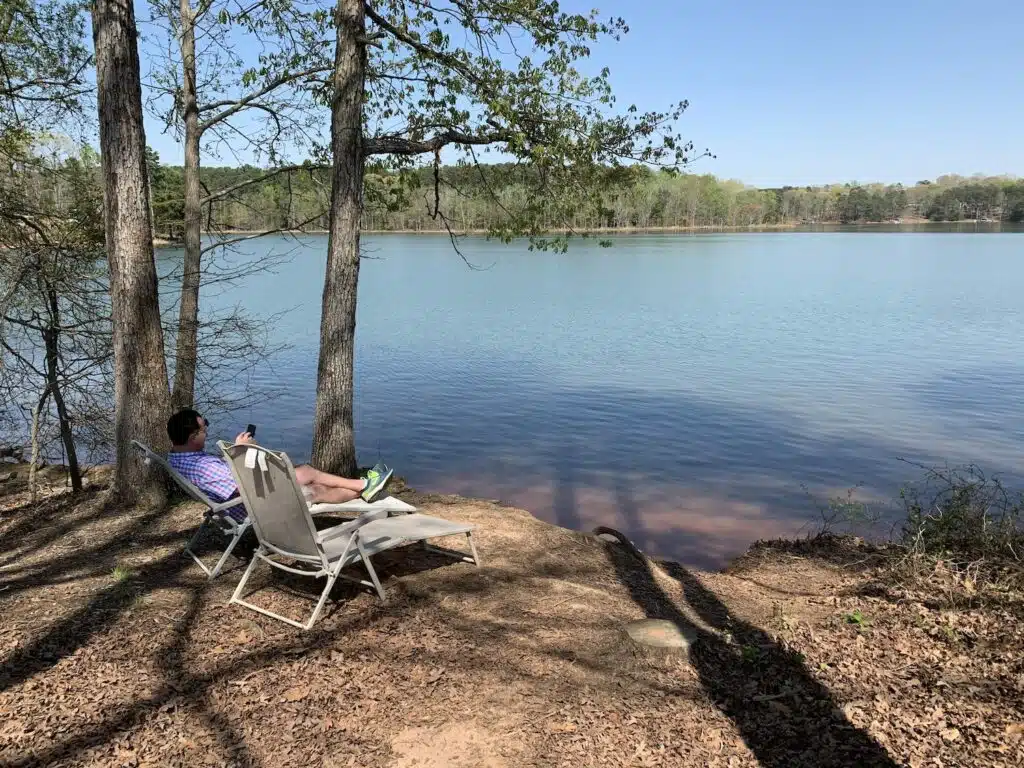 Our site had a small outcropping where we were able to put two lounge chairs. It was close enough to the water for us, and big enough.
However, if you had a large family or planned to add another tent, there wouldn't be enough room. Also, many sites have steps leading down towards the water but no level ground to enjoy. So keep that in mind when choosing sites.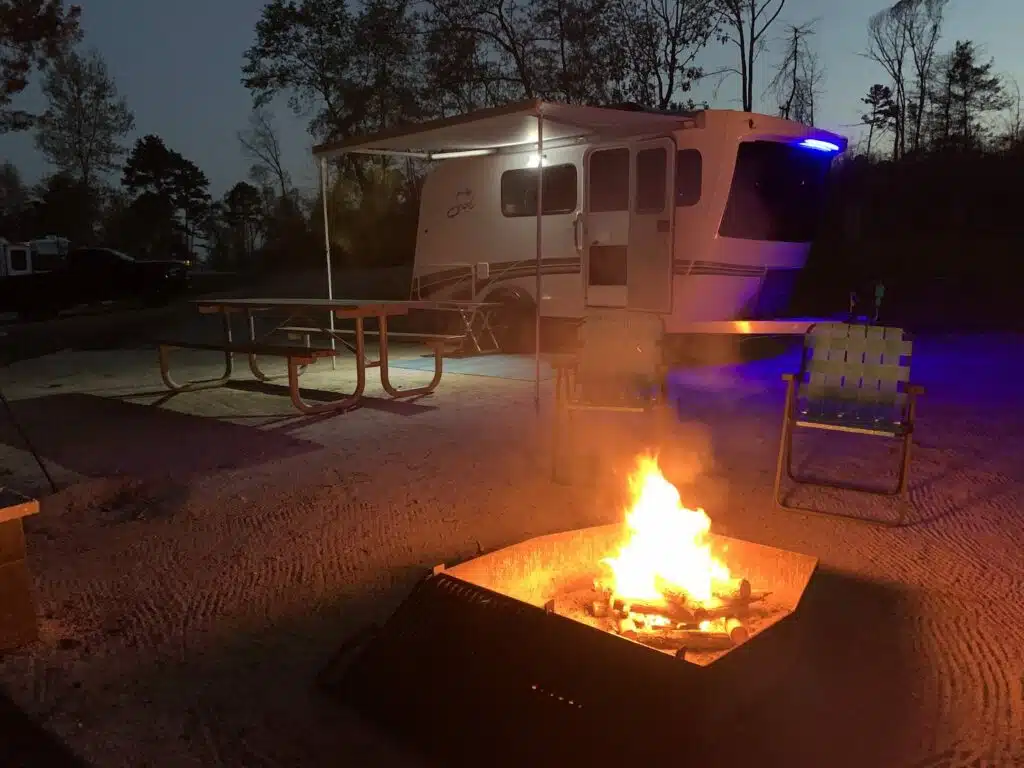 We were happy with the fire pit, which was placed in a great spot to enjoy a lake view with a campfire. It was among the largest fire pits we've ever had at a campsite.
The heavy picnic table was large and in good condition. It was nice to be able to use it.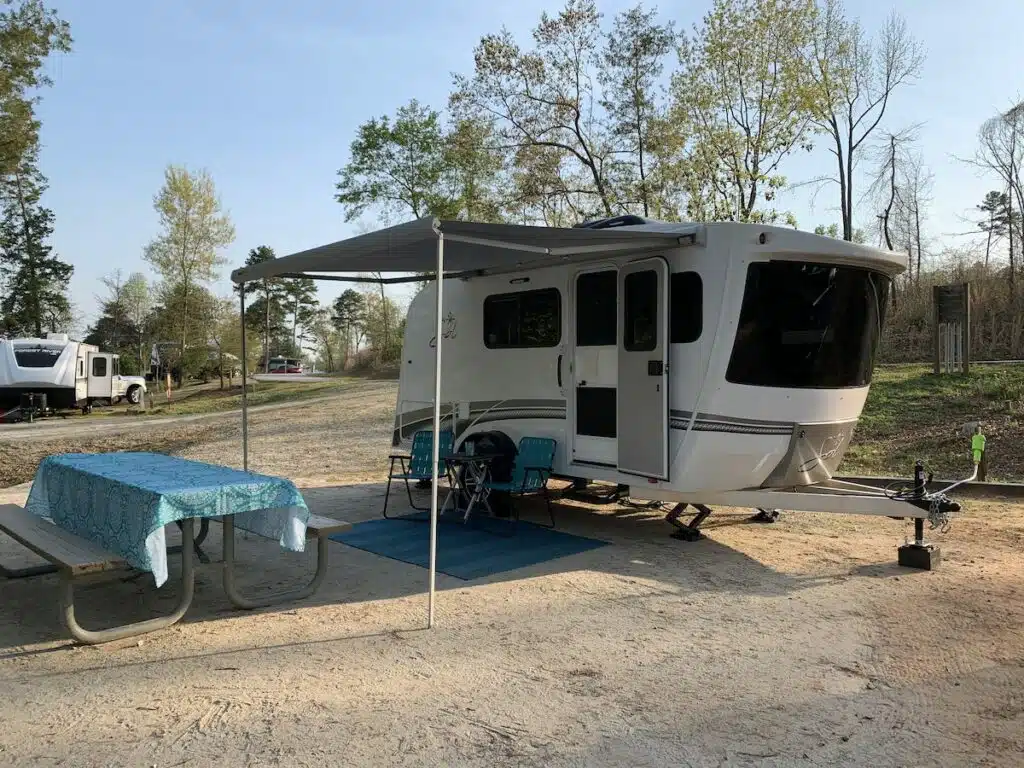 You can see more of our site – and the entire campground – in our video campground review below. Also, if you're not already a subscriber, we'd love if you joined our Youtube channel for free by hitting the subscribe button!
Boating
A campground where you can bring and park your boat isn't common. Which is why we were surprised to see so many RVs there with boats parked in their campsites.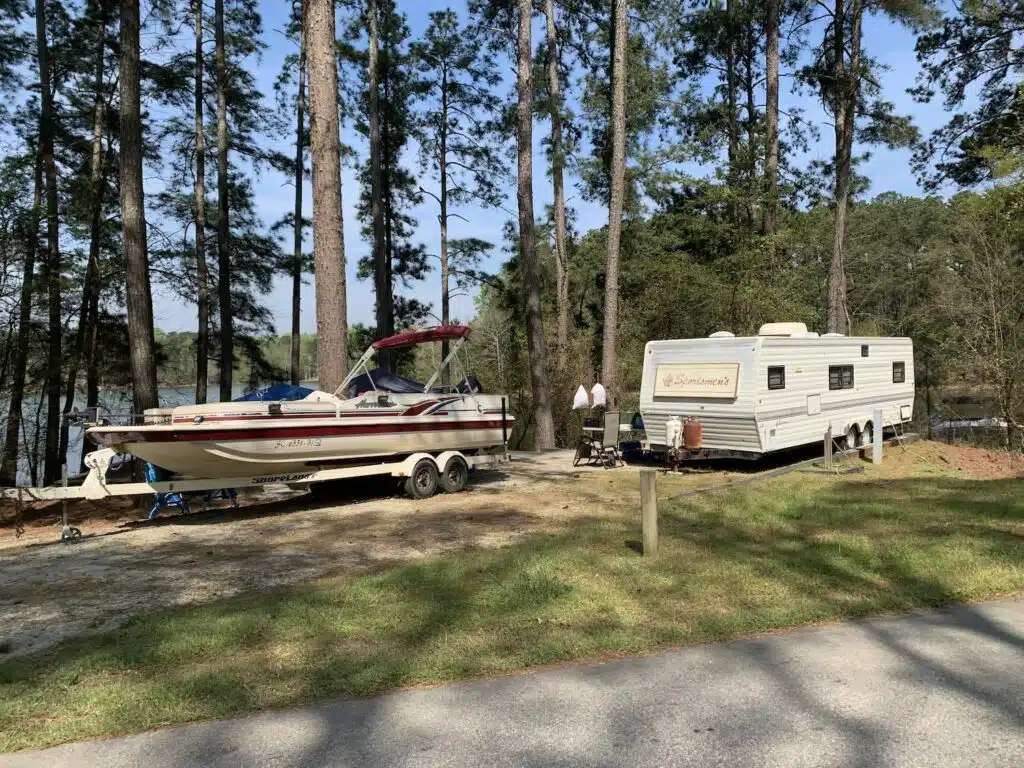 The dock in the campground offered plenty of parking to bring your boat and put in. Many campers had their boats, jet skis and kayaks tied to the shore at their campsite.
The dock is available for the public, too, with a day pass or other special pass available.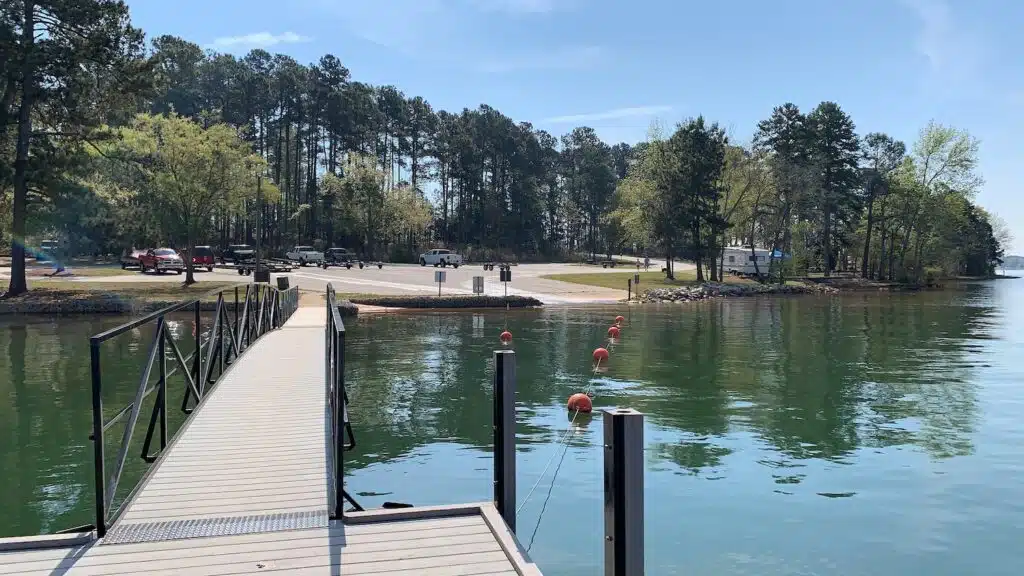 Recreation
The paved roads were great for walking or biking. There were many different loops to walk. We didn't have bikes with us, but it would be a great campground to bring bikes to.
We suggest bringing folding bikes if you don't have a bike rack. It lets you enjoy nature when camping, without the hassle of bringing normal bikes.
A dedicated beach is available for all campers. The wide open area has sand and is roped off for swimming. Life jackets are available for use (at least there is a spot for them, we didn't see any available).
If you want to be super close to the beach, Site 27 is adjacent to the public area.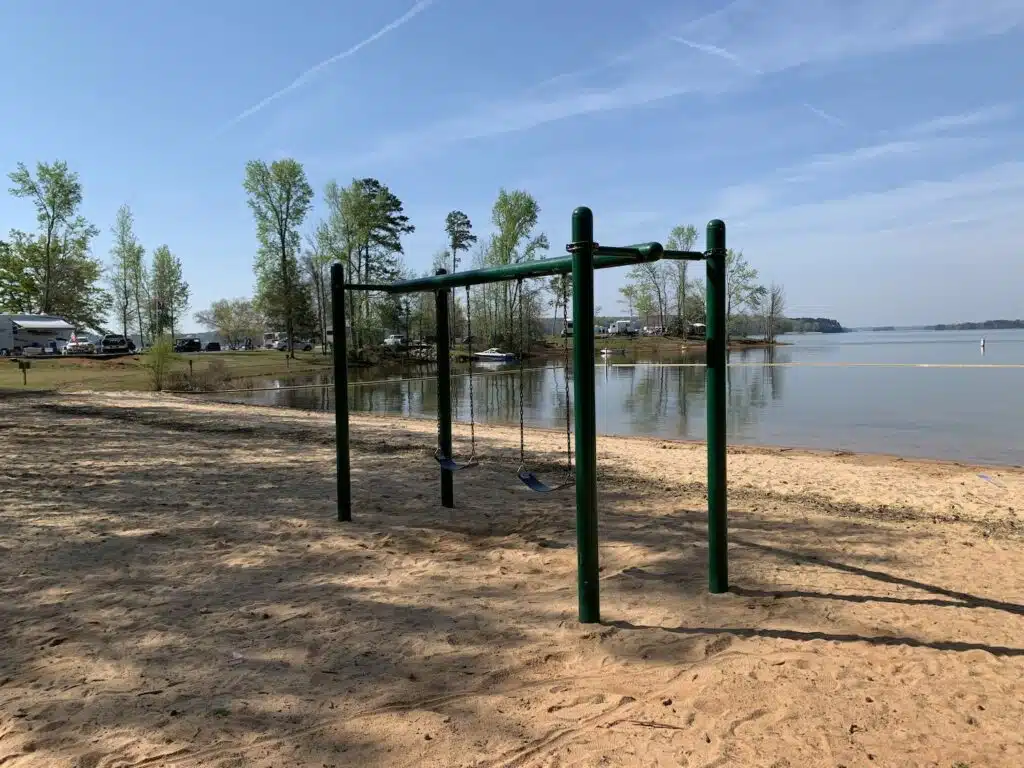 We saw many campers walk from their campsite down into the lake. Whether or not that's permitted, we don't know. And the wake off of boats can be pretty intense, so you wouldn't want to have small children in the water unattended. Keep in mind, the lake is on red clay. It can get pretty muddy and stain your clothing and feet, so wash off before going back in the trailer, for sure!
Fishing is popular on the lake, and also allowed from your campsite.
Three playgrounds are also available for recreation.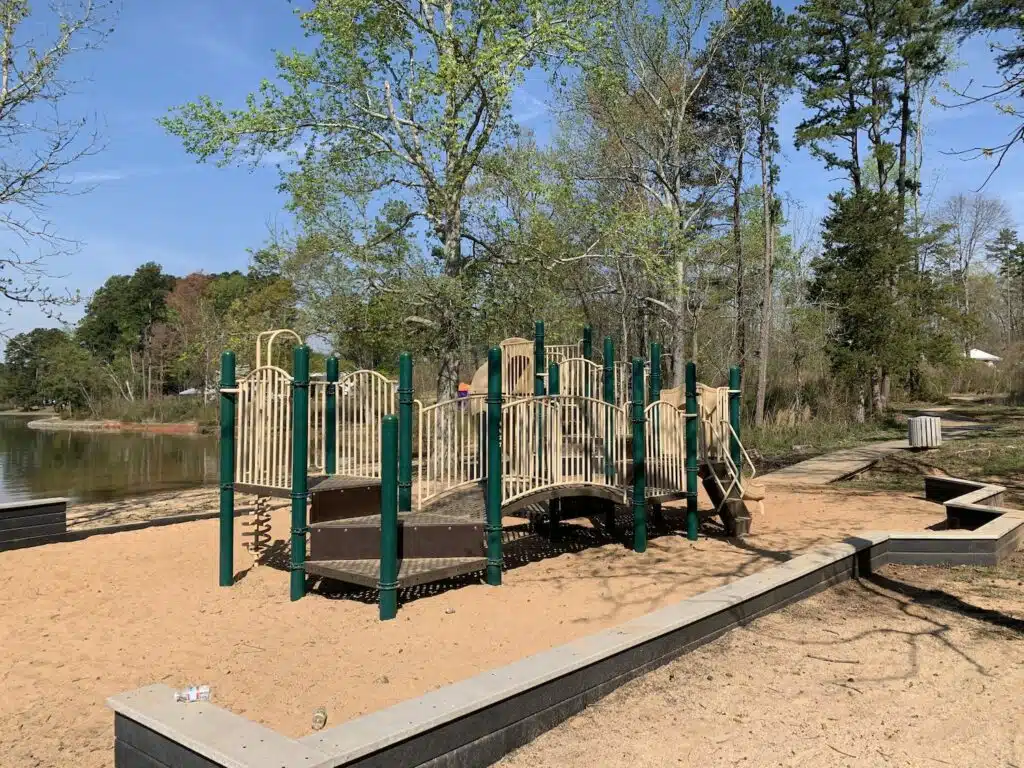 WiFi Coverage
We have Verizon, and the coverage was great! Perhaps not 5 bars, but definitely not lagging in speed. We were able to check emails and stream TV.
What We Didn't Like
We're stretching to find something that we didn't like. But if we had to choose (and it wasn't really a problem for us), it would be noise.
Thankfully, we didn't have any partying neighbors or a large group (up to 10 campers are allowed per site) next to us. However, there were plenty of sites that had a lot of people enjoying the outdoors. Many of them had music playing.
A campsite a few spots down from us had their radio playing all day. We could distinctly make out the words of each song, even though it was from a site about 4-5 spots down.
It didn't bother us, but keep in mind these sites are more of a destination to enjoy life at the lake. We found that many of the campers had come to basically live in their site for the allowed 14 days. (Most were using these portable RV Waste Holding Tanks since there is no septic hookups.) They had set up exterior living rooms, lots of watercraft toys and hammocks in the trees. Again, we didn't mind this.
Some campsites aren't on the water, either. Or have really sub-par views. Those sites include:
What's Nearby
Driving into Springfield Campground, you'll be surprised that you'll go through a residential area, and in fact there is a house just outside of the campground gated entrance.
Plenty of amenities are located nearby for the community. Just a very short drive down the road you will find:
Ingles (supermarket)
Ace Hardware
Gas station
Walgreens
Dollar General
Dominoes Pizza (we saw them deliver in the campground)
Burger King
Subway
Independent restaurants and stores
Downtown Anderson, SC is close. Clemson University is nearby. And the South Carolina Botanical Garden, located at Clemson, is a point of interest.
*We liked this Corps of Engineers Campground so much we booked another one in Tennessee. Check out our Long Branch Campground Review with river-front sites.
Be sure to see all of our Campground Guides as you're planning your travels.