In many RVs, truck campers, trailers and even boats, mold growing under your bed is a real threat. We're going to show you the easiest way to prevent mold and improve air flow under your mattress.
This method is the easiest, cheapest and quickest way to prevent mold growing under your RV bed.
This article contains affiliate links. If you make a purchase, we may receive a commission at no cost to you.
If you're in a hurry – this is the option we chose. And there's a coupon code below! Supply chain issues have caused the coir bed mat to sell out quickly. We also suggest this coir bed mat if it is available.
Mold Growth Under RV Bed
Should you worry about mold growing on your RV mattress or underneath the bed? Probably, if you have any of the following types of RV or truck camper beds:
Mattress lies on a solid piece of plywood, not slats
Your mattress is tucked in tightly next to walls
Using a memory foam or latex mattress on top of a plywood base
You travel or live in humid climates, or store your vehicle in humid conditions
Chances are, if you're camping you have one or more of these four situations!
The problem is that air can't get between a piece of plywood and the mattress. Especially if you are using a memory foam or latex mattress, which are more dense. (Here's how to easily DIY a custom RV mattress using latex mattress toppers, which I highly recommend.)
And if you have walls surrounding your mattress, even less air flow can get underneath.
RVs and campers typically have moisture and dampness problems inside. Especially when storing them. And when using propane to heat your trailer or camper, because propane releases more moisture into your RV.
With increased moisture inside your rig, along with less air flow than in a traditional sticks and bricks home, mold growth underneath your bed is a very real problem.
But the good news is that you can EASILY prevent it!
RV Mattress Pad to Prevent Mold
You will want to add a layer underneath your mattress that allows proper air flow to prevent mold growth.
We chose this coir bed mat (also known as a bed rug) to prevent mold.
***Because of supply chain issues, the coir bed mat we got has been sold out for a while. We also recommend this coir bed mat from The Futon Shop.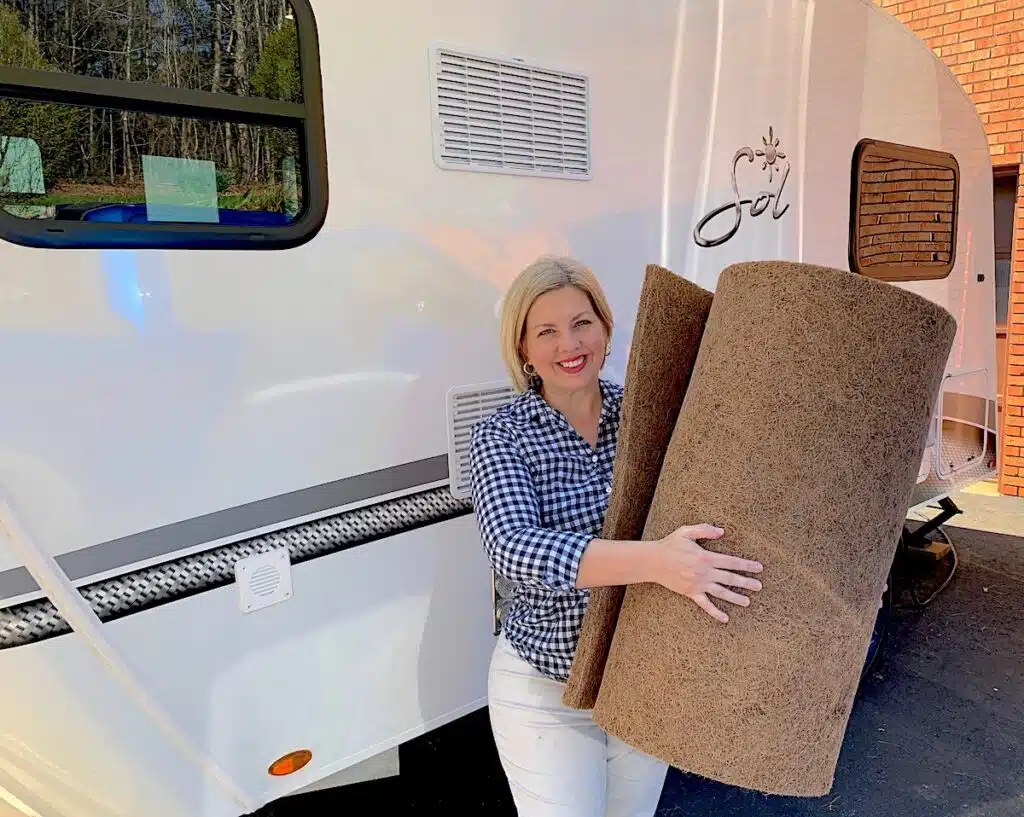 What is a Coir Bed Mat?
The easiest and least expensive solution we found is a coir bed mat.
This is a 1 inch mat with fibers that are very far apart and allow air to flow underneath the mattress all the time. You won't notice anything different, except maybe a softer feel to your mattress by putting it on a cushiony base.
Coir is the outer husks of coconut shells. You're probably familiar with those brown husks that you see on unpeeled coconuts.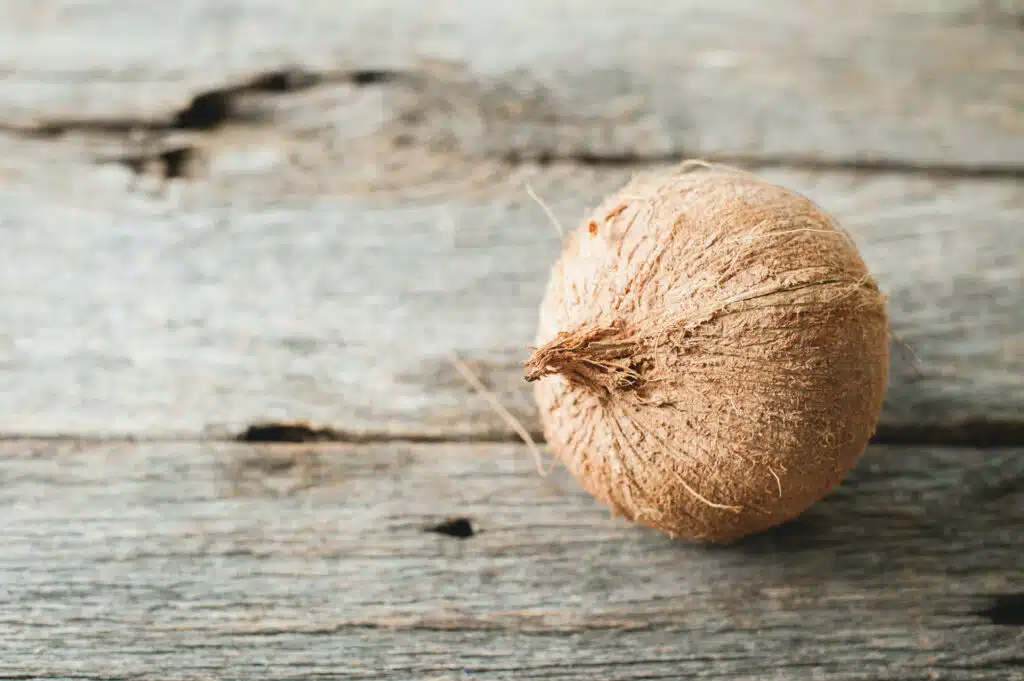 The husks are sterilized and softened and woven into rope. Then that rope is combined with natural latex to hold it together.
What you get is a completely natural bed mat that let's air whisk through the fibers. It also adds a non-slip base underneath your mattress. And, perhaps, a level of cushion.
And, no, it doesn't smell like coconuts!
Froli System Alternative
Now, you might be wondering if a coir bed mat is the same as the Froli System which many RVers use to prevent mold underneath their mattresses. Yes, the concept is the same.
However, we chose a coir bed mat (also known as a bed rug) for a few important reasons that we wanted to share with you:
A coir bed mat is cheaper
Coir bed rugs are made of natural materials, not plastic
This bed mat doesn't require installation or snapping together pieces
We are using a comfortable RV mattress, with no need to try to make a crappy RV mattress more comfortable
With the Froli System, you need to lay out and snap together a ton of plastic pieces. While it is not hard, from what we hear, it does take time. And, yes, you still have to snap together about 120 pieces (or more) for a Queen size mattress.
We didn't like the thought of doing this. Or having all of that plastic.
Froli Systems are also the popular way to make the notoriously horrible factory-installed RV mattresses more comfortable.
But why spend all of that money making a bad bed somewhat more comfortable when you can simply buy a really comfortable mattress for your RV and switch them out, instead?
Our factory-installed mattress on our InTech Sol Horizon is just 4 inches of polyurethane foam made by the Elkhart Bedding Company. That's not exactly a mattress manufacturer known for high quality or comfy beds!
*If you're an Intech Sol Horizon owner, too, you might love these downloadable SVG files to use!
Plus, most adults need a mattress more than 4 inches thick for comfortable sleeping. AND you want a mattress with latex, memory foam or innersprings for the best sleep. NOT polyurethane foam which is used for boat cushion seats.
Costs of Coir Mat vs. Froli System
We looked into buying a Froli System as our first choice and were surprised by how much they cost!
A system for our full-Queen bed in our RV would be between $398-$472, depending on what type we bought.
We decided to buy two Savvy Rest bed mats (based on the recommendation to use two in highly humid environments). One bed mat is $179 for a Queen size.
However, you can get a bed mat for around $143 each with free shipping! Use Coupon Code GETGREEN and our referral link to save 20% off of any Savvy Rest product, including toppers, pillows, bedding and mattresses!
That's a savings of nearly $200 compared to a Froli System.
Even buying two bed mats, we still saved nearly $200 compared to the Froli System cost.
How to Use a Coir Bed Mat
It couldn't be simpler to use a coir bed mat to put under your RV mattress, truck camper mattress or even use under beds in a boat.
Your mat will come rolled up. Just unroll and place on top of the plywood bed platform.
That's it!
See how easy it is in our YouTube video:
Our Queen size came in two pieces. A King size will come in two pieces, too.
This makes it easier to roll out on your bed platform.
Plus, it allows you to access underneath the bed more easily since there are two pieces.
With our mattress, almost the entire mattress is against walls. (It's one of the things I don't like about our Intech Sol Horizon.)
But if you have a walk around bed in your RV, you might not feel like you need two bed mats, and just get one to be safe.
Each bed mat is 1 inch thick. So using two coir bed mats added 2 inches of air flow and cushion under our mattress.
Plus, we did it while saving time, effort and money.
---
Are you looking for sheets to fit your bed? Here's some of the best RV sheets we've found.
Interested in more camping gear that is easy to install? This wireless backup camera uses solar power. And here's how we installed a better RV lock with a keypad (it's super easy)!