Finding an easy, yet filling, breakfast recipe for camping used to be difficult. But that was before overnight oats became so well known! Today, overnight oats recipes are so popular because they are among the easiest breakfast ideas to make.
Our Cookie Dough Overnight Oats recipe is perfect for camping. Not only can the oats be made ahead of time, they are easily transported in a mason jar, too.
Why Overnight Oats are Great for Camping
When camping, you don't always have access to an oven or grill.
Or maybe you don't want to use propane to cook, or you have run out of propane.
Most campers do have a refrigerator or cooler, though. If you are in an RV, you will have a refrigerator that can run off of your house battery, even while boon docking.
For tent camping, you probably will have a cooler, such as a Yeti or a plug-in cooler, that can keep things cold for a while.
As long as you can keep milk at the proper temperature for at least 8 hours, then you can easily make overnight oats.
This recipe is as easy as stirring ingredients together. Anyone can do that!
Plus, the oats and milk are very filling and full of protein and fiber. This combination makes a great breakfast that will keep you full for a day of outdoor activities.
Be sure to see our Cookies and Cream Overnight Oats recipe, too!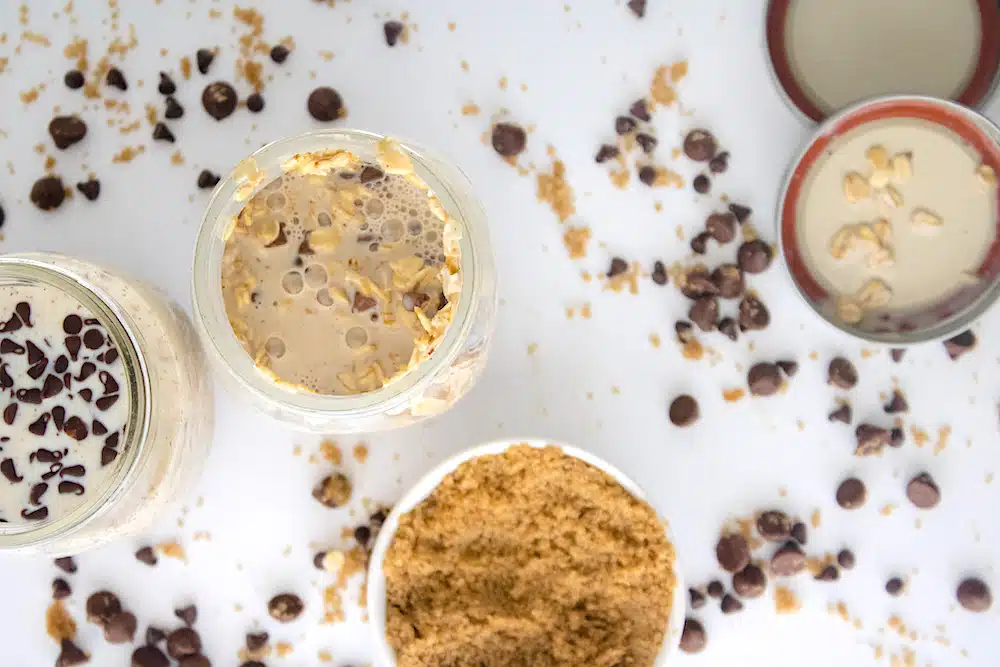 Plastic Mason Jars
Overnight oats are almost always made in mason jars. While most mason jars are glass, you can find plastic mason jars, too.
These shatterproof jars are the best choices for camping. You don't have to worry about glass containers at the campsite.
Plus, you can bring your jar with you without as much weight. Perhaps you want to bring a jar of oats on an early morning hike to enjoy while watching the sunrise on top of the mountain.
Or you need a healthy snack to eat as you hike or bike all day.
Maybe you just want a breakfast you can eat a few bites at at time while you are getting the RV ready for a day of traveling.
Whatever the reason, plastic mason jars make this recipe much more accessible for campers compared to glass mason jars.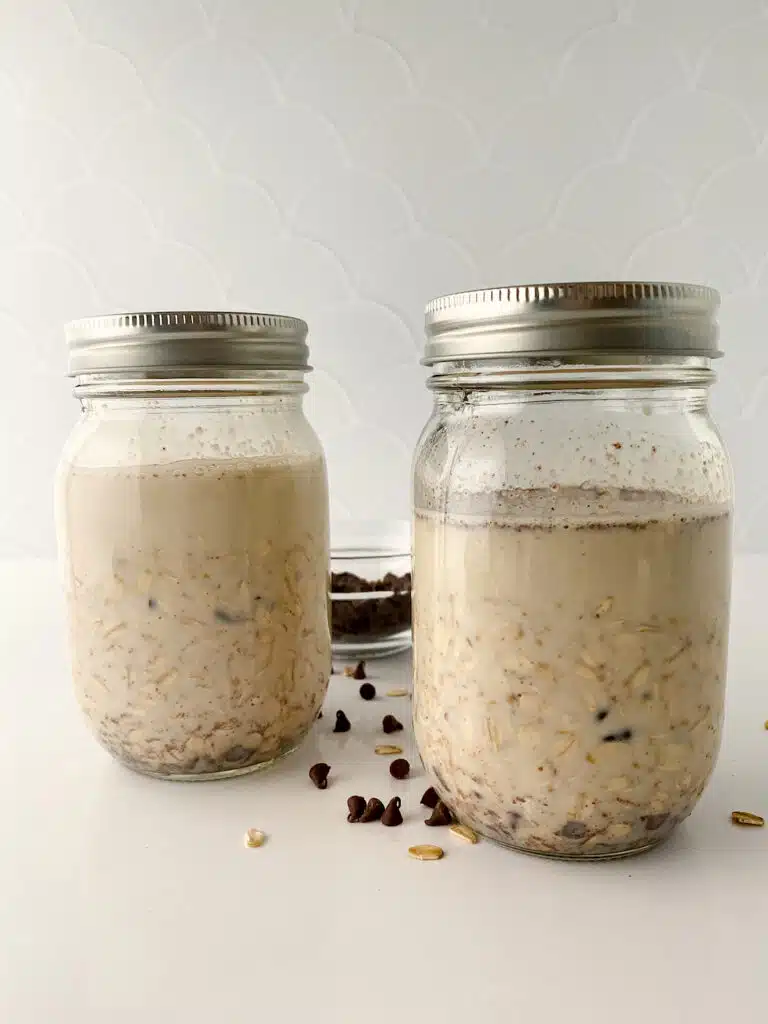 How to Make Cookie Dough Overnight Oats
Yield: Two 16-oz mason jars, which equals 32 oz of oats or 2-3 servings
Ingredients
2 cups milk (we use whole milk, but you can use a plant-based milk such as almond, soy or coconut milk if you would like)
2 cups overnight rolled oats
2 tablespoons brown sugar
1 teaspoon cinnamon
1 teaspoon vanilla extract
1/4 cup mini semi-sweet chocolate chips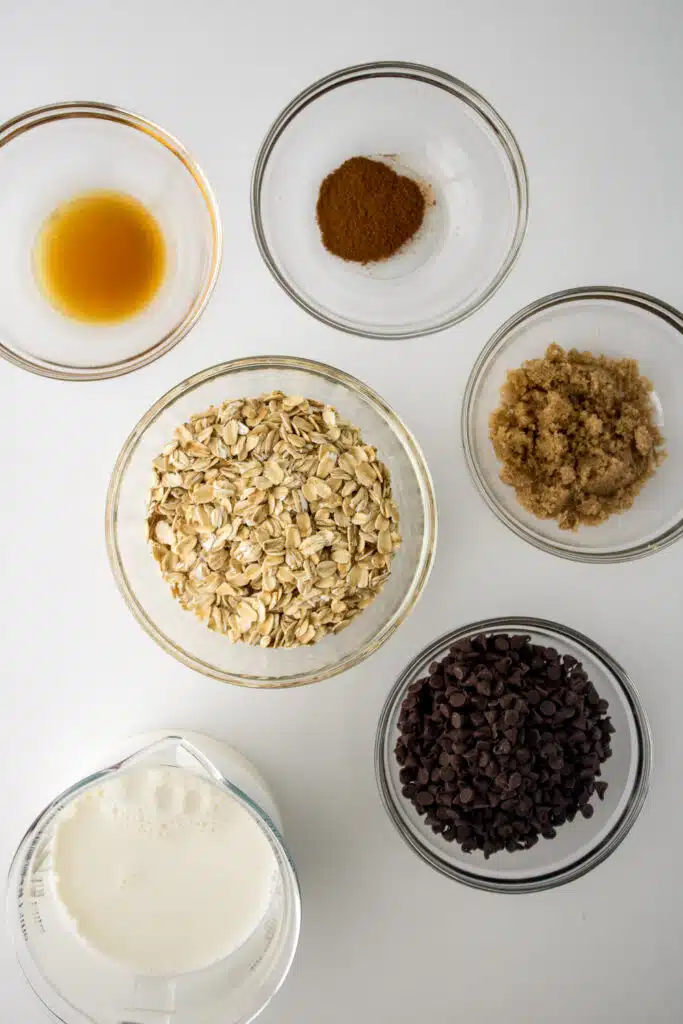 Instructions
Step 1
Add the milk, oats, cinnamon, vanilla and brown sugar into a bowl.
Stir together to combine.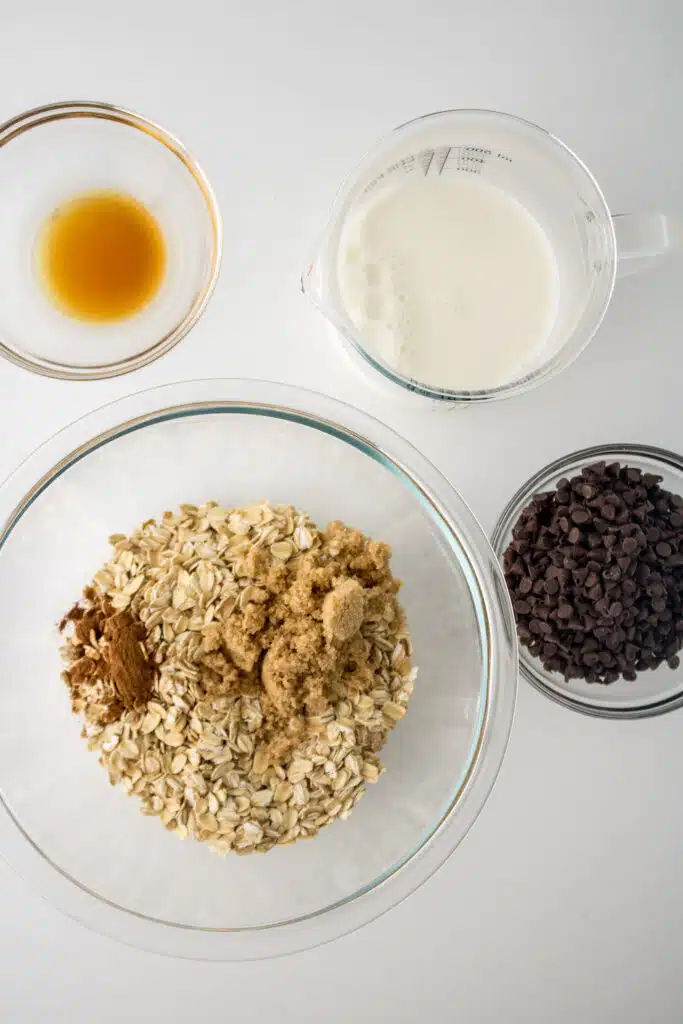 Step 2
Add a handful of the mini chocolate chips to the bottom of each of the mason jars.
Step 3
Then, pour in the oatmeal and milk mixture into each of the two jars until half full.
Step 4
Add more chocolate chips on top of the oats.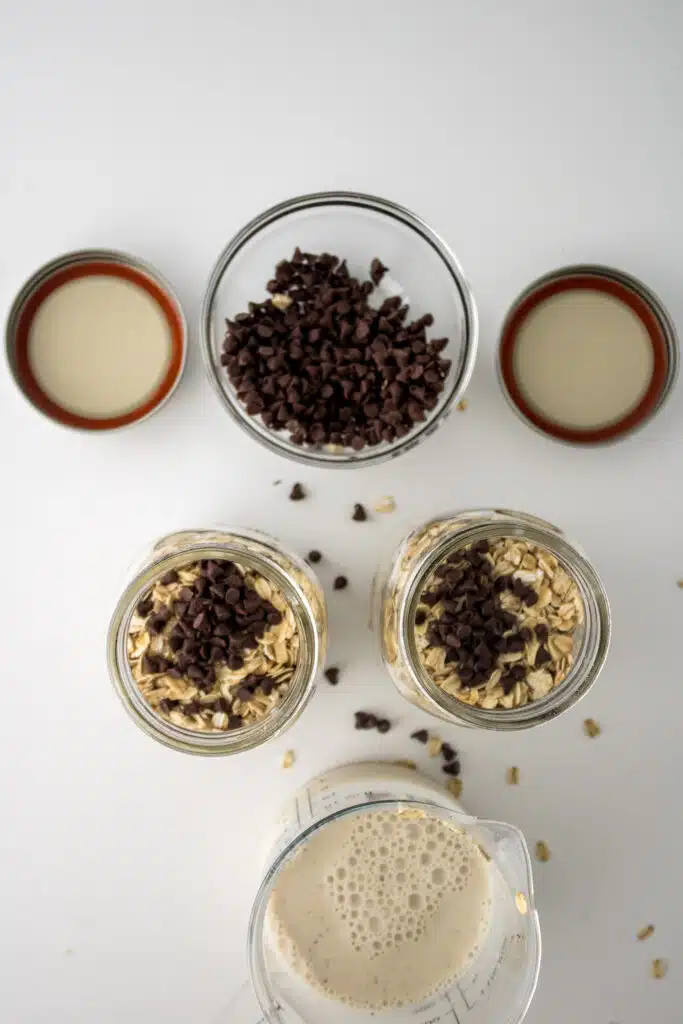 Step 5
Fill the mason jars up with the remaining oat and milk mixture.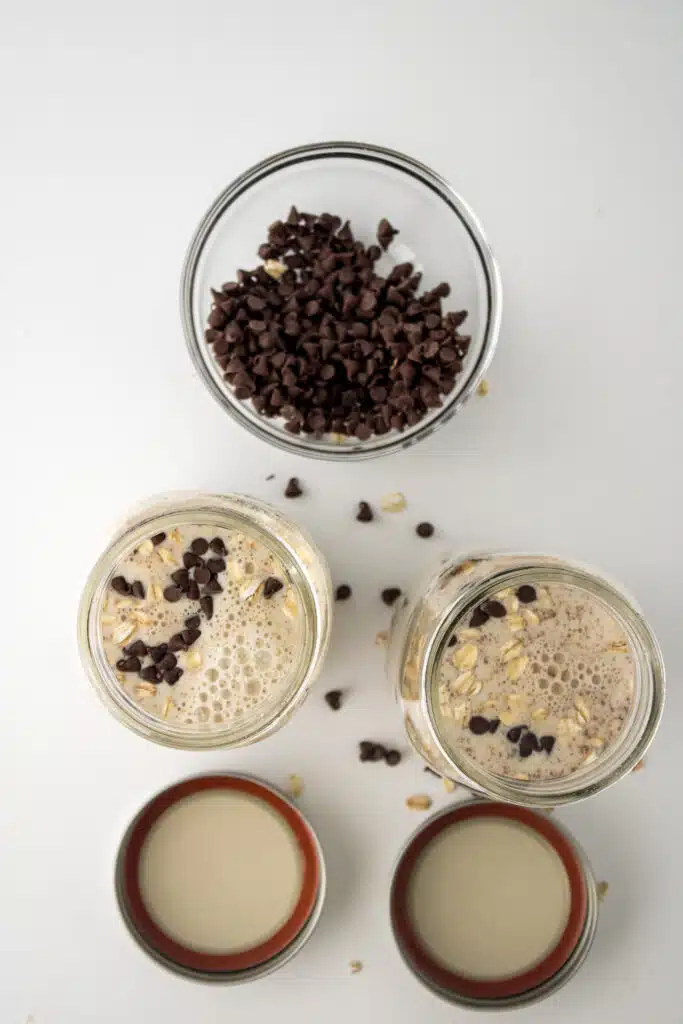 Step 6
Seal the mason jars with the airtight top and lids.
Refrigerate overnight for at least 8 hours.
Step 7
Add more chocolate chips into the oats in the morning, if you would like.
You might also want to see these easy camping breakfast foods to bring with you: