These easy Instant Pot egg bites are a copycat version of the Starbucks favorites. Wholesome ingredients are used to make a protein-dense breakfast meal that can quickly be made in an electric pressure cooker.
An Instant Pot is an RVer's best friend! It is easy to make a variety of meals using less electricity than other kitchen appliances. Many people cooking in an RV have found that an electric pressure cooker is the secret to creating restaurant-style meals with limited space and time, all with a low-wattage cooker that works off the grid.
These egg bites in an Instant Pot are the perfect example. You can make sous vide egg bites without needing a lot of fancy equipment, such as a sous vide machine.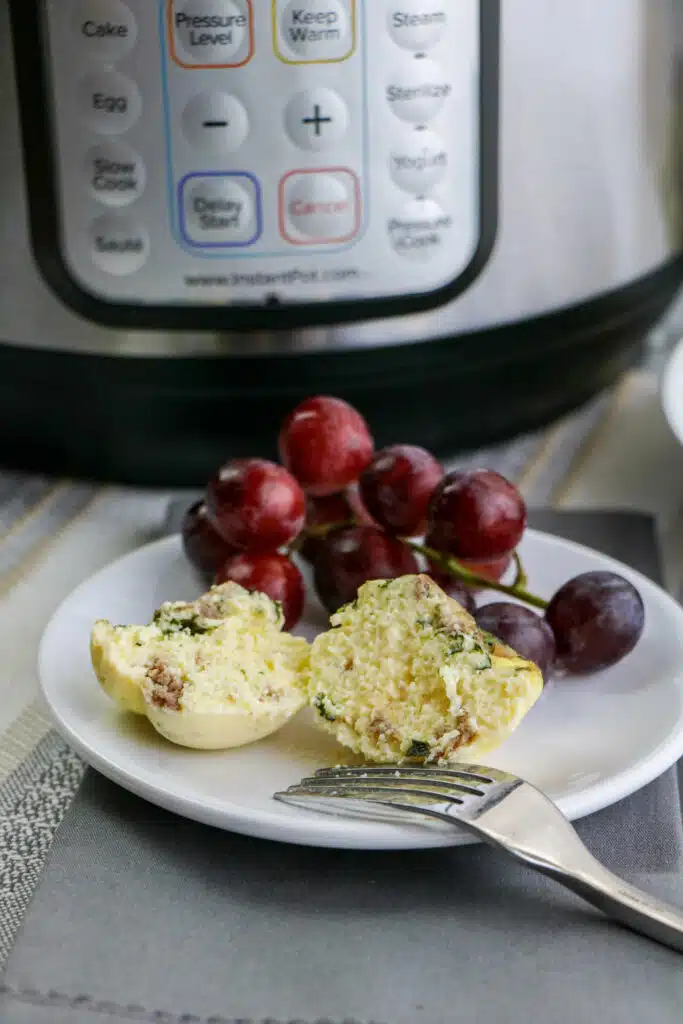 Don't want to travel with your Instant Pot? That's fine! You can make these ahead of time and freeze them to bring convenient egg bites with you while camping.
These are also perfect for an easy travel-day breakfast.
Copycat Starbucks Egg Bites
Starbucks sous vide egg bites are popular, and for good reason! The low carb, protein-filled breakfast foods taste delicious. But they are pricey!
And, if you are a fan of the egg bites, you probably won't find them when boondocking in the forest or at your RV campground. So why not make your own?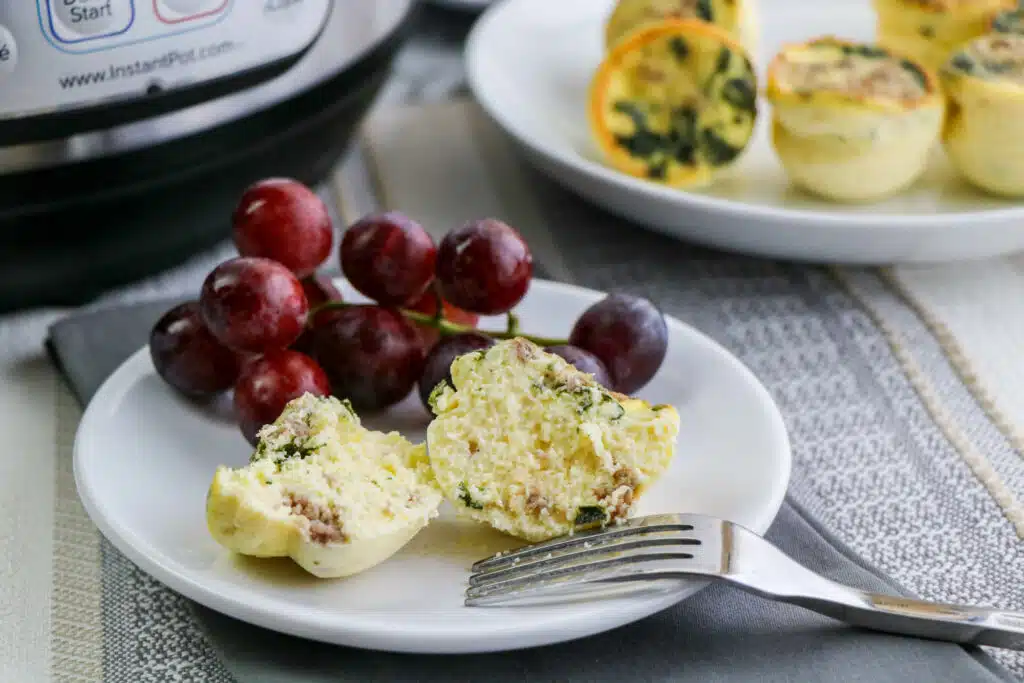 Our Instant Pot Egg Bites Recipe uses Swiss cheese, sausage and spinach for a delicious breakfast treat. You can swap out ingredients to make egg bites just like Starbucks. Here are the flavor combinations you can try:
Bacon and Gruyere
Kale and Mushroom with Monterey Jack cheese
Spinach, Red Pepper and Monterey Jack cheese
More Flavor Combinations
You can easily customize these fluffy egg bites with ingredients of your choosing. Just try to keep the ratios around the same amount as the spinach, sausage and cheese ingredients we use.
Other flavor combos could include:
Ham, cheddar and green onions
Sausage, tomatoes, and Monterey Jack cheese
Broccoli, Swiss cheese and ham
Mushrooms and herbs
Sausage, Cheddar and Jalapeno
Spinach, goat cheese and sun dried tomatoes
Red Pepper and Feta
Broccoli Cheddar
Be sure to see all of our easy camping recipes!
Instant Pot Egg Bites Mold
To make these egg bites, you must have an Instant Pot egg bites mold. It is a small investment for being able to make egg bites at a fraction of the cost of what you would pay at Starbucks or in a restaurant.
This is the Instant Pot egg bite mold that we used.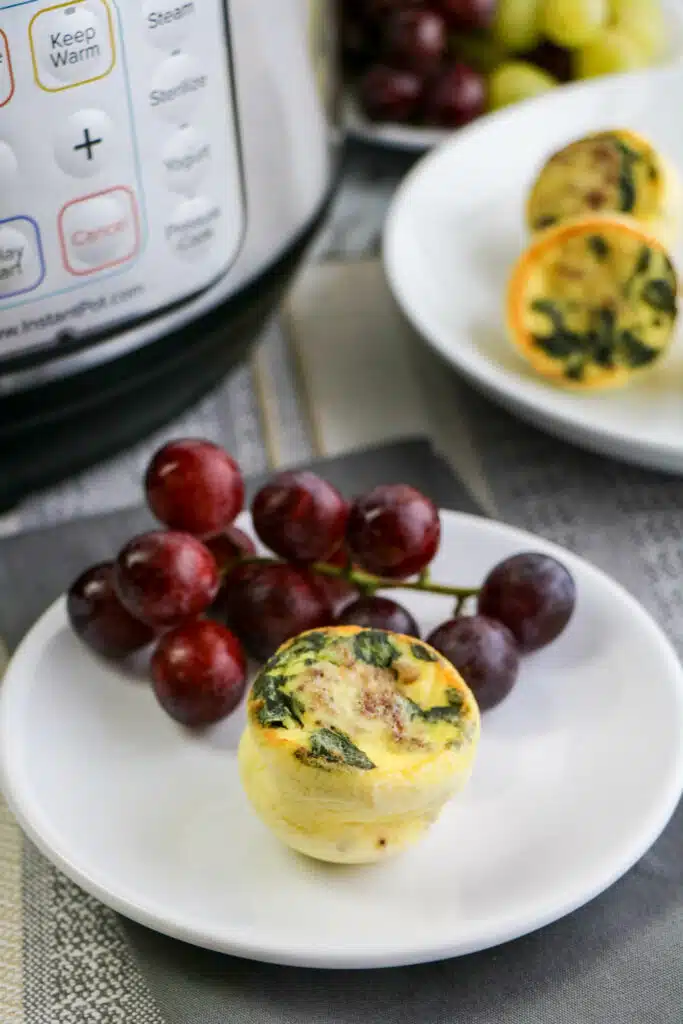 Instant Pot Egg Bites Recipe
Ingredients
8 eggs
1 cup small curd cottage cheese
1 cup shredded swiss cheese
Salt and black pepper, as desired
½ cup cooked and crumbled sausage
¼ cup chopped fresh spinach
Directions
Prepare the electric pressure cooker by adding 1 cup water and the trivet inside.
Place all of the ingredients EXCEPT for the spinach and sausage into a blender. It is best to add the eggs first, then the cottage cheese and then the cheese in order for it to blend smoothly. Process the batter until it is smooth.
Sprinkle about ½ teaspoon of the spinach in the bottom of each egg mold. Then pour batter over the spinach in the egg bite mold, filling each cup halfway.
Top each egg bite with sausage.
Cover the mold with the lid and then carefully lower it into the Instant Pot.
Close the pressure cooker and set the valve to sealing. Program using the "manual" or "pressure cook" function for 10 minutes.
When the cooking cycle is complete, allow the pressure to naturally release for 10 minutes before performing a quick release to remove the remaining pressure.
Carefully remove the egg bites out of the silicone mold. They will have puffed up while cooking but will deflate slowly as they cool. Serve immediately.
How to Freeze Egg Bites
After completely cooled, place the egg bites on a baking sheet to freeze. Then put the frozen egg bites in an airtight container or freezer bag for up to 3 months.
Reheat in the microwave for about 90 seconds or in a low-wattage toaster oven.
Can I Use Egg Whites Instead?
You can substitute eggs whites for the whole eggs.
Can I Substitute Cream Cheese for Cottage Cheese?
Yes, you can substitute cream cheese for the cottage cheese if you would like. Using cream cheese will give a more dense, yet creamy, texture.
Make sure the cream cheese is softened. Use a 1 to 1 ratio. Which means you can substitute 1 cup of softened cream cheese for the 1 cup of small curd cottage cheese.
---
These Instant Pot Egg Bites are just one of our many make-ahead camping breakfast ideas.
Want more easy breakfast recipes? Check these out: