Who doesn't like s'mores? When camping, one of the most exciting things to do is making s'mores!
Whether you need a kid-friendly craft for rainy day activities or want to get children excited about camping, this easy popsicle stick s'mores craft is fun to make in 30 minutes or less!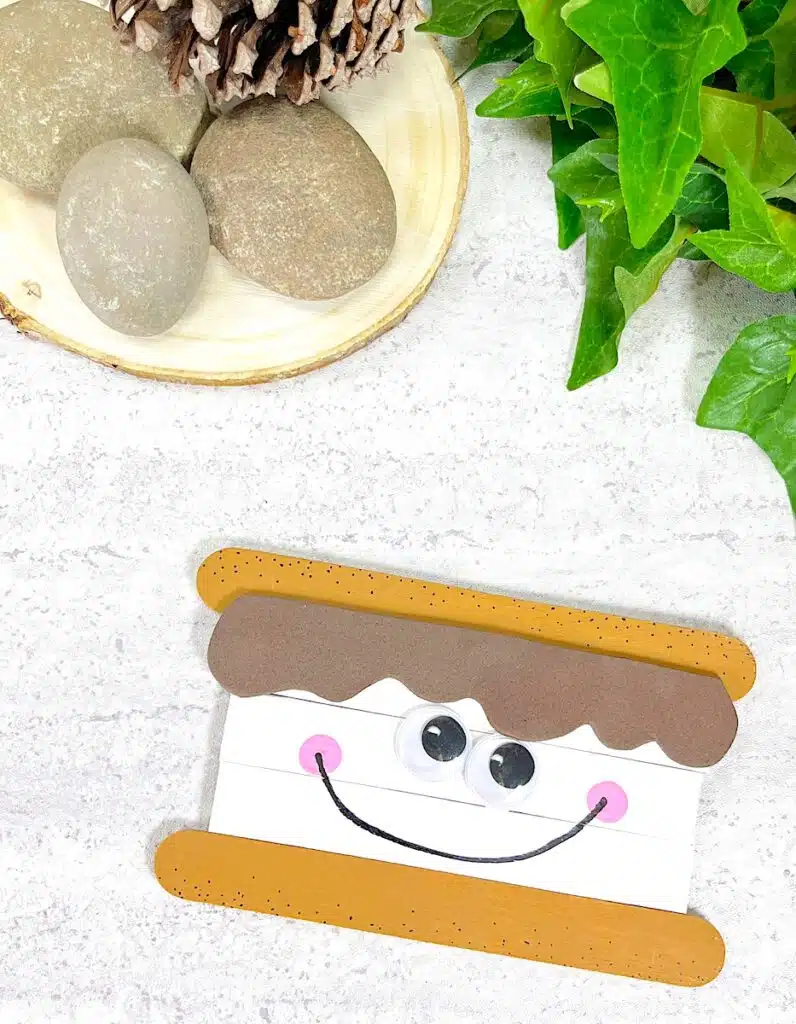 Even better, this paper craft uses dollar store supplies and a free pattern for a budget-friendly boredom buster.
This is a great craft to prep before going camping. Just print out the pattern and pack it with some craft paper and the other supplies for this material. Keep everything in a box that is easy to take out when boredom starts to make the kids cranky.
This cute craft is perfect to do before making s'mores around the campfire! Or enjoying one of these yummy s'mores recipes:
DIY Popsicle Stick S'mores Craft
Materials
Jumbo Craft Sticks
Brown Craft Foam
Wiggle Eyes
Acrylic Craft Paint: White, Tan and Pink
Paintbrush
Glue Gun and Glue Sticks or Craft Glue
Scissors
Ruler
Black Marker
Pencil with New Eraser (optional)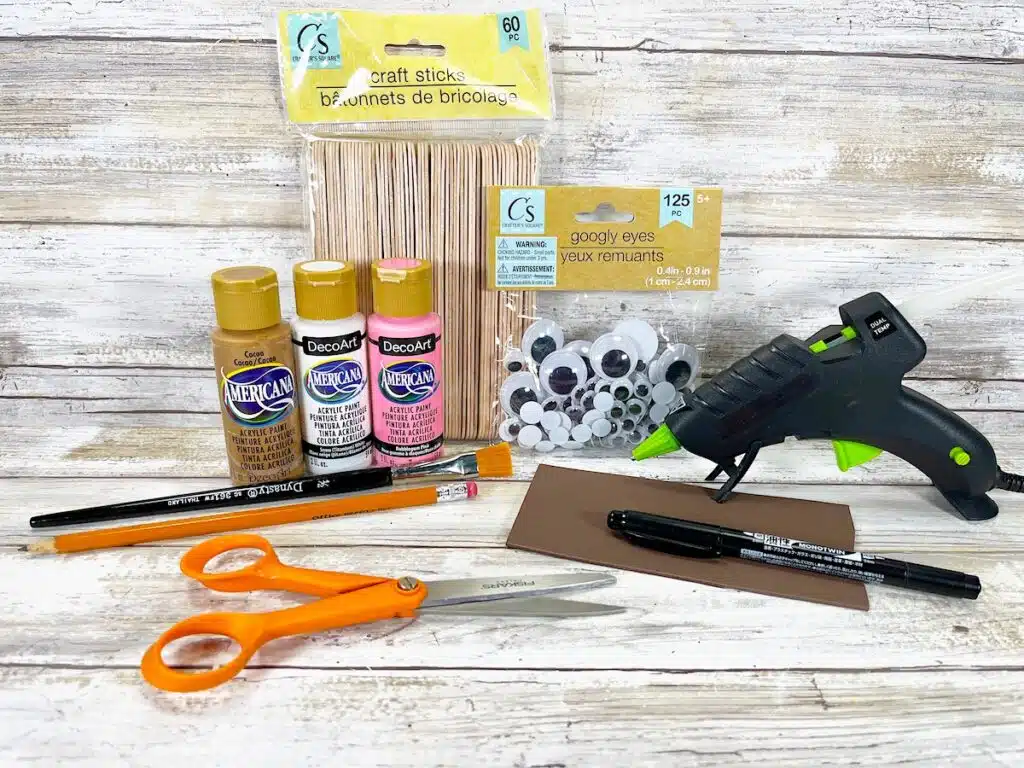 Directions
Step 1
Measure and cut three jumbo craft sticks to five inches long. Cut off the rounded ends in a straight line with scissors.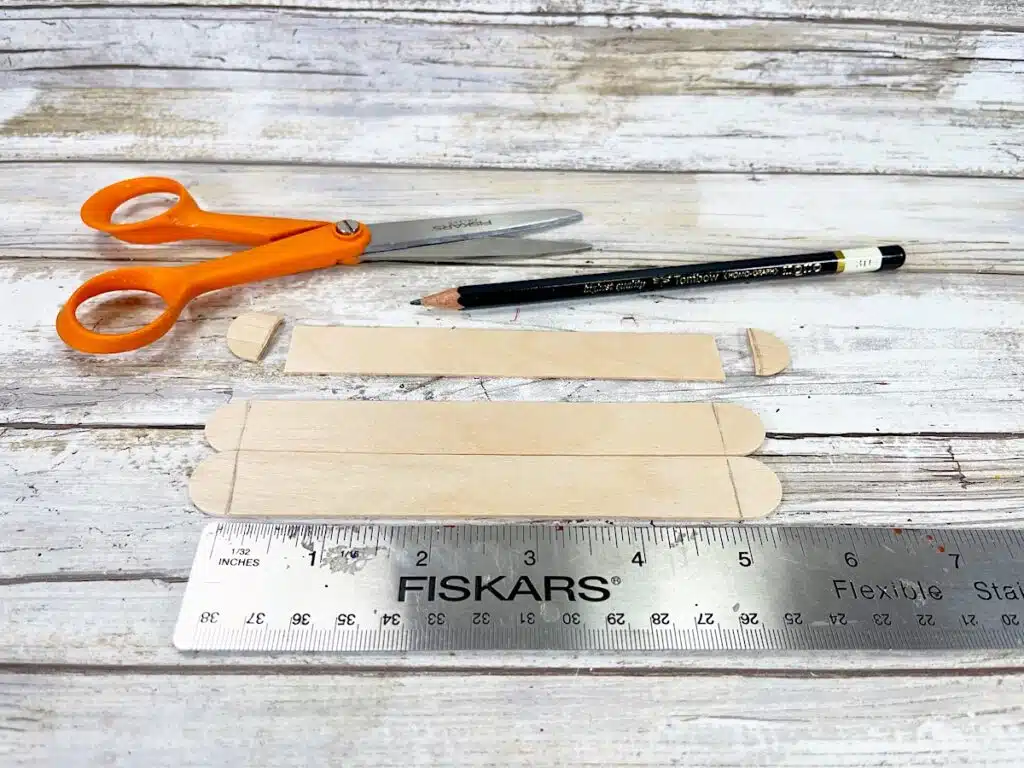 Step 2
Paint the three popsicle sticks with white paint. These will become the marshmallow.
Allow to dry and apply a second coat, if needed.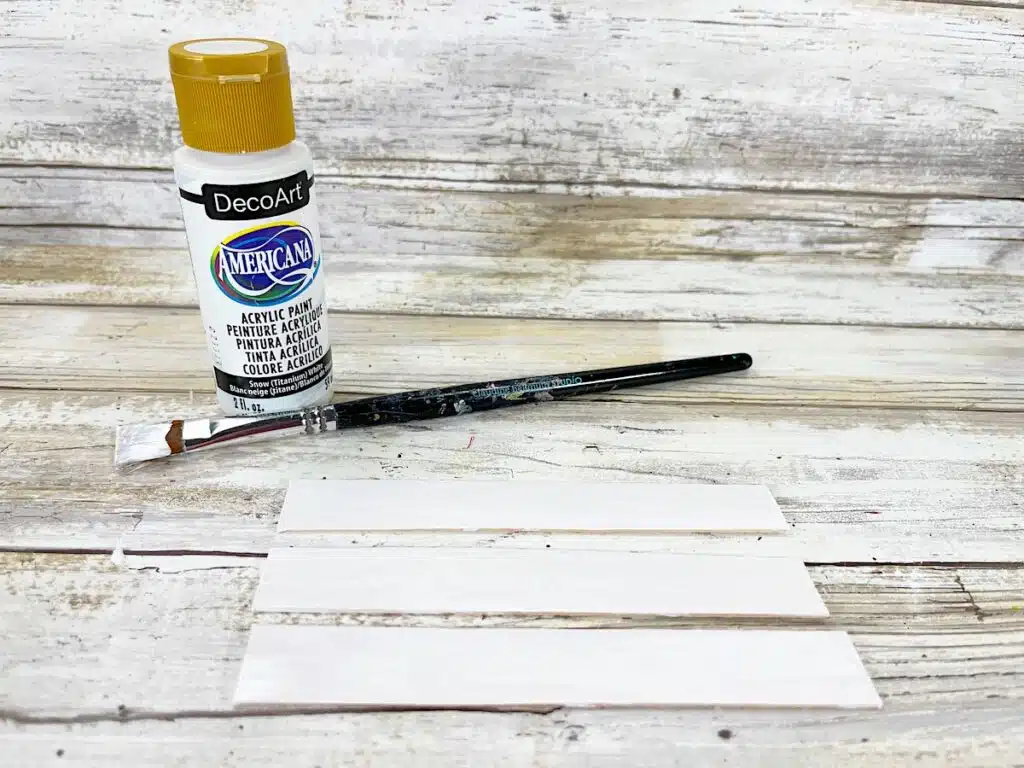 Paint the two jumbo craft sticks that have rounded ends with tan paint. These will become the graham crackers.
Let dry and apply a second coat, if needed.
If you don't want to use paint, you could use washable markers to color the sticks.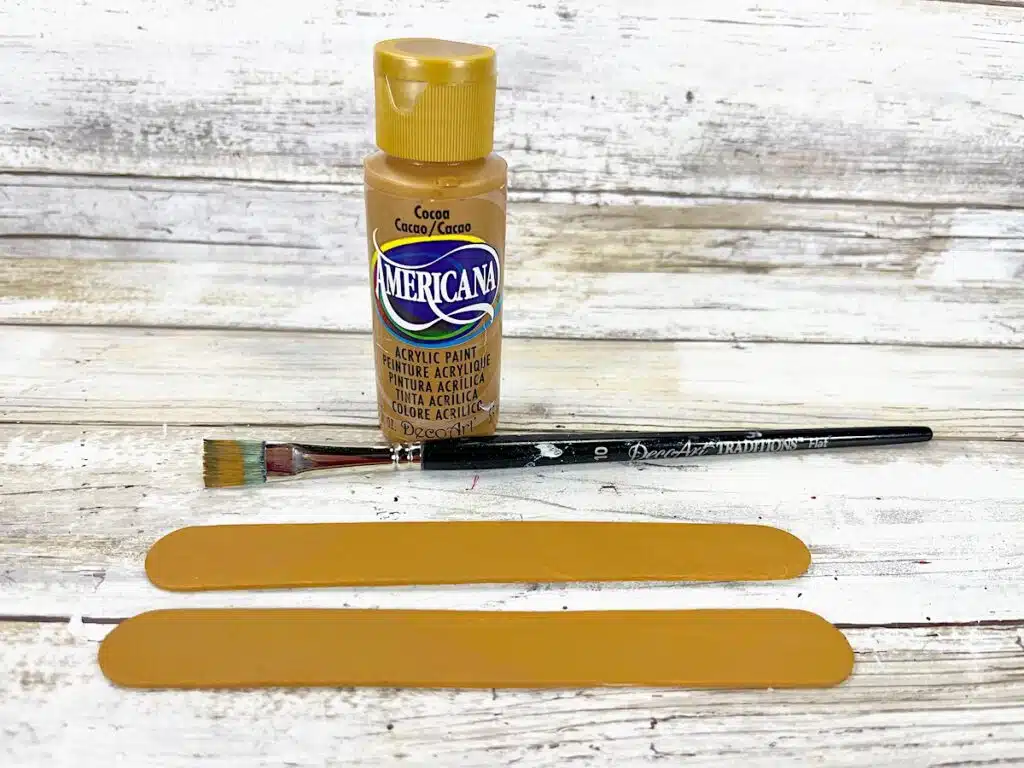 Step 3
Once the popsicle sticks are dry, flip over the craft sticks with the painted sides down.
Place the three white craft sticks on top of each other. Then, add a tan craft stick on the top and the bottom of the white popsicle stick marshmallow. Glue together along the edges.
Now, cut two additional jumbo craft sticks to fit along the back of the s'mores. You want the sticks to be perpendicular to the marshmallow and graham cracker craft sticks. Glue down to stabilize the back.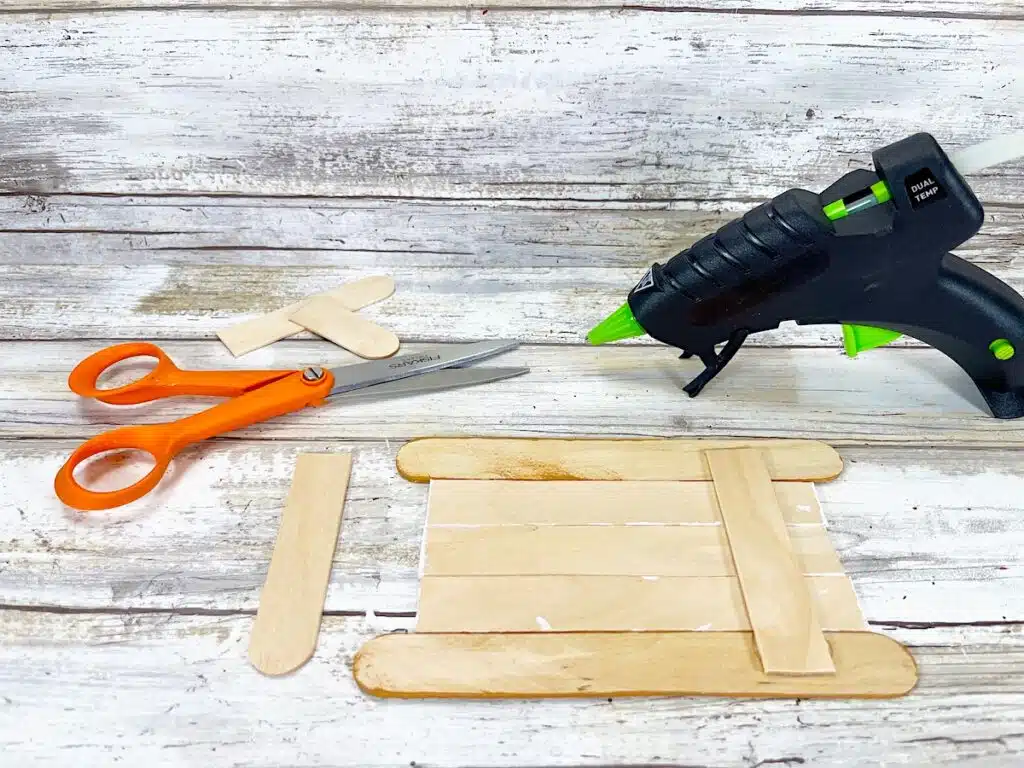 Step 4
Download, print and cut out the popsicle stick s'mores craft pattern.
Trace the melted chocolate pattern piece onto brown craft foam and cut out.
Glue the chocolate to the s'mores between the top graham cracker and the marshmallow.
Step 5
Glue two large wiggle eyes to the marshmallow just under the melted chocolate.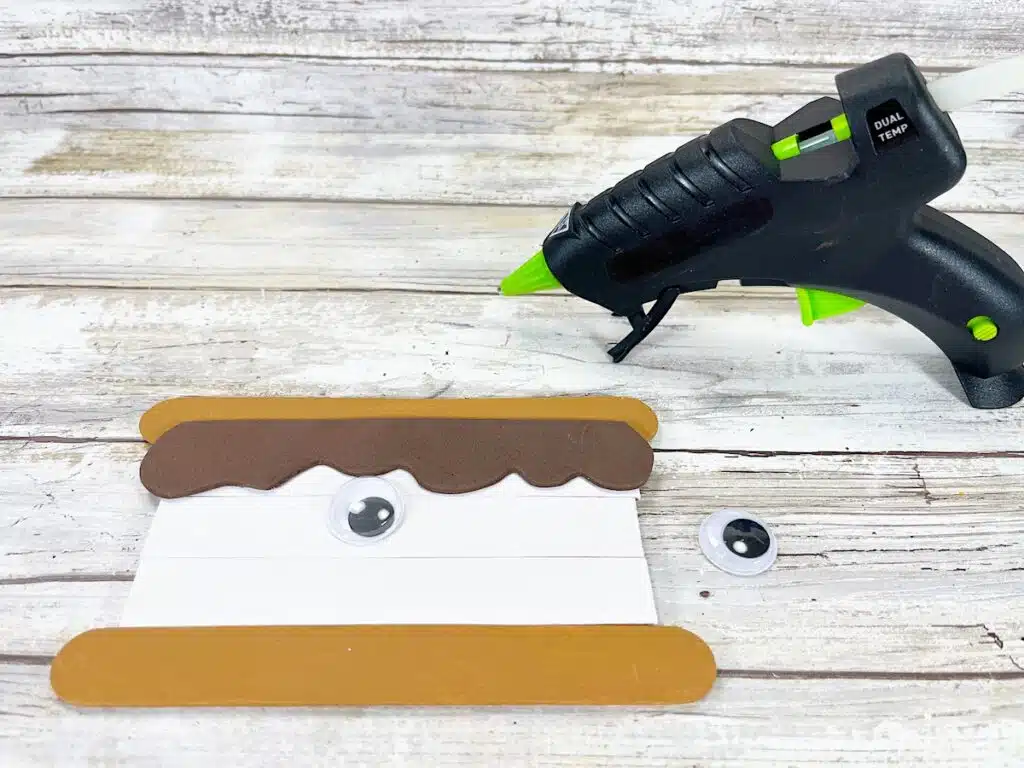 Step 6
Make cheeks by dipping a new pencil eraser into pink acrylic craft paint and stamping on either side the s'mores marshmallow face. Or just paint small circles of paint.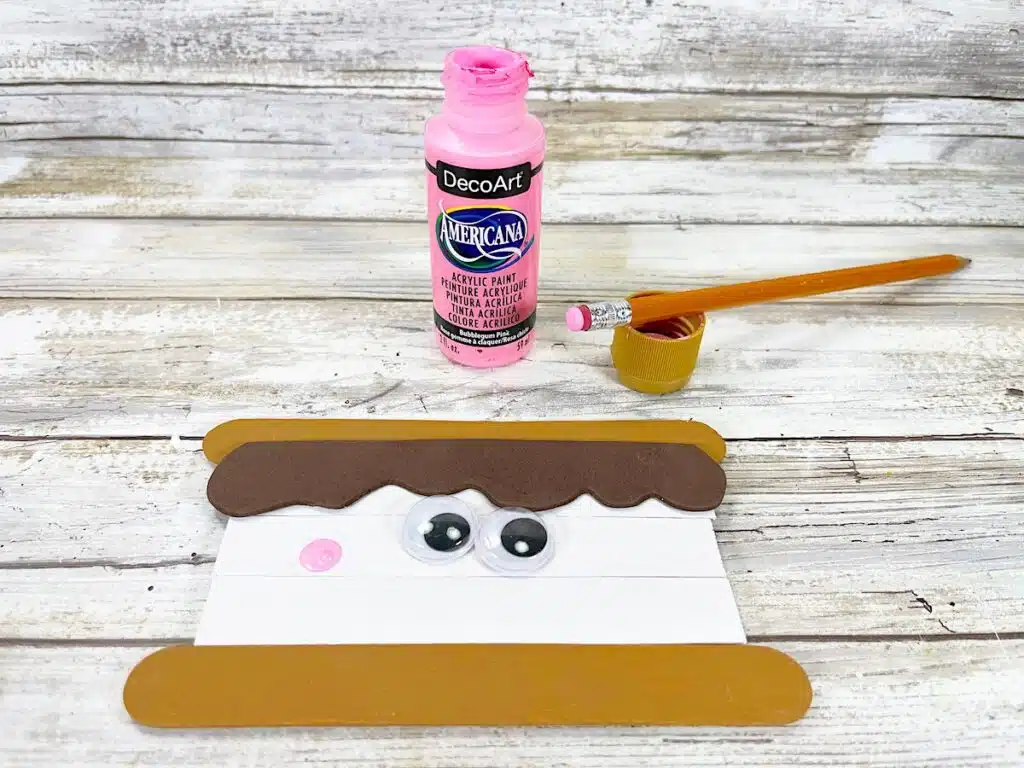 Draw a smile on the s'mores face from cheek to cheek with a black marker.
Finally, add small dots to the top and bottom graham crackers with a black marker.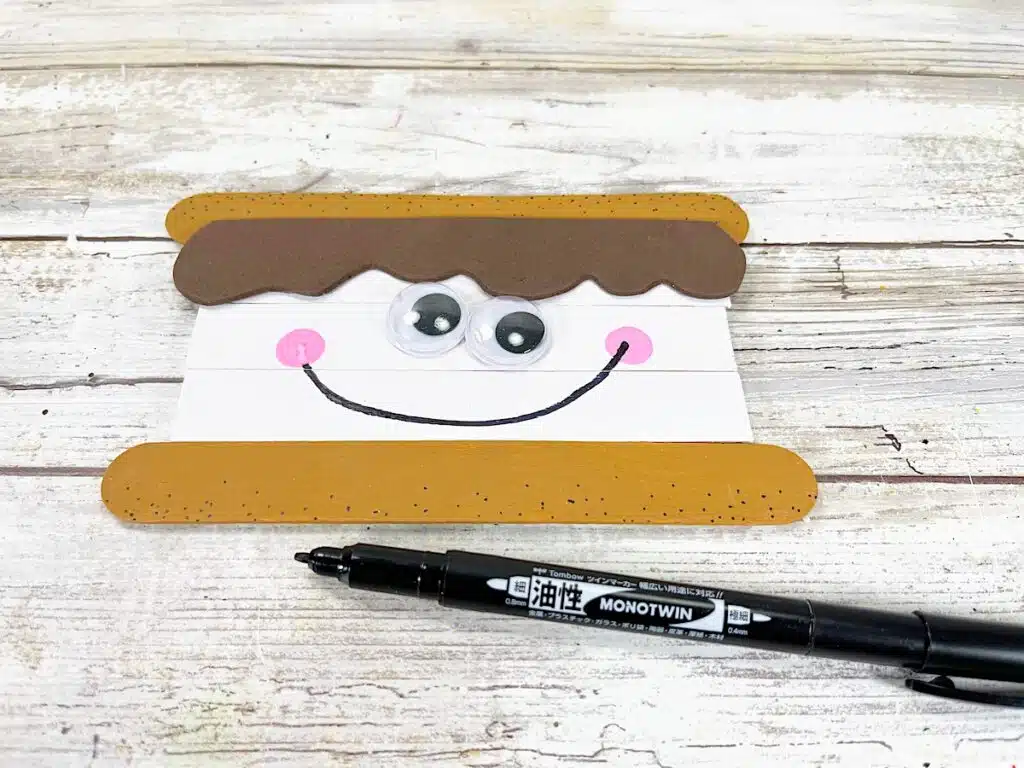 Like this camping craft? Then you will probably like these easy DIY projects, too: