A common problem for RV owners is mold. It is something no one wants to deal with and you shouldn't, because it can be really bad for your health. Plus, it can cause really expensive repairs.
Fortunately, there is an easy solution by using an RV dehumidifier which can prevent excess moisture from accumulating in your camper. Dehumidifiers can be inexpensive and easy to use.
Our Complete Guide to RV Dehumidifiers will help you find the perfect dehumidifier for your camper and understand why moisture levels are such a problem for RVers.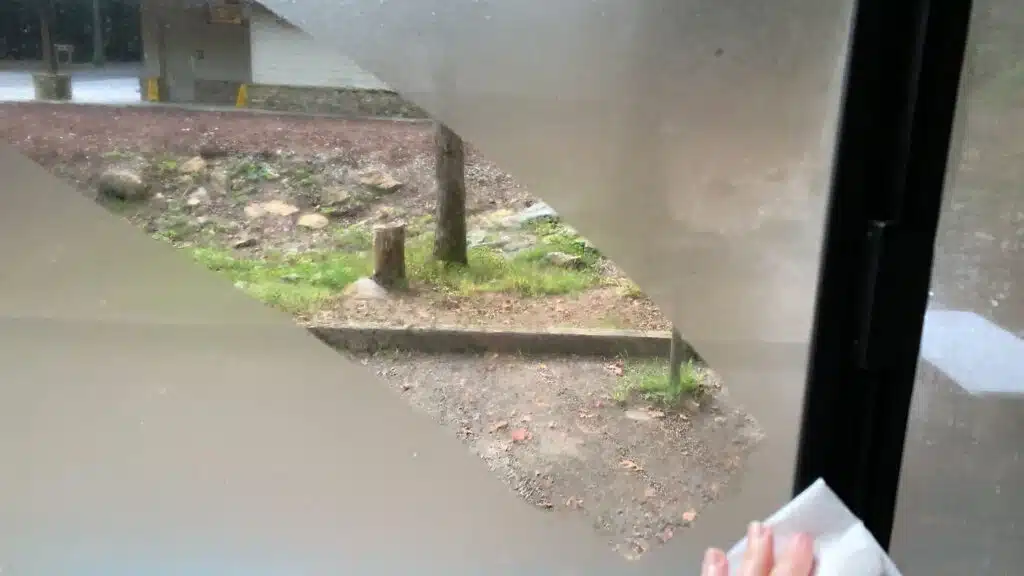 What is an RV Dehumidifier?
A dehumidifier pulls water out of the air and collects it in a reservoir, which in turn reduces the humidity level in the air.
Dehumidifiers that work great in RVs are typically more compact in size when compared to those found in homes. RV dehumidifiers will have reservoirs, rather than drain pipes, to dispose of the condensation collected.
Another important feature is lower wattage and less energy used, compared to bigger dehumidifiers that will draw a lot of power.
These mini appliances reduce the amount of moisture and condensation in your RV, which in turn helps to reduce or eliminate mold growth.
How Do I Use a Dehumidifier?
Dehumidifiers are an easy small appliance to use. Just plug into an electrical outlet and turn on. Some dehumidifiers don't even need electricity.
Dehumidifiers do require a bit of maintenance. The small reservoirs can fill up quickly, usually in 24 hours or less. You will need to regularly check the reservoir and dump it outside or in the sink or shower.
What is the Best Humidity Level?
Maintaining the ideal humidity level between 30% to 50% is crucial for a comfortable living environment in your RV, as well as in your home.
It is important to note that high humidity levels can lead to mold growth and other health hazards while low humidity levels can cause physical discomfort and health problems.
Dry air with low humidity can result in respiratory issues, sinus problems, dry skin, nosebleeds, and even static electricity shocks. However, low humidity is less likely to be a problem in RVs.
Personally, we have found that humidity levels of 35% or lower leads to really dry lips, dry skin, and constant thirst. When we experience humidity levels of 50% or more, the air feels sticky and damp. We also see mold growth more quickly on surfaces such as the toilet, shower floor and walls, and sinks.
How Do You Measure the Humidity?
A hygrometer is the absolute best way to know what the humidity level is in your RV and whether or not it is a potential problem. Many indoor thermometers have hygrometers built-in.
If you don't have a hygrometer already, they are very inexpensive to buy, usually around $10. Plus, they are easy to use.
Also available on Walmart.com.
This is our digital hygrometer, which measures the indoor humidity level, as well as a thermometer.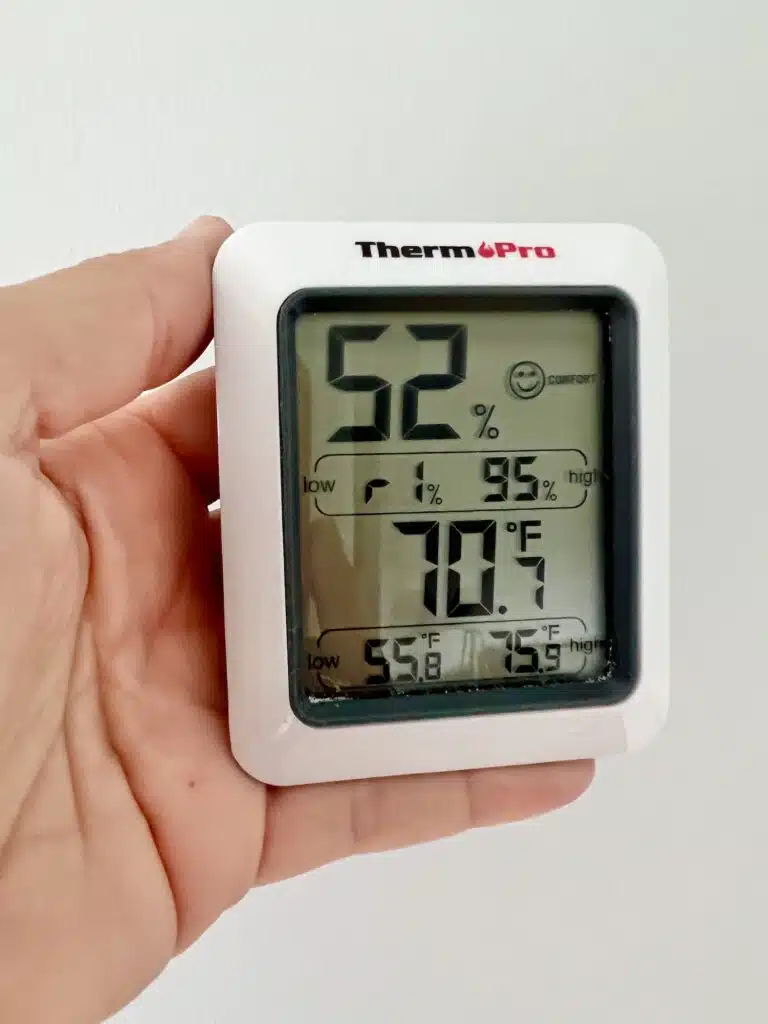 Do You Need a Dehumidifier?
There are four easy ways to determine if you need a dehumidifier in your camper:
Do you see mold?
Do you smell mold or mildew?
Are your humidity levels high on your hygrometer?
Do you see condensation on your windows, air conditioner, walls, etc?
If you answered Yes to any of the above questions, you definitely need a dehumidifier in your RV.
Another reason to get a dehumidifier for your camper is if you plan to travel moist or humid environments.
Or if you plan on doing cold weather camping, when moisture buildup can be a common occurrence, as water vapor from your breath or using water inside the RV can condense on cold walls or windows.
RV owners face a daunting challenge when it comes to moisture buildup in their vehicles. Without proper ventilation and temperature control, areas with limited circulation such as storage compartments, mattresses, and bed frames can quickly become a breeding ground for mold.
The consequences of unchecked moisture can be severe, leading to health problems and damage to RV structures, carpets, and mold growing under mattresses.
It is essential to take a proactive approach in preventing moisture buildup in your RV. Investing in a dehumidifier before your next trip can help you win the battle against mold.
Is DampRid a Dehumidifier?
DampRid is a type of dehumidifier. These bags or tubs are full of a material that absorbs moisture. However, the water cannot be emptied out of the bag or tub and the entire system must be thrown out once at capacity.
Also on Amazon.com.
Moisture absorbing bags and tubs, such as DampRid and Dollar Tree versions, will work on mild humidity levels. However, these bags would need to be changed very frequently in high moisture situations. And that can get expensive.
However, a moisture absorber, such as this Arm & Hammer Hanging Moisture Absorber, are ideal when your RV is in storage and has no electrical power. With no air circulation, mold can grow quickly so a moisture absorber is necessary when storing your trailer or motorhome.
How to Choose the Best Dehumidifier For an RV
There are a few factors to consider before buying a dehumidifier for your trailer or motorhome. You will want to buy an appliance that is suited for the size of the vehicle, the weather conditions, and power supply available.
Choosing the Right Size and Capacity
When looking at dehumidifiers, you will need to look at the capacity of each appliance. Not every dehumidifier will work in the same size of space.
The description of the dehumidifier should list a cubic feet capacity, as well as a square foot capacity, which is the number that you will want to compare.
Figure out the square footage of your RV before looking at dehumidifiers. You may need to buy more than one dehumidifier to successfully control the moisture in your trailer or van.
In addition to finding an appliance that covers your entire square footage, you will also want to look at the capacity of each appliance. For instance, one dehumidifier that can cover 300 square feet might not hold as much liquid in its reservoir as a second dehumidifier that can cover the same amount of space.
Larger reservoirs will usually be larger models. And they can take up more space than the smaller versions.
However, a larger reservoir means that you don't have to empty the water out as often. Which can save you time and hassle.
Power Supply
The type of moisture absorber you use, as well as the size of an electrical unit, will be decided upon how much energy you will have while camping.
If you will be hooked up to electrical power at campsites, or if you have a solar power system that supplies energy, then you can use an electric dehumidifier.
While electrical hookups will allow you to use just about any dehumidifier that will fit in your RV, those that are relying on solar power must be more choosy.
A lower wattage dehumidifier is the best choice for anyone relying on battery power when camping. You will want to decrease the wattage of all appliances as much as you can to conserve your energy.
Related Posts:
If you boondock a lot and rely on a generator or portable power bank, rather than solar power, you will probably want to use a non-electric moisture absorber. Dehumidifiers would draw too much of your energy power when there are off-grid alternatives that you could use instead.
Cost
Small dehumidifiers can cost around $40-50 and increase from there. The larger the unit, the more likely it will cost more.
DampRid costs about $12 for a 3-pack and tubs cost about $4-7. Refills for the tubs cost under $10, so the prices are more affordable for the initial cost.
However, you will need to replace the moisture absorber bags or tubs frequently, so they can become more expensive than an electrical unit in the long run.
Smell
Moisture absorbing bags and tubs often use a material that is scented. While there are fragrance-free DampRid options, you will need to make sure that you are able to buy those when needed if you are allergic to fragrances.
Personally, I cannot tolerate the fragrance smell of moisture absorbing bags and I need to use an electric dehumidifier that has no chemicals.
Best Dehumidifiers for RVs, Trailers, Motorhomes and Vans
We have done the research on dehumidifiers when choosing one for our own rig. These are our top suggestions:
Small Space Dehumidifier
When choosing a dehumidifier for our Intech Sol Horizon, we wanted a small model that would fit inside our 20-foot camper and not take up too much space.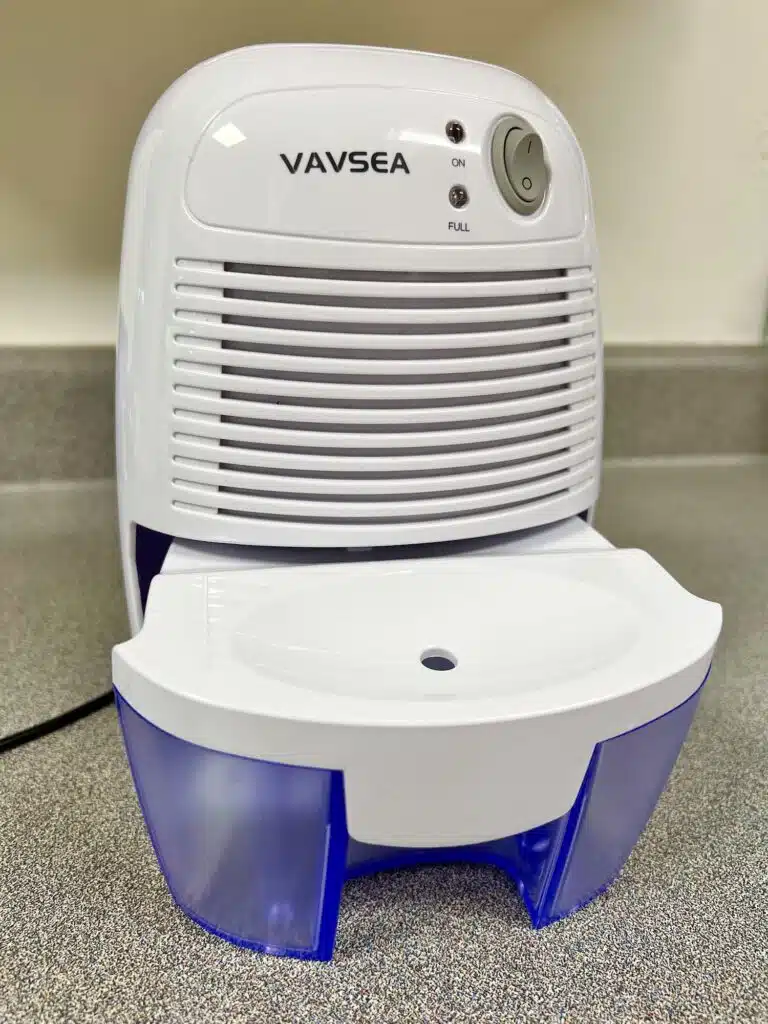 We bought the VavSea Dehumidifier and are very happy with it. The small unit works for 215 square-feet or less, which makes it ideal for vans and small trailers.
This model was among the least expensive we found, which was also another great bonus.
The reservoir holds just as much as some of the other mini dehumidifiers that we found, yet cost less.
Tank reservoir holds 17 ounces
Noise level is less than 30 db
Unit uses 23 watts
Large Capacity, Slim Line Design
For larger spaces, this 300 square-foot capacity dehumidifier is a great choice. The InvisiPure Hydrowave Dehumidifier has a much larger reservoir and will work on a larger space.
What we like about this model is that it is tall, but not as wide, which is great for trying to find space in an RV.
Removes up to 27 ounces of water a day
Tank reservoir holds 64 ounces
Unit uses 75 watts
Huge Capacity for Large RVs or High Humidity Enrivonments
For the biggest motorhomes and fifth wheels, you will want either several small dehumidifiers or one large one. It's so much easier to get one unit that will work on your entire home.
If you are traveling or living in high humidity locations, you will also want powerful performance.
This 7000-cubic foot dehumidifier will work on 720 square-feet.
Removes up to 34 ounces of water a day
Tank reservoir holds 95 ounces
Noise level is less than 30 db
Unit uses 58-78 watts
DampRid Tubs
When you want to live off-grid or want to remove water from hard to reach places such as closets or in the RV garage, DampRid buckets or tubs are the perfect solution.
We like this DampRid multi-pack that is fragrance-free. The small buckets are easy to tuck in closets, cabinets or behind the furniture.
Works up to 300 square-feet
Removes 18 ounces of moisture
No electricity needed
No noise
---
New to RVing? Be sure to see our list of all of the necessary items you need in your RV, and none that you don't!