We always like to have fun foods when camping. It is a tradition in our house. A little bit of indulgence while we are on vacation and making memories at meal time.
These pancake tacos are a fun way to enjoy breakfast. Using pancakes as the base, you can customize the toppings with a taco bar stocked with morning breakfast ingredients, such as fruits, yogurt, eggs, and breakfast meats.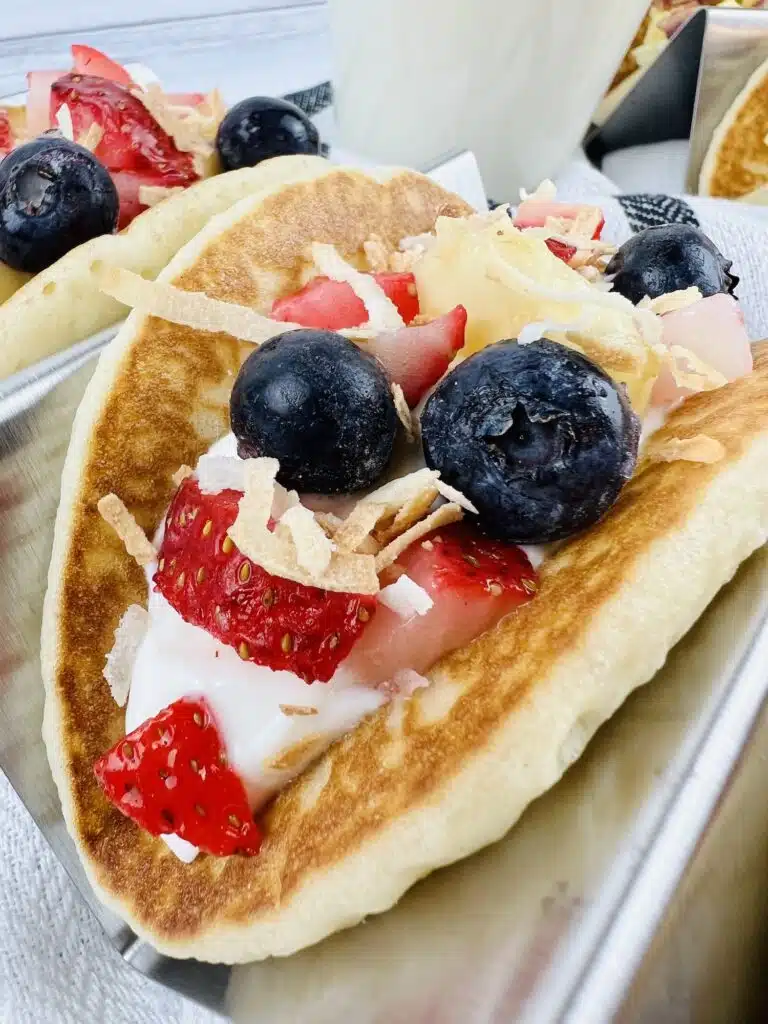 Pancake Breakfast Tacos
In order to have delicious breakfast tacos, you will need pancakes as the base. There are several ways to have enough pancakes for this breakfast, depending on how much time you want to spend preparing the meal:
Use pre-made pancakes from the frozen foods section, heated
Make a large batch of pancakes before leaving, refrigerate them and then reheat
Cook pancakes on the griddle at your campsite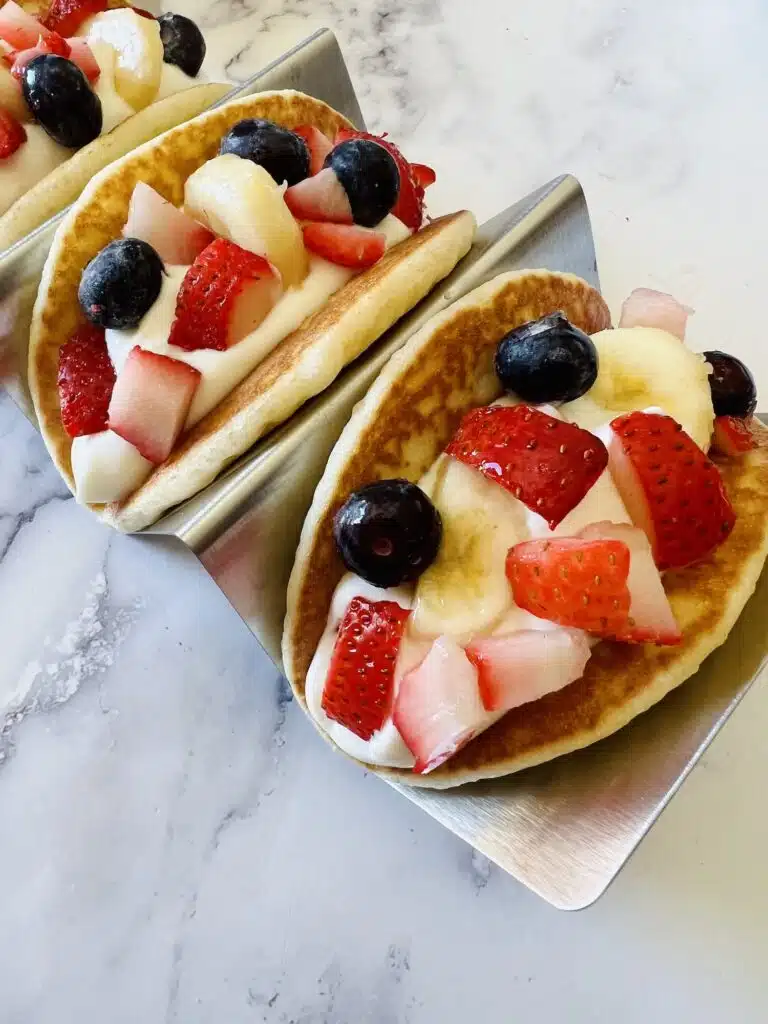 While traditional pancakes are perfect to have with this fun breakfast, you can use special flavored pancakes, too, such as:
Chocolate Chip Pancakes
Blueberry Pancakes
Banana Pancakes
Related Post: Slow Cooker Breakfast Burritos Recipe
Taco Holders
If you want to set up a table for the entire family to assemble tacos, then you might want to use taco holders.
These are great if you have kids making breakfast tacos.
They are also perfect if you have so many toppings to choose from that it is hard to hold a pancake or plate in one hand while trying to scoop out ingredients with the other.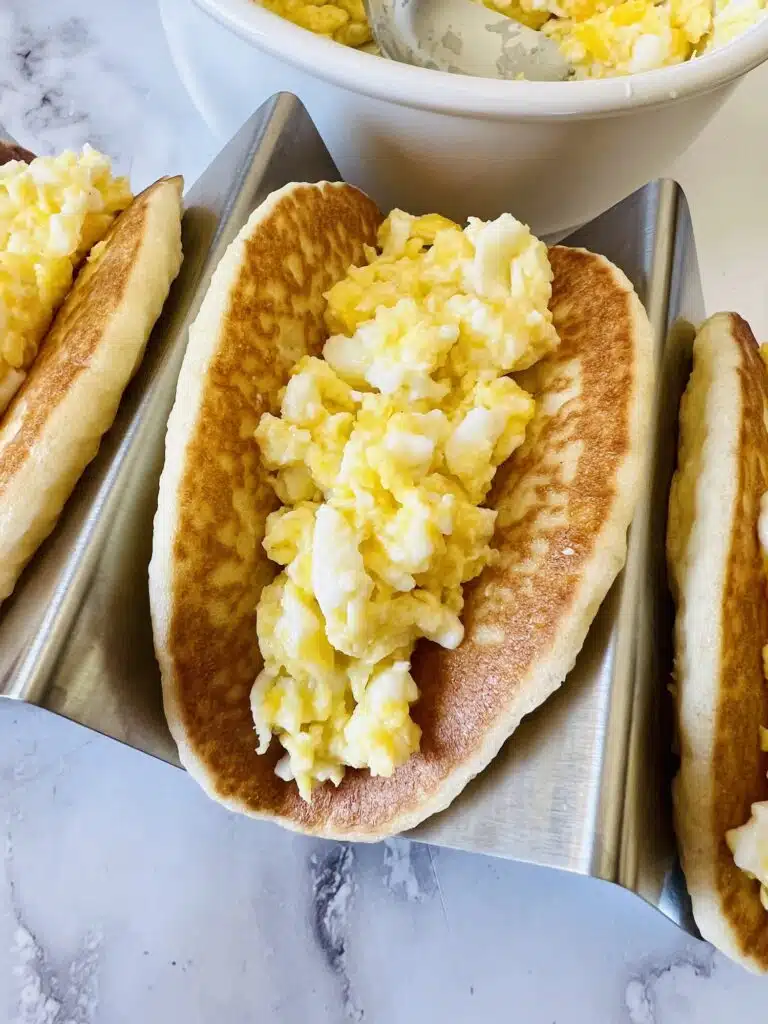 We used stainless steel taco stands, but you can find colorful plastic taco stands, too.
How to Make Pancake Tacos
You can customize your pancake breakfast tacos however you would like. We have included some ingredient suggestions and ideas for how to make your own.
Ingredients
Pancakes, 1 per taco
Vanilla greek yogurt
Fresh fruit, chopped
Toasted coconut
Scrambled eggs
Bacon, cooked & crumbled
Cheddar cheese shreds
Nut butters
Dried fruit, such as raisins
Chopped nuts
Sunflower seeds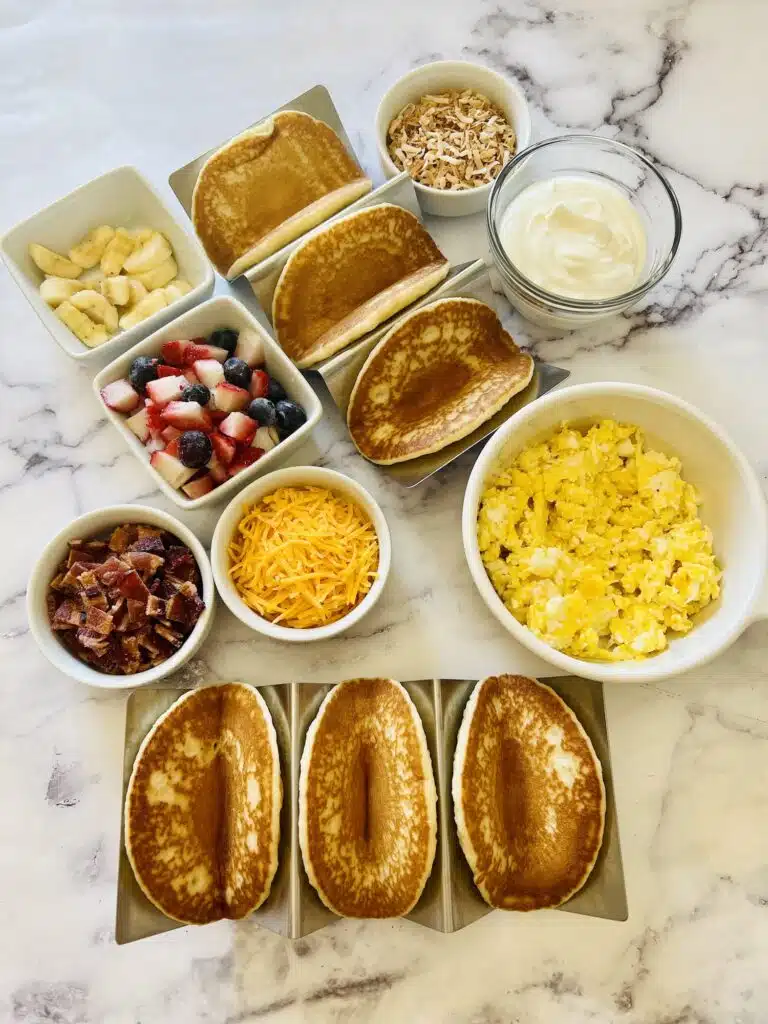 Directions
Making pancake breakfast tacos is just like making traditional tacos. Just the ingredients are different!
Use a already-prepared pancake just like you would a taco shell or tortilla.
Then layer on the ingredients to customize your perfect breakfast taco.
Some ideas are:
Sweet Breakfast Tacos: Spoon yogurt onto the bottom of the pancake, then top with fresh fruit and toasted coconut
Savory Pancake Tacos: Spoon scrambled eggs onto the pancake, then add bacon crumbles and shredded cheese
Funny Monkey Tacos: Spread peanut butter on the pancake, then layer on sliced banana (cut lengthwise) and chocolate chips
Sunshine Tacos: Spread sunflower butter on a pancake, then top with raisins, and chopped nuts or seeds and coconut flakes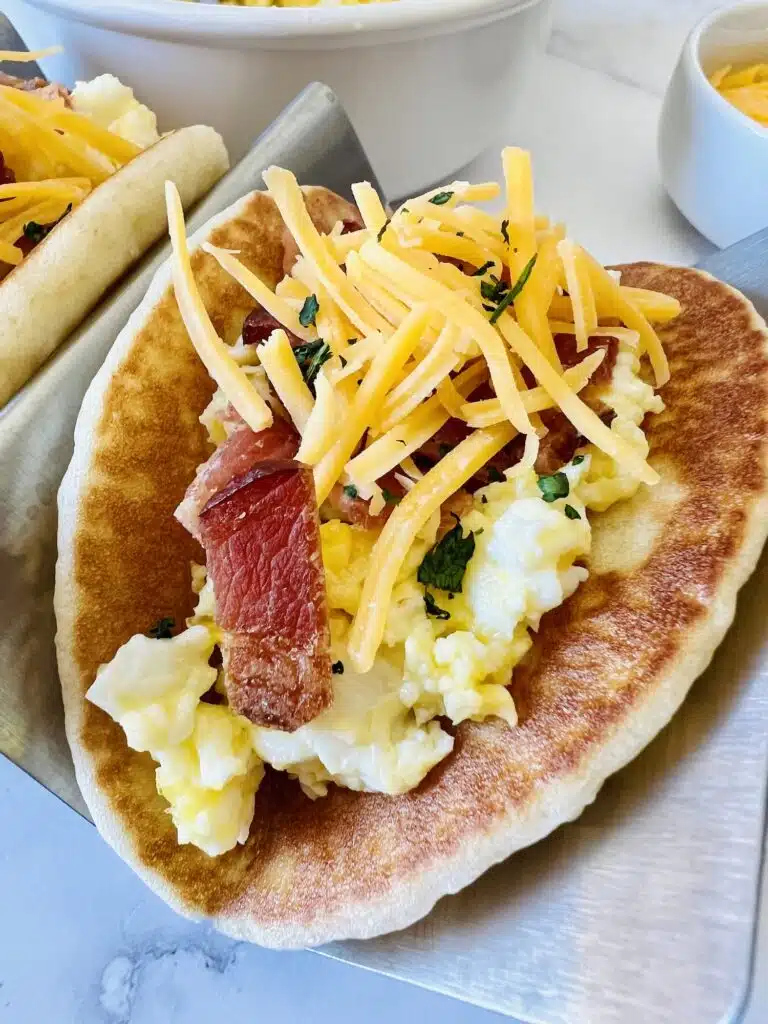 Want more fun camping food recipes like these easy pancake tacos? Then check these out: