Are you planning your next RV journey and looking for the best campgrounds in each state in the U.S.?
With an estimated 4,100-plus campgrounds in the United States, it can be overwhelming to decide where to stay and maximize the fun on your next camping trip.
So, we have pulled together a list of of the best private, local, state, and federal campsites in all 50 states in the U.S.
Check our list of average campground prices for an idea of what you might spend on your campsites.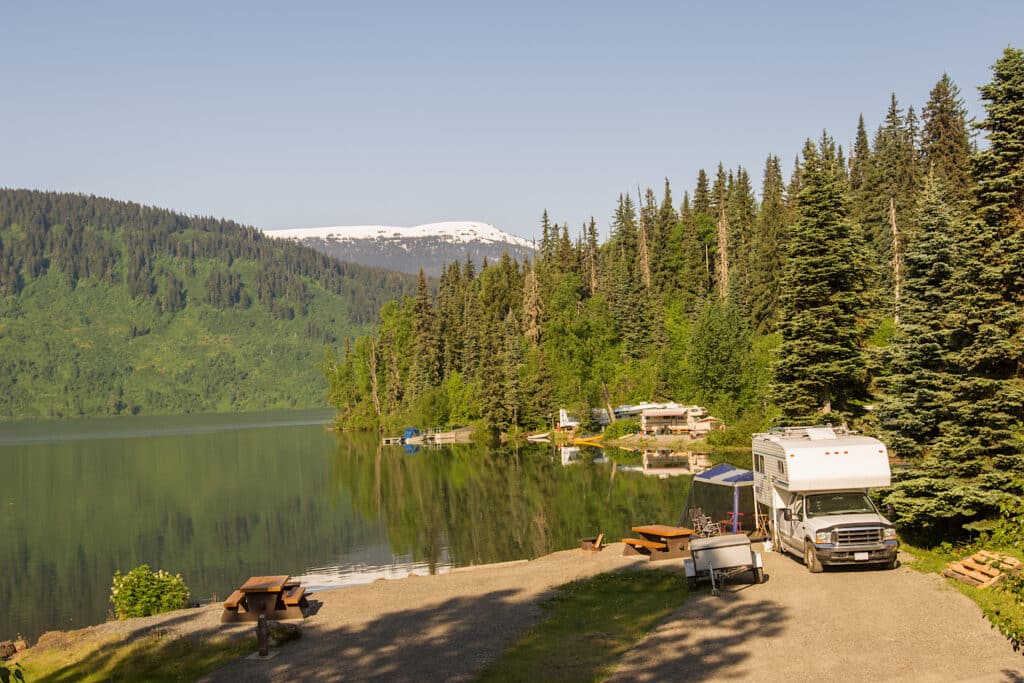 Many of the campgrounds provided are situated near some of the most iconic natural wonders for their respective geographic area.
Whether it is a national park, an inviting mountain to hike, or pristine natural water features, there is a campground for you near your next RV and camping destination!
Alabama
Outpost, Gulf State Park
Cheaha State Park
Dismals Canyon Campground, Dismals Canyon Park
Alaska
Bartlett Cove Campground, Glacier Bay National Park
Wonder Lake, Denali National Park
Hidden Lake Campground, Kenai Peninsula
Arizona
Havasupai Campground, Havasupai Reservation
Desert View Campground, Grand Canyon National Park
Blue Ridge Campground, Coconino National Forest
Mather Campground, Grand Canyon National Park
Arkansas
Buffalo National River, Northern Arkansas
Petit Jean State Park, Conway County
Ozark Campground, Buffalo National River
Lake Fort Smith State Park, Mountainburg
Downtown Riverside RV Park, Little Rock
California
Julia Pfeiffer Burns State Park, Big Sur
Kirk Creek Campground, Los Padres National Forest
Flint Ridge Backcountry Camp, Redwood National Park
While not as popular as other California locations, we highly recommend camping at Mojave National Preserve.
Colorado
Pinon Flats Campground, Great Sand Dunes National park
Moraine Park Campground, Rocky Mountain National Park
Trappers Lake Campground, White River National Forest
Connecticut
Rocky Neck State Park, East Lyme
Housatonic Meadows Campground, Housatonic Meadows State Park
Devil's Hopyard State Park, East Haddam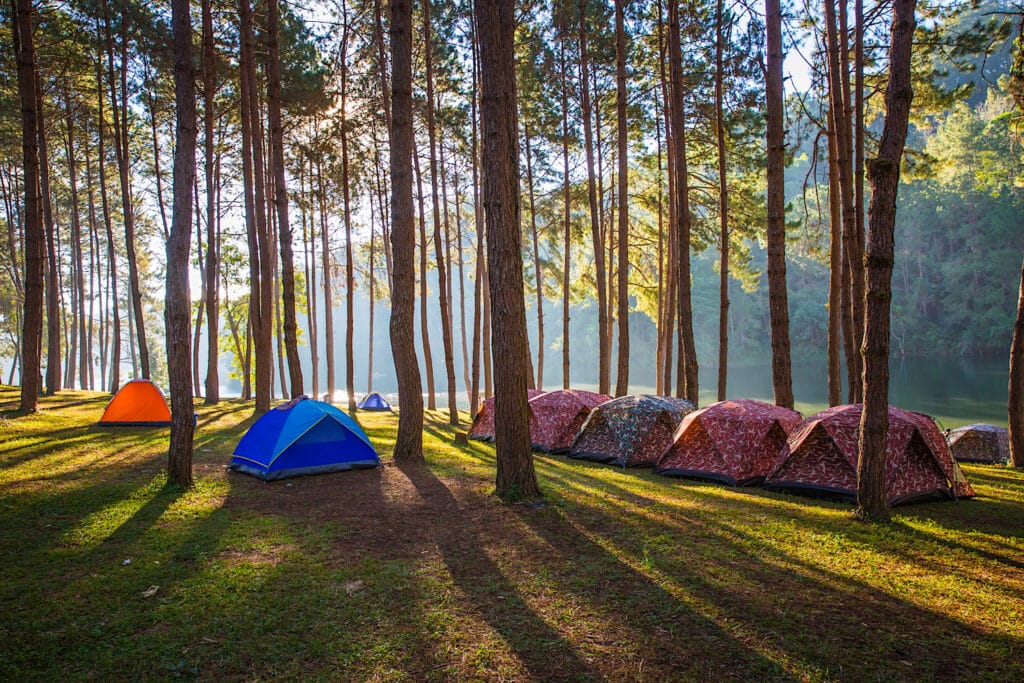 Delaware
Cape Henlopen Campground, Cape Henlopen State Park
South and North Inlet Campgrounds, Delaware Seashore State Park
Trap Pond State Park, Laurel
Florida
Be sure to see our big list of RV parks near Universal Studios in Orlando.
Georgia
Cloudland State Park, Rising Fawn
West Rim Campground, Cloudland State Park
Sea Camp Campground, Cumberland Island National Seashore
Vogel State Park, Blairsville
You might also be interested in these kid-friendly campsites near Atlanta.
Hawaii
Haleakala Backcountry, Maui
Waianapanapa State Park, Maui
Polihale State Park, Kauai
✅ Click here for the average cost per night at campgrounds!
Idaho
Point Campground, Sawtooth National Forest
Glacier View Campground, Sawtooth National Forest
Craters of the Moon National Monument, South Central Idaho
Be sure to see our list of top campgrounds near Sandpoint, Idaho.
We also have a list of great places to camp near Ketchum, Idaho.
Illinois
Starved Rock State Park, Utica Township
Pharaoh Campground, Garden of the Gods Recreation Area, Herod
Kayak Morris, Morris
Indiana
Brown County State Park, Brown County
Dunewood Campground, Indiana Dunes National Park
Monroe Lake Campground, Bloomington
Iowa
Maquoketa Caves State Park, Jackson County
Sixe Pine Campground, Backbone State Park
Grotto of the Redemption, West Bend
Kansas
Cedar Bluff State Park & Reservoir, Ellis
Kanopolis State Park, Marquette
Crawford State Park, Farlington
Kentucky
Yogi Bear's Jellystone Park Camp-Resort, Cave City
Crockett Frontiers Campground, Grand Rivers
Kentucky River Campgrounds, Frankfort
Louisiana
Kisatchie Ranger District, Provencal
Lake Fausse Pointe State Park, St. Martinville
Tunica Hills Campground, St. Francisville
Maine
Hermit Island Campground, Phippsburg
Cathedral Pines Campground, Eusits
Schoodic Woods Campground, Schoodic Peninsula
Maryland
Assateague State Park, Berlin
Elk Neck State Park, North East
Catocin Mountain Park, Thurmont
✅ Learn about the Pros and Cons of RV Camping Memberships!
Massachusetts
Horseneck Beach State Reservation, West Point
Shawne-Crowell State Forest, Sandwich
Myles Standish State Forest, South Carver
Michigan
Tahquamenon Falls State Park, Paradise Take
South Higgins Lake State Park, Roscommon
Porcupine Mountains State Park, Ontonagon
Minnesota
Woodenfrog Campground, Kebetogama State Forest
Portsmouth Campground, Cuyuna Country State Recreation Area
Fall Lake Campground, Superior National Forest
Mississippi
Flint Creek Water Park, Wiggins
Davis Bayou Campground, Gulf Islands National Seashore
Tishomingo State Park, Northeast Mississppi
Missouri
Bennett Spring State Park, Bennett Springs
Lazy Day Campgrounds, Danville
Graham Cave State Park, Danville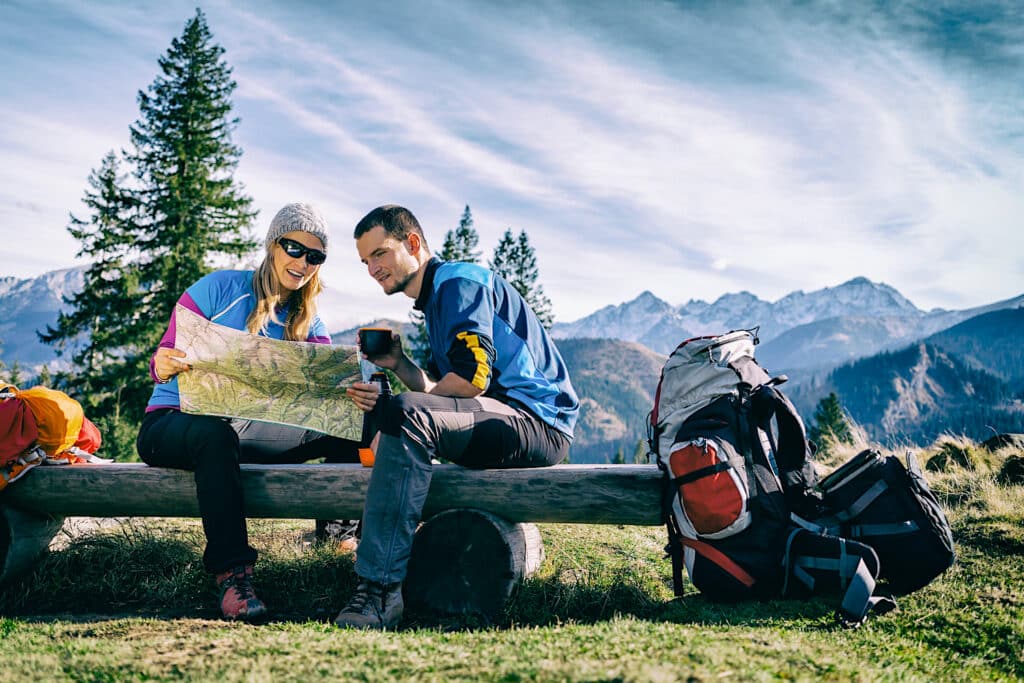 Montana
Apgar Campground, Glacier National Park
Holland Lake Campground, Flathead National Forest
Many Glacier Campground, Glacier National Park
Nebraska
Chadron State Park, Chadron
Swanson Reservoir, Trenton
Box Butte Reservoir State Recreation Area, Hemingford
Nevada
Angel Creek Campground, Humboldt-Toiyabe National Forest
Atlatl Rock Campground, Valley of the Fire State Park
Beaver Dam State Park
New Hampshire
Lafayette Place Campground, Fraconia Notch State Park
White Lake State Park, White Mountains
Pawtuckaway State Park, Southern New Hampshire
New Jersey
The Great Divide Campground, Newton
Pleasant Acres Farm Campground, Sussex
Triplebrook Campground, Blairstown
New Mexico
Columbine Campground, Carson National Forest
Cottonwood Campground, Navajo Lake State Park
Cosmic Campground, Gila National Forest
New York
North-South Lake Campground, Catskill Forest Preserve
Hither Hills State Park, Montauk
Wellesley Island State Park, St. Lawrence River
North Carolina
Carolina Beach State Park, Pleasure Island
Davidson River Campground, Pisgah National Forest
Hanging Rock State Park, Stokes County
Davidson River Campground is on our list of Top Campgrounds near Nantahala National Forest.
We love camping in North Carolina and have too many favorites to add to just one list! Be sure to see our other North Carolina camping guides:
North Dakota
Lake Metigoshe State Park, Bottineau
Lake Sakakawea State Park, Pick City
Fort Abraham Lincoln State Park, Mandan
If you are staying near Theodore Roosevelt National Park, check out the campground we recommend in Medora.
Ohio
Barkcamp State Park, Belmont County
Grand Lake St. Marys State Park, Mercer and Auglaize Counties
Hocking Hills Adventures, Logan
Oklahoma
Chickasaw National Recreation Area, Sulphur
Beavers Bend State Park, Mountain Fork River/Broken Bow Lake
Boiling Springs State Park, Woodward
✅ Check out our RV Gear Guide. Great for new RVers!
Oregon
Fort Stevens State Park, North Coast
Park at the River, Wallowa Lake
Jessie M. Honeyman Memorial State Park, Central Coast
Pennsylvania
Hersheypark Camping Resort, Hummelstown
Allegheny National Forest, Bradford
Allegheny River Campground, Roulette
Rhode Island
Bowdish Lake Camping Area, Glocester
Burlingame State Park Campground, Burlingame
Second Beach Family Campground, Middletown
South Carolina
Andrew Jackson State Park, Lancaster
Calhoun Falls State Park, Calhoun Falls
Cheraw State Park, Cheraw
Springfield Campground, Anderson
South Dakota
Sylvan Lake Campground, Custer State Park
Sage Creek Campground, Badlands National Park
Spearfish City Campground, Spearfish
Check out our camping picks for the Badlands area in South Dakota, including the place where we camped.
Tennessee
Cades Cove, Great Smoky Mountains National Park
Spivey Cove, Cherokee National Forest
Fall Creek Falls, Fall Creek Falls State Park
Be sure to see our list of the Top 10 Campgrounds near Dollywood.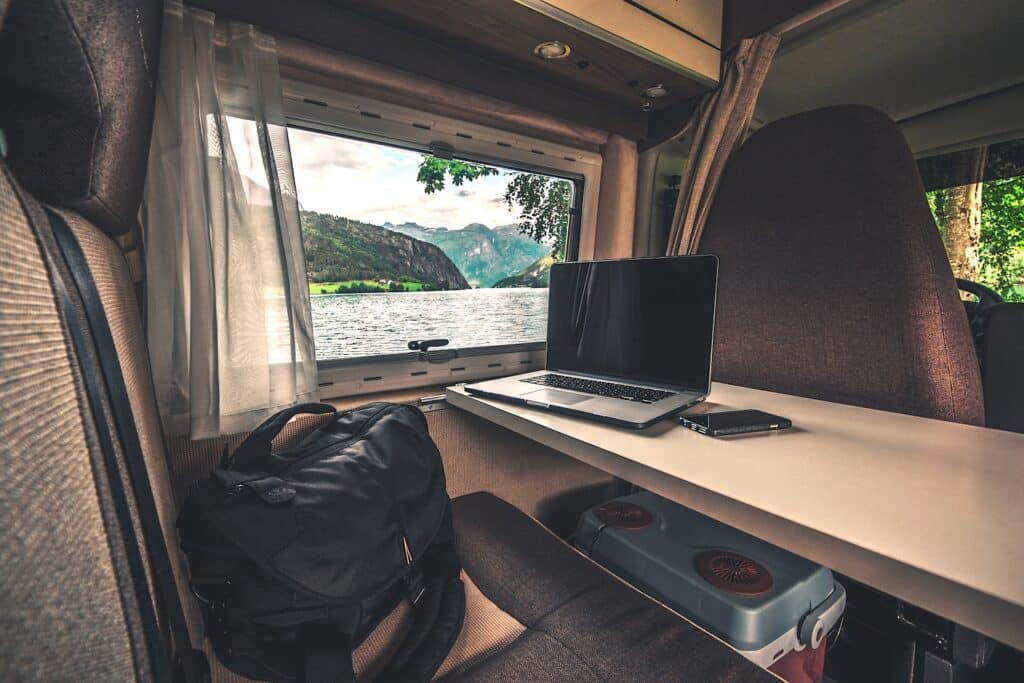 Texas
Big Bend National Park, Southwest Texas
Guadalupe River State Park, Kendal and Comal Counties
Padre Island National Seashore, Corpus Christi
Utah
Anderson Cove Campground, Pineview Reservoir
Arches National Park, Moab
Bridger Bay Campground, Bridger Bay
Gouldings RV Campground, Oljato-Monument Valley
Vermont
Quechee State Park, Hartford
Bomoseen State Park, Castleton
Button Bay State Park, Ferrisburgh
Virginia
False Cape State Park, Virginia Beach
New River Trail State Park, Foster Falls
Grayson Highlands State Park Campground, Mouth of Wilson
While not for everyone (especially if you don't have kids), we really enjoyed our stay at the Williamsburg KOA in Virginia.
Washington
Cougar Rock Campground, Mount Rainier National Park
Hoh Rain Forest Campground, Olympic National Park
Colonial Creek Campground, North Cascades National Park
West Virginia
Mountain Lake Campground, Summersville Lake
Spruce Knob Lake Campground, Whitmer
Cooper Rock State Park, Monongalia and Preston Counties
Wisconsin
Devil's Lake State Park, Baraboo
Wisconsin Riverside Resort, Spring Green
Smokey Hollow Campground, Lodi
Wyoming
Brooklyn Lake Campground, Medicine Bow-Routt National Forest
Flaming Gorge Dispersed Campgrounds, Lost Dog Dispersed Camping Area
Big Sandy Campground, Bridger-Teton National Forest
Everyone has a different list of the best campgrounds they have stayed at. Which ones would you add to our roundup of the best campsites in every state?