These make-ahead orange chocolate chip muffins are the perfect food to bring with you for Spring and Summer camping
In fact, these are perfect when heading to Florida for camping! It's a way to celebrate the state's popularity as one of the world's leading orange producers.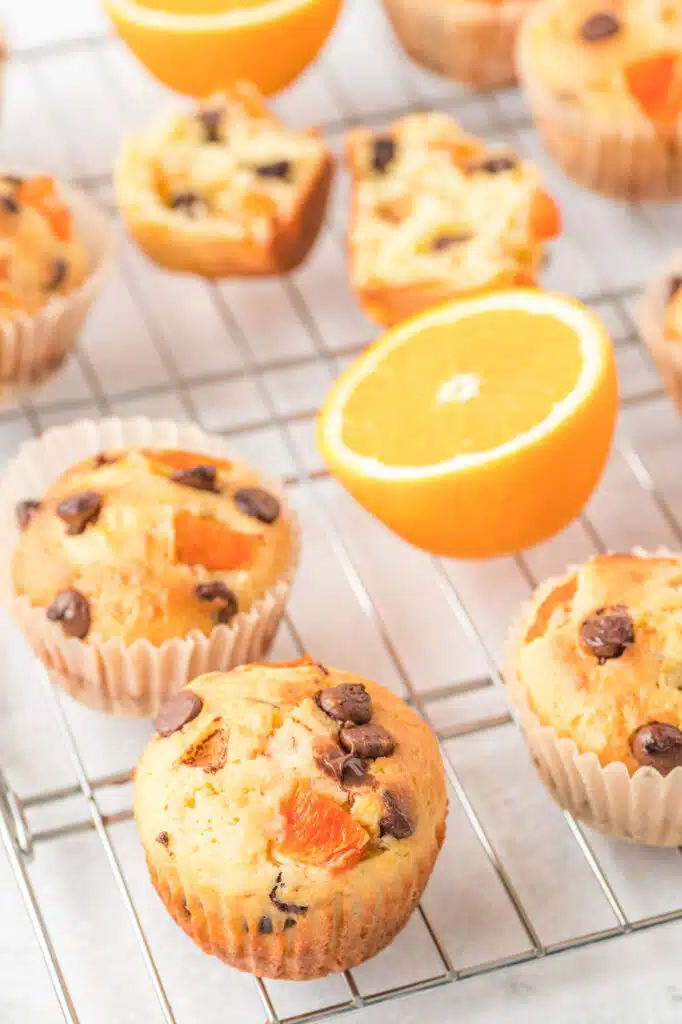 Make these muffins at home before heading out on your camping trip. They can be stored up to 5 days in a container.
We don't suggest keeping these muffins on hand longer than 5 days because they are so moist. And be sure not to store them in direct sunlight.
For warm muffins with slightly melted chocolate chips, we suggest using a low-wattage toaster oven in your RV to heat them up. You could also quickly heat the muffins in a microwave for about 15 seconds. For tent camping, consider wrapping them in foil and placing near the campfire for a few minutes.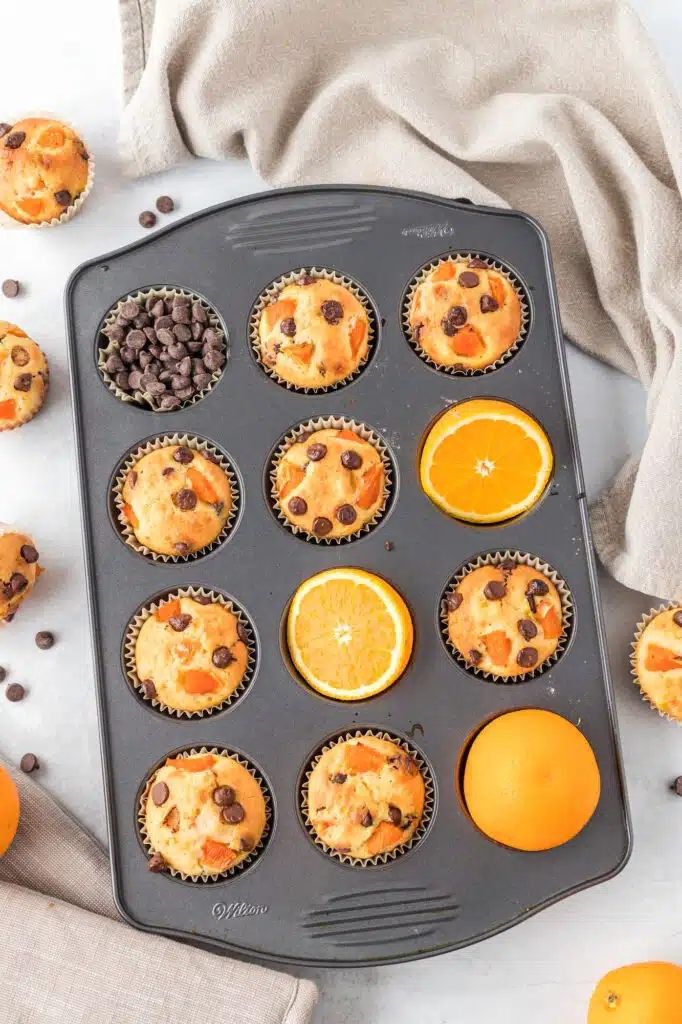 Can You Freeze These Muffins?
Making muffins ahead of time is our favorite way of preparing camping breakfasts. I can cook when I have time and simply pull out the muffins when we are ready to go.
Yes, you can freeze chocolate chip muffins!
Once cooled after baking, put the muffins in a reusable freezer bag. Breakfast muffins can remain frozen for three months.
You can let the muffins thaw to room temperature as you are driving to your campsite or overnight. If frozen, you can warm them up in a toaster oven, microwave, or over the campfire.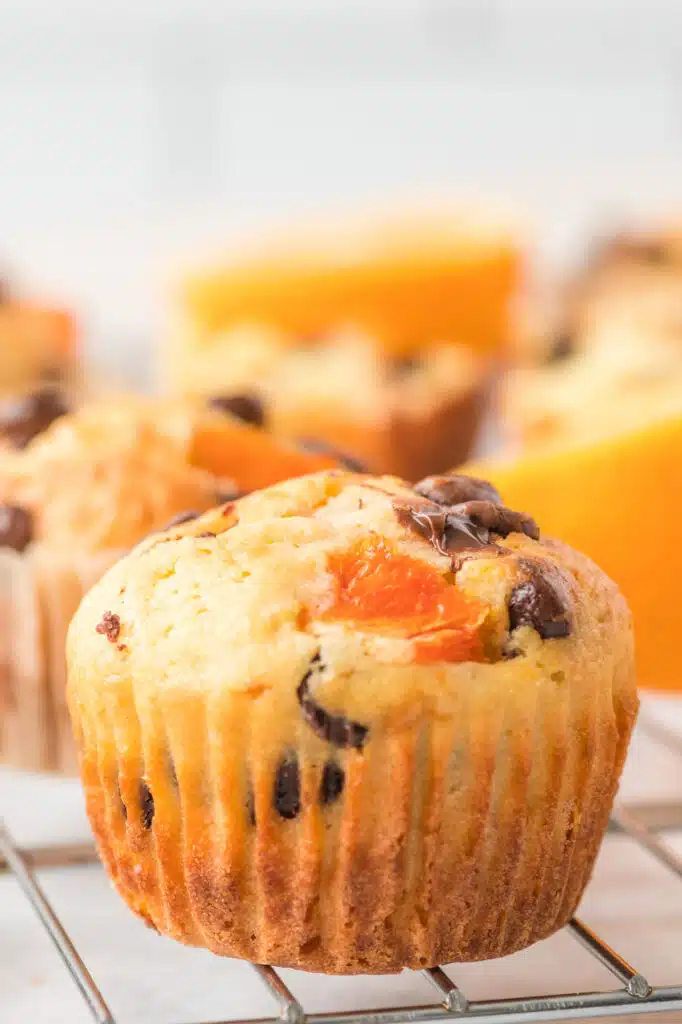 Orange Chocolate Chip Muffins Recipe
Servings: 12 muffins | Prep: 25 minutes | Cook Time: 25 minutes | Total Time: 50 minutes
Ingredients
1 3/4 cup flour
1 teaspoon baking powder
3/4 teaspoon salt
1 egg
1/2 cup sugar
1/2 cup milk
1/3 cup melted butter
2 whole oranges
1 cup semi-sweet chocolate chips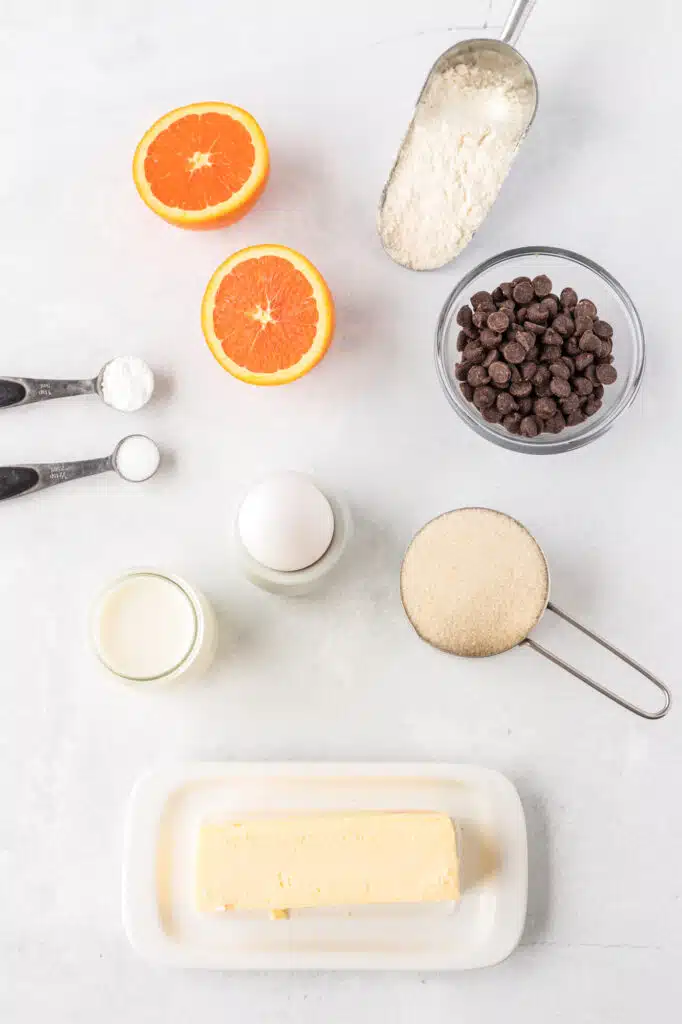 Instructions
Step 1
Preheat oven to 380 degrees Farenheit.
Add cupcake liners to cupcake pans and set aside.
Step 2
In a large mixing bowl, mix the flour, baking powder and salt together.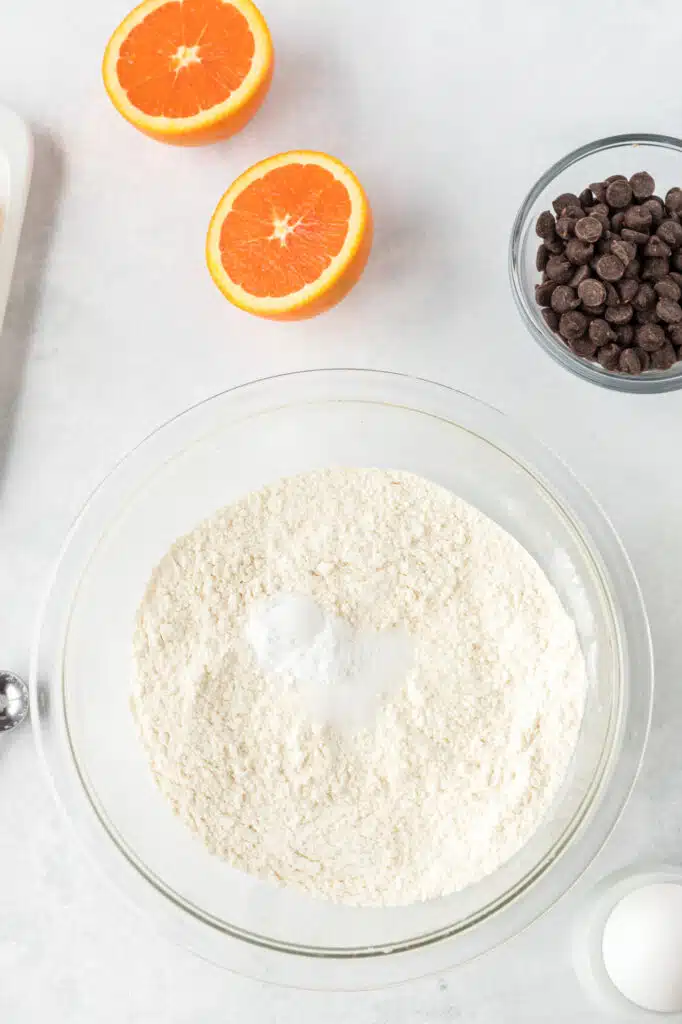 Step 3
Cut one orange in half. In a separate bowl, squeeze the juice out of the orange and reserve for later.
Step 4
Peel the other orange. Then slice the fruit into chunks.
Step 5
Add egg, sugar, milk, the oranges pieces, the orange juice, and butter in another medium-sized bowl. Whisk or beat together until all of the ingredients are combined.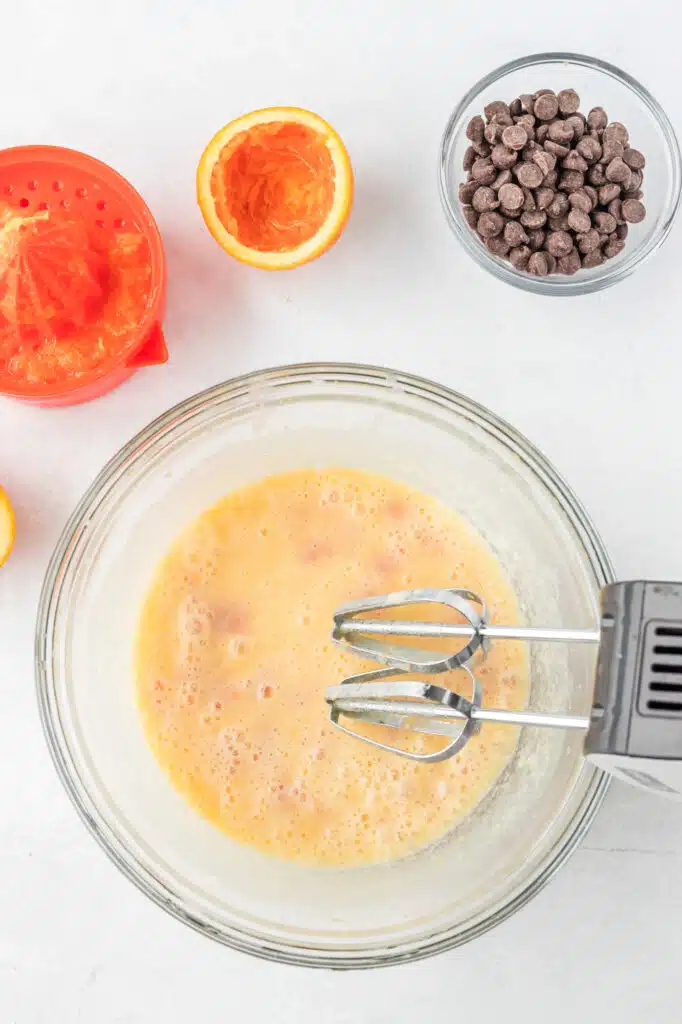 Step 6
Pour the liquid mixture over the dry ingredients. Combine the liquid and dry ingredients, but mix as little as possible. Just enough to make a moist batter.
Gently fold in the chocolate chips.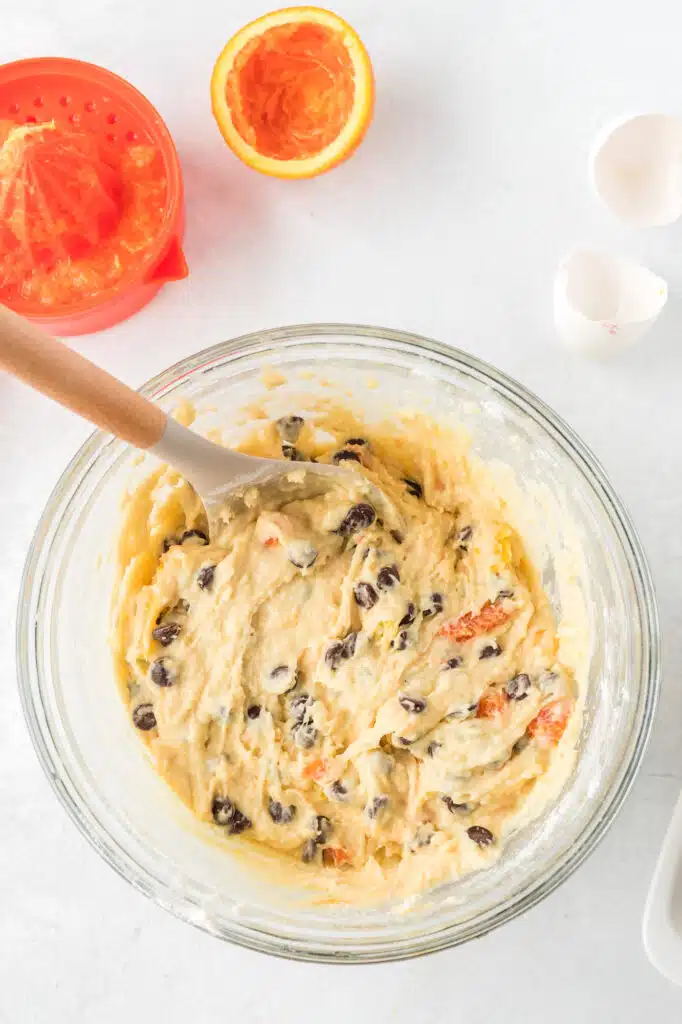 Step 7
Spoon the batter into the muffin cups and bake at 380°F for about 25 minutes.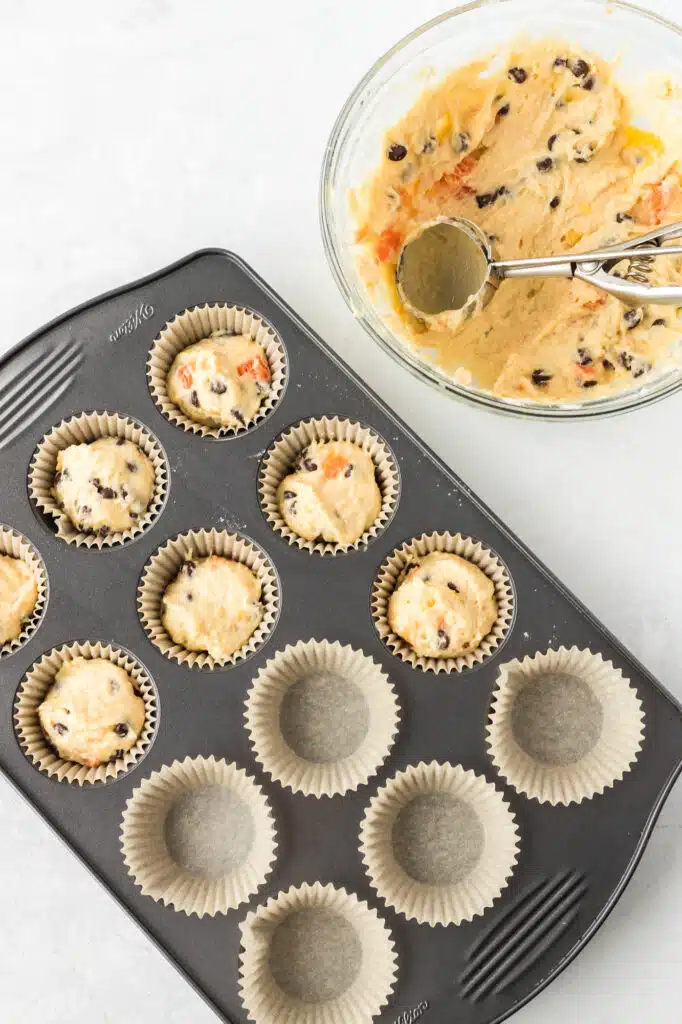 Helpful Tips
Using vegetable oil results in lighter muffins because it prevents gluten formation in the flour. On the other hand, butter adds more fluffiness to the dough.
Do not open the oven door while baking or you run the risk of ending up with flattened muffins.
Do not beat the dough like a cake, which prevents the muffins from rising and makes them heavy.
Never fill the muffin molds more than three-quarters full and place them in the center of the oven.
Silicone molds give better results than paper molds, which burn easily.
---
This orange chocolate chip muffin recipe is just one of our easy make-ahead breakfast recipes for camping! See these great ideas, too: